Lynn exits after 4 innings on rare off night
Righty unable to reverse trend at PNC against Pirates
PITTSBURGH -- Lance Lynn had something special going. Since recovering from a right forearm strain and returning from the 15-day disabled list on June 25, Lynn had allowed just one earned run in his previous three starts (19 innings).
However, that forward momentum halted on Friday night as the 28-year-old lasted just four innings and surrendered five earned runs on nine hits in the Cardinals' 5-2 loss to the Pirates at PNC Park.
Lynn said he wasn't ready to come out of the game, but that it wasn't his decision. In his shortest outing since June 28, 2014, it was Lynn's inability to get ahead of hitters that did him in.
"When you're behind in counts and you're throwing the ball over the middle of the plate, you're going to get beat, especially against this team, a good fastball-hitting team," Lynn said.
It was the first time since May 22 that Lynn allowed more than two earned runs in an outing, so Lynn's struggles are somewhat of a surprise, based on recent performance. Though, his noted hardships against the Pirates -- and at PNC Park, specifically -- might have foreshadowed a poor showing. In his 14 career starts against the Pirates prior to Friday, Lynn held a 4.43 ERA. That number grows when pitching in Pittsburgh. In eight starts at PNC Park entering Friday, Lynn carried a 4.82 ERA -- his highest ERA at any park where he's made at least three starts.
Lynn was nicked by a run in the first inning, but didn't look vulnerable until the bottom of the third. He walked Gregory Polanco on five pitches to lead off the inning and got into a 3-1 count with Neil Walker, who singled, before a coaching visit to the mound.
• Walker gives Bucs leg up on tricky bounce
It didn't help much. Lynn yielded RBI singles to Jung Ho Kang and Pedro Alvarez, which electrified a sold-out PNC Park before Lynn escaped the frame.
The end for Lynn started with another 3-1 count to Walker in the fourth, which turned into a two-run home run.
Walker was 3-for-3 facing Lynn, bumping his career batting average against him to .277 (13-for-47).
"It seems like I'm 3-1 to him every time," Lynn said. "I've got to start getting ahead of him, or just walk him. Stop messing with him because he seems to have my number or he's got something on me."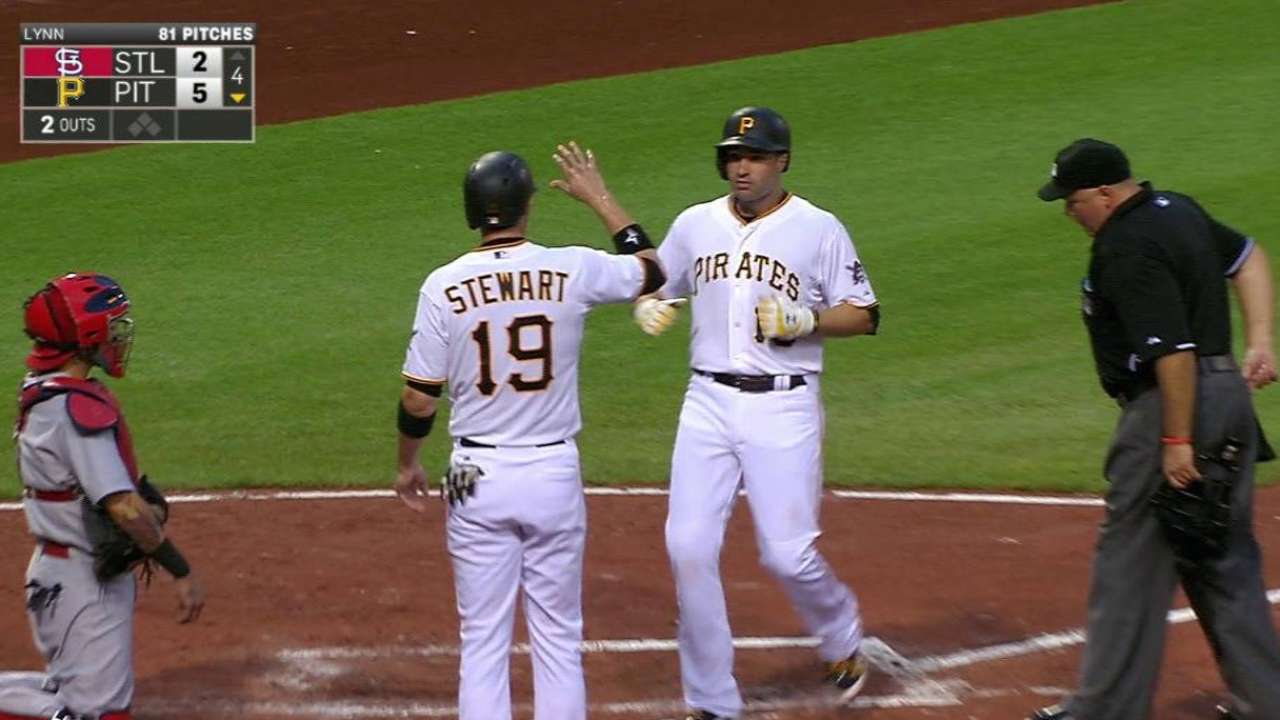 Cardinals manager Mike Matheny was surprised to see Lynn unable to find the strike zone.
"Which is something we haven't seen from him this year," Matheny said. "That never typically works out well for us."
That held true Friday night.
John McGonigal is an associate reporter for MLB.com. This story was not subject to the approval of Major League Baseball or its clubs.