Walker gives Bucs leg up on tricky bounce
Ruling on basepaths irks Matheny, taking away potential DP
PITTSBURGH -- Neil Walker used his bat to extend the Pirates' lead in the fourth inning Friday night, crushing a fastball from Lance Lynn into the right-center-field seats for a two-run homer.
But it was Walker's foot that gave the Pirates a leg up in the third inning of their 5-2 win over the Cardinals at PNC Park.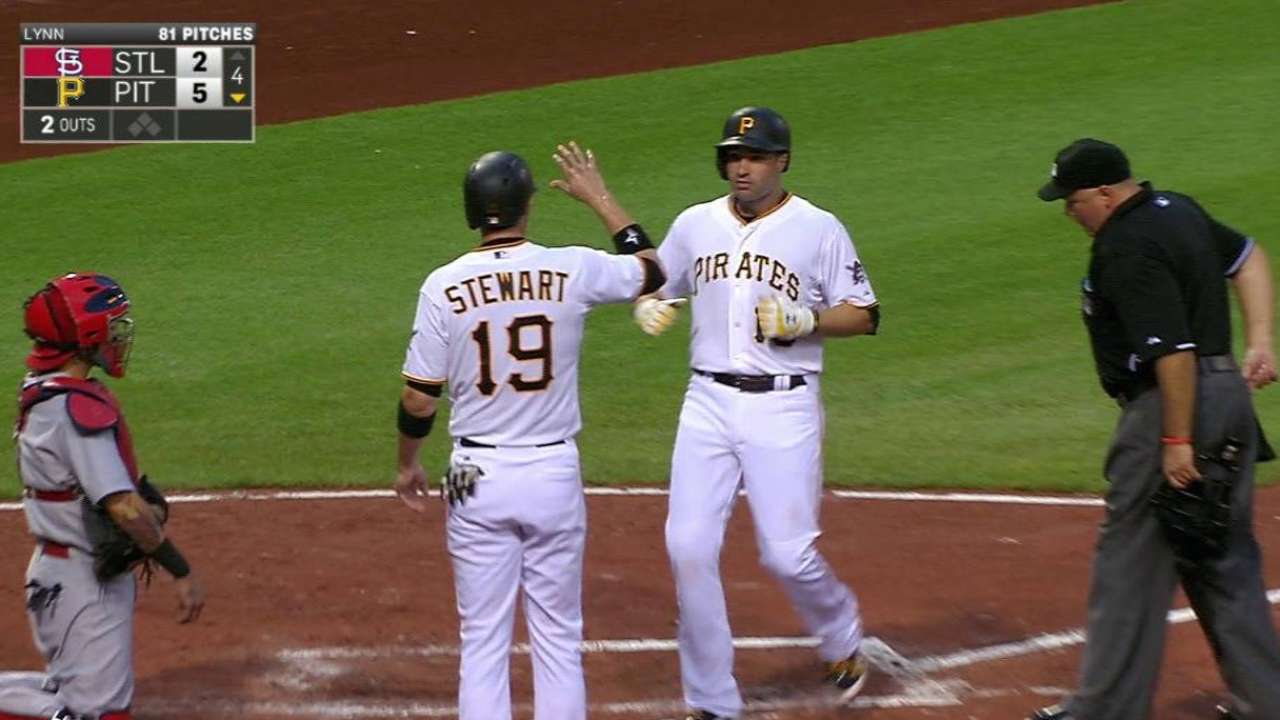 Walker said he didn't step off second base with the intent to let Jordy Mercer's ground ball bounce off his left foot. But he was looking for an edge, and in a series featuring baseball's two best teams, every little advantage counts.
With the score tied and Jung Ho Kang on first base, Mercer smashed a tailor-made double-play grounder toward Cardinals shortstop Jhonny Peralta. Walker's first thought was to make it as hard as possible for St. Louis to turn that inning-ending double play.
Realistically, that meant getting in Peralta's line of sight and slowing down his reaction time. Instead, Mercer's grounder bounced off a leaping Walker's foot, keeping the inning alive and setting up Pedro Alvarez's tie-breaking single.
"When it hits you, in that sense, and the next guy gets a hit and drives in a run, it obviously helps," Walker said. "If they thought that I really tried to get in the way of it, then both guys are out. But that wasn't really the case."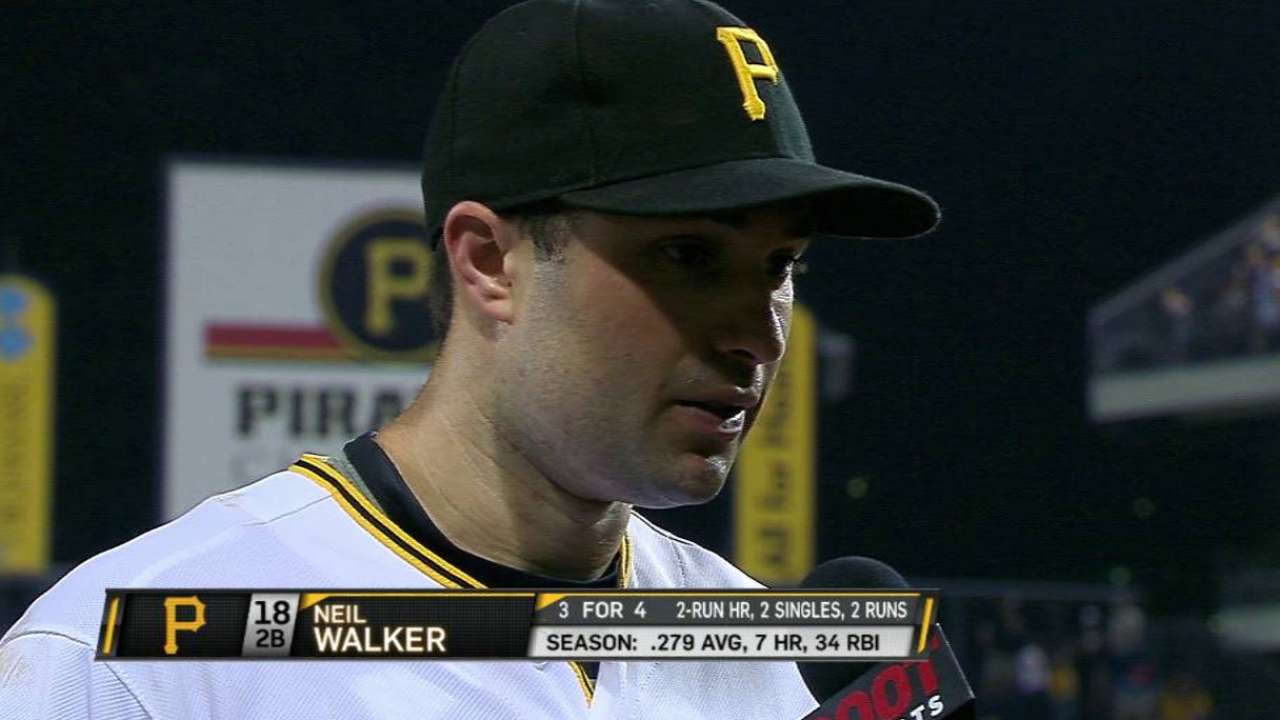 It was obvious in Walker's immediate reaction and postgame comments that he wasn't trying to get hit by the ball. Cardinals manager Mike Matheny didn't even argue that point.
Matheny instead took issue with Walker's initial intent, which he thought was interference nonetheless.
"You'd like to see maybe a little more umpire's discretion on what could have happened there. But that's a whole lot of guessing, I guess," Matheny said. "My argument really was, 'OK, there might not have been intent for the ball to hit him, but did he slow down to have intent to maybe get in the way of the ball.' Guys do that.
"And if there's intent in that regard, I think it needs to be rethought, because that ball wasn't hit that hard. ... He was still very close to second base. ... There could have been intent, but not necessarily intent for the ball to hit him."
But there was no such ruling. The inning rolled on, and Alvarez promptly lined the go-ahead single to left-center field.
A night after whiffing on three prime scoring opportunities, the Pirates pounced on a chance to get ahead of the Cardinals and even this National League Central showdown series.
"When you've got two good pitching staffs out on the same field, [runs are] going to be few and far between," Walker said. "You've got to grind and you've got to try to take advantage. Last night we didn't, and tonight we did."
Adam Berry is a reporter for MLB.com. Follow him on Twitter at @adamdberry. This story was not subject to the approval of Major League Baseball or its clubs.