Buchanan ready for return to Phillies' rotation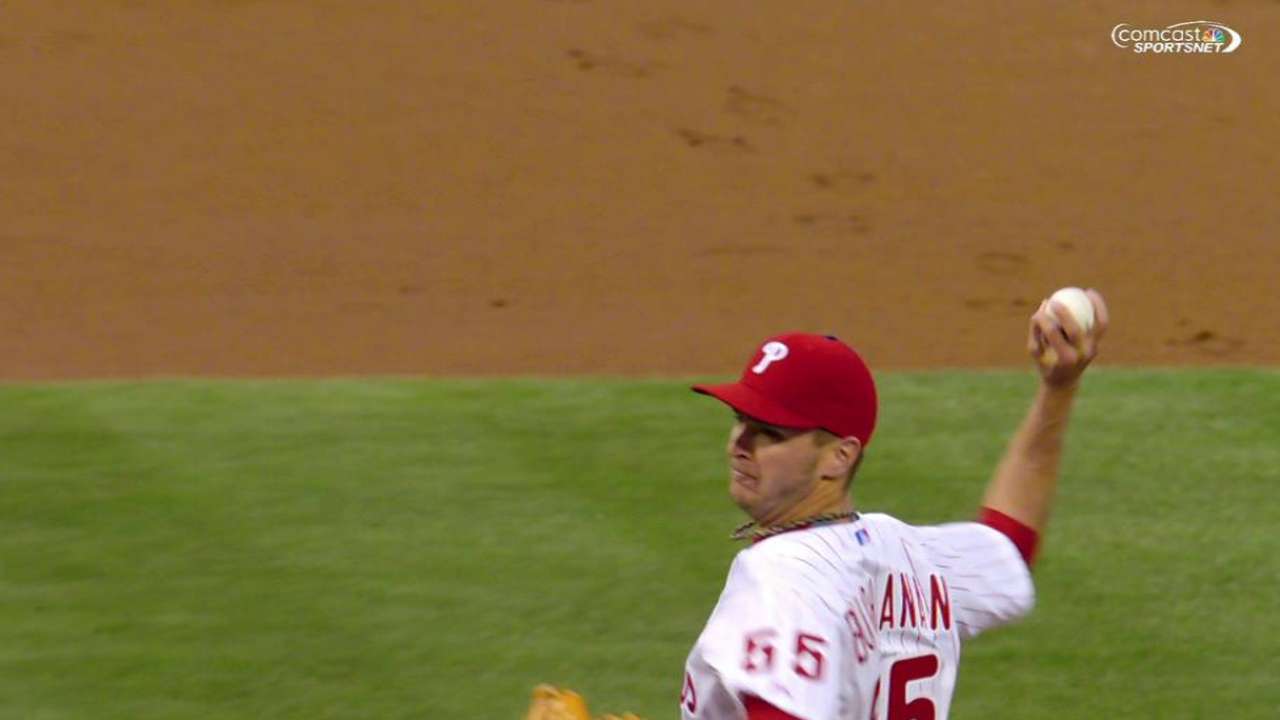 SAN FRANCISCO -- On Saturday, Philadelphia Phillies starting pitcher David Buchanan is scheduled to make his first Major League start since April 30, when he surrendered seven runs in 4 1/3 innings to the St. Louis Cardinals.
The Phillies then optioned him to Triple-A Lehigh Valley two days later.
"Once you get sent down, you can't wait to get back," Buchanan said. "I've been doing everything I can to get back."
Buchanan suffered a gruesome ankle injury in an attempt to field a ground ball May 17.
As he ran toward first to field the ball, he twisted his ankle, which gave out from underneath him, and he fell to the ground writhing in pain. He was placed on the disabled list the next day.
Buchanan returned to action June 22 with the Phillies' Rookie-level Gulf Coast League team and tossed four scoreless innings, allowing just one baserunner. He followed that performance with back-to-back one-run outings, the second for Lehigh Valley and had his Triple-A start cut short Tuesday so he could be called up to rejoin the Phillies for Saturday's game against the Giants.
"I'm still doing some flexibility and strengthening things," Buchanan said before Friday's series opener. "As far as my performance, there's nothing holding me back."
Buchanan was one of the best pitchers in Spring Training this year, going 3-0 with 1.29 ERA in four starts, but struggled mightily in five regular-season starts with the Phillies. He went 0-5 with an 8.76 ERA in five April outings.
"It's hard to decide on a player's Spring Training performance or a September callup," interim manager Pete Mackanin said. "They're different animals than the regular season."
Buchanan said he thinks most of his struggles in the first month of the regular season resulted from the added tension to keep his spot in the Phillies' rotation safe.
"Once the season started, I put unneeded pressure on myself," Buchanan said. "I started trying to do more than I had to."
The 26-year-old right-hander said the adjustments he made while on the disabled list were mental changes rather than physical. Buchanan said he believes it was mainly his mind giving him trouble with commanding his pitches.
"I've done a lot of mental training for myself," Buchanan said. "I'm definitely excited to get back on the mound at the big league level."
Oliver Macklin is an associate reporter for MLB.com. This story was not subject to the approval of Major League Baseball or its clubs.