MLB.com Columnist
Fred Zinkie
Giants' infield bats could deliver vs. Phillies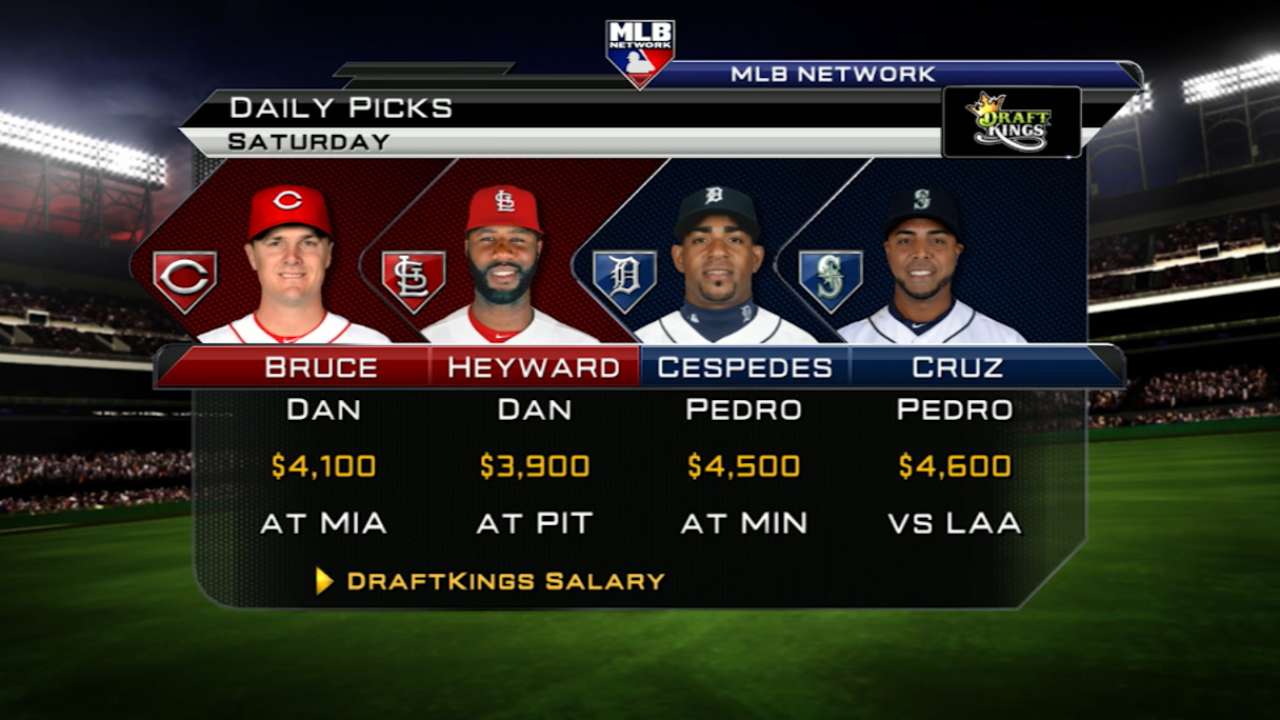 Welcome to DraftKings fantasy baseball, the Official Daily Fantasy Game of Major League Baseball.
The players listed below could provide difference-making stats for DraftKings participants on Saturday.
Carlos Gonzalez (Rockies): In his career, the outfielder has fared best against right-handers (.910 OPS) and at Coors Field (1.002 OPS). Gonzalez could drive in multiple runs when he hits at home against the Braves' rookie righty, Matt Wisler, who will be making his fifth Major League start.
David Ortiz (Red Sox): With nine homers across 91 at-bats since June 11, the slugger has rediscovered his power stroke. Ortiz could improve on his impressive career .292/.396/.575 slash line against right-handers at the expense of Yankees righty Ivan Nova, who has posted a 1.41 WHIP across three 2015 starts since returning from Tommy John surgery.
Mookie Betts (Red Sox): Hitting .325 with four homers and eight steals across 154 at-bats since May 25, the outfielder has aided DraftKings participants in many recent contests. From his premium lineup spot, he could contribute in multiple ways when he faces Nova (career 4.15 ERA, 1.39 WHIP).
Yonder Alonso (Padres): The first baseman could thrive when he hits at offense-inducing Globe Life Park in Arlington against Rangers righty Colby Lewis (career 4.84 ERA, 1.38 WHIP). Alonso owns a lifetime .754 OPS against right-handers that exceeds his .673 mark vs. lefties.
Will Venable (Padres): The outfielder could improve on his lifetime .750 OPS against right-handers (.629 vs. lefties) when he bats at a hitter-friendly road venue against Lewis and a Rangers relief corps that sits 28th in baseball with a 4.30 ERA. In his career, Lewis has allowed left-handed hitters, such as Venable, to post an .824 OPS (.730 OPS allowed to righty batters).
Joe Mauer (Twins): With six homers across 315 at-bats this season, the first baseman could be an economical option for DraftKings participants when he brings his lifetime .906 OPS against right-handers (.750 vs. lefties) into a matchup with Tigers righty Alfredo Simon. The hurler has registered a 10.18 ERA across his past four starts to push his season-to-date ERA to 4.18.
Matt Duffy (Giants): Hitting .283 with eight homers across 251 at-bats, Duffy has been a cost-effective option at the hot corner in many DraftKings contests this season. He could drive in multiple runs when he brings his lifetime .767 OPS against right-handers (.689 vs. lefties) into a matchup with Phillies righty David Buchanan (career 4.62 ERA, 1.40 WHIP).
Brandon Belt (Giants): The first baseman has hit 42 of his 54 career homers against right-handers, a fact that has contributed to an .816 OPS in those matchups (.731 vs. lefties). He could excel against Buchanan, who registered an 8.76 ERA and a 1.91 WHIP across five starts early in 2015 before spending time in the Minors.
Brandon Crawford (Giants): With 12 homers and 50 RBIs across 290 at-bats this season, the shortstop has been among the most powerful players at his premium position. And behind his balanced lifetime splits, he could be part of a Giants stack against Buchanan. Of note: Crawford and his teammates will attempt to put balls into play against a Phillies squad that ranks 29th in the Majors with a .664 defensive efficiency ratio.
Jonny Gomes (Braves): Hitting .204 this season, the outfielder may be an economical option in DraftKings contests when he puts his career .861 OPS against left-handers (.713 vs. righties) on the line at Coors Field against lefty Jorge De La Rosa (lifetime 4.59 ERA, 1.44 WHIP). As a big leaguer, De La Rosa has allowed right-handed batters such as Gomes to post a .792 OPS (.644 OPS allowed to lefty hitters).
Chris Johnson (Braves): As a big leaguer, the third baseman has handled left-handers to the tune of a .799 OPS (.711 vs. righties). He could drive in multiple runs when he vacates his pitcher-friendly home venue to hit at an offense-inducing road park against De La Rosa (4.46 ERA, 1.46 WHIP in 2015). Johnson could also thrive late in the game against a Rockies bullpen that ranks last in baseball with a 4.62 ERA.
Bryce Harper (Nationals): Harper could rip his 26th round-tripper of the season when he puts his lifetime .926 OPS against right-handers (.774 vs. lefties) to the test against the Orioles' fly-ball-prone righty, Miguel Gonzalez (career 1.3 HR/9 rate), at homer-happy Camden Yards.
Dee Gordon (Marlins): With a career .700 OPS against right-handers (.638 vs. lefties), the second baseman could reach base often at the expense of Reds righty Anthony DeSclafani (career 1.37 WHIP). Gordon could also steal a base against catcher Brayan Pena, who has thwarted six of 39 would-be base stealers this season.
Chris Sale (White Sox): With a 121-to-12 strikeout-to-walk ratio across 11 starts since May 12, the left-hander has been a difference-maker in many recent DraftKings contests. He could continue to compile strikeouts when he heads across town to face a Cubs lineup that ranks second in the Majors with 766 whiffs.
Jon Lester (Cubs): DraftKings participants who do not make a massive investment in Sale could instead opt for his mound opponent. The left-handed Lester -- who has posted a 2.79 ERA since the outset of last season -- could excel against a White Sox lineup that ranks last in the Majors with a .577 OPS against southpaws.
Jake Odorizzi (Rays): The right-hander -- who owns a 2.47 ERA and a 1.02 WHIP this season -- could excel in his return from the disabled list when he works at his pitcher-friendly home park against an Astros lineup that leads the Majors with 818 strikeouts. Odorizzi may be well-supported by a Rays unit that sits sixth in baseball with a .706 defensive efficiency ratio.
Ryan Vogelsong (Giants): DraftKings participants could find a cost-effective second starter in Vogelsong, who owns a career 3.32 ERA at pitcher-friendly AT&T Park. On Saturday, the right-hander could continue to work effectively at home when he faces a Phillies lineup that ranks last in the Majors with a .644 OPS against righties.
All statistics are accurate through the completion of Thursday's games.
Fred Zinkie is the lead fantasy baseball writer for MLB.com. Follow him on Twitter at @FredZinkieMLB.
This story was not subject to the approval of Major League Baseball or its clubs.