J. Upton returns from sore left oblique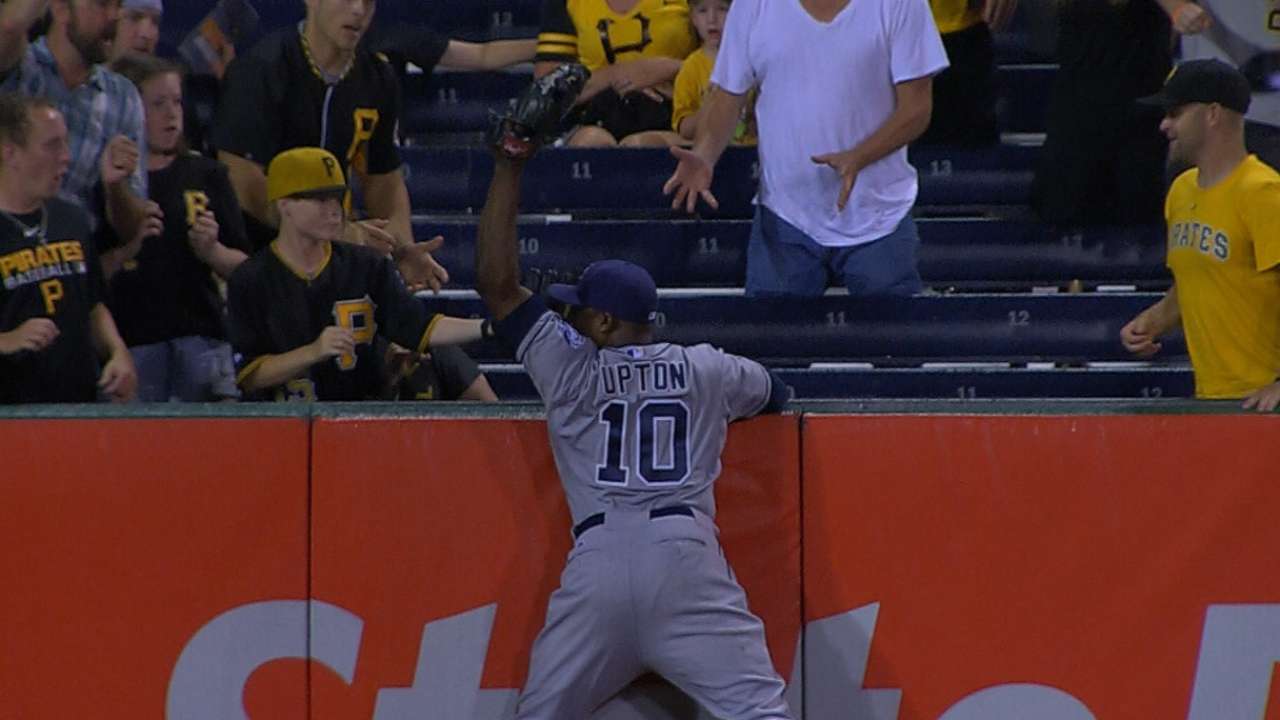 ARLINGTON -- A left oblique strain is never what one wants to hear in connection with an All-Star, but Padres left fielder Justin Upton isn't worried.
Upton was scratched from Wednesday's lineup with soreness in the oblique. He felt pain in his side last weekend against the Cardinals, and it flared up Tuesday against the Pirates.
But after an off-day, Upton was back in the lineup in Friday's 4-3 loss to the Rangers. Upton, who went 0-for-3 with a sacrifice fly, said he is feeling much better, and said the injury won't stop him from playing in the All-Star Game presented by T-Mobile on Tuesday.
"Got worked on the last couple of days, and I'm back in there," Upton said before the game.
Padres interim manager Pat Murphy said Upton wouldn't be in the lineup if there were any concern of lingering effects. Upton was hitting .259 with 14 home runs and 46 RBIs entering Friday, and the last thing the Padres want is to see him go on the disabled list.
"He was 100 percent confident he could do it," Murphy said. "He felt good about it, and it's a not a matter of pushing him. … If there's any chance of hurting a guy's career or making him be out for a while, we're not going to have him out. With the guys we already have out, it's devastating."
Worth noting
• Despite a scare on a play at the plate Wednesday, Derek Norris started at catcher Friday. Murphy reiterated that it's hard to tell when a strong-willed player like Norris is hurt, but he hasn't been diagnosed with any type of injury. Norris has battled shoulder problems and banged up his knee Wednesday.
• Infielder Cory Spangenberg has been on the disabled list since June 30 (retroactive to June 28) with a left knee injury, and he might not be back any time soon. Murphy said Spangenberg did a brief work out earlier this week, but felt a lot of soreness. "It hasn't gone as quickly as we had hoped," Murphy said.
• Brett Wallace made his first start for the Padres on Friday at designated hitter. Despite being a left-handed hitter facing lefty Wandy Rodriguez, Murphy said he feels comfortable having him in the lineup. Wallace played with Rodriguez in Houston, but is a .211 career hitter against left-handers.
Cody Stavenhagen is an associate reporter for MLB.com. This story was not subject to the approval of Major League Baseball or its clubs.