MLB.com Columnist
Megan Zahneis
All-Star FanFest opens with Kids' Day
Young baseball fans get to swing bats, sing songs, snag ASG swag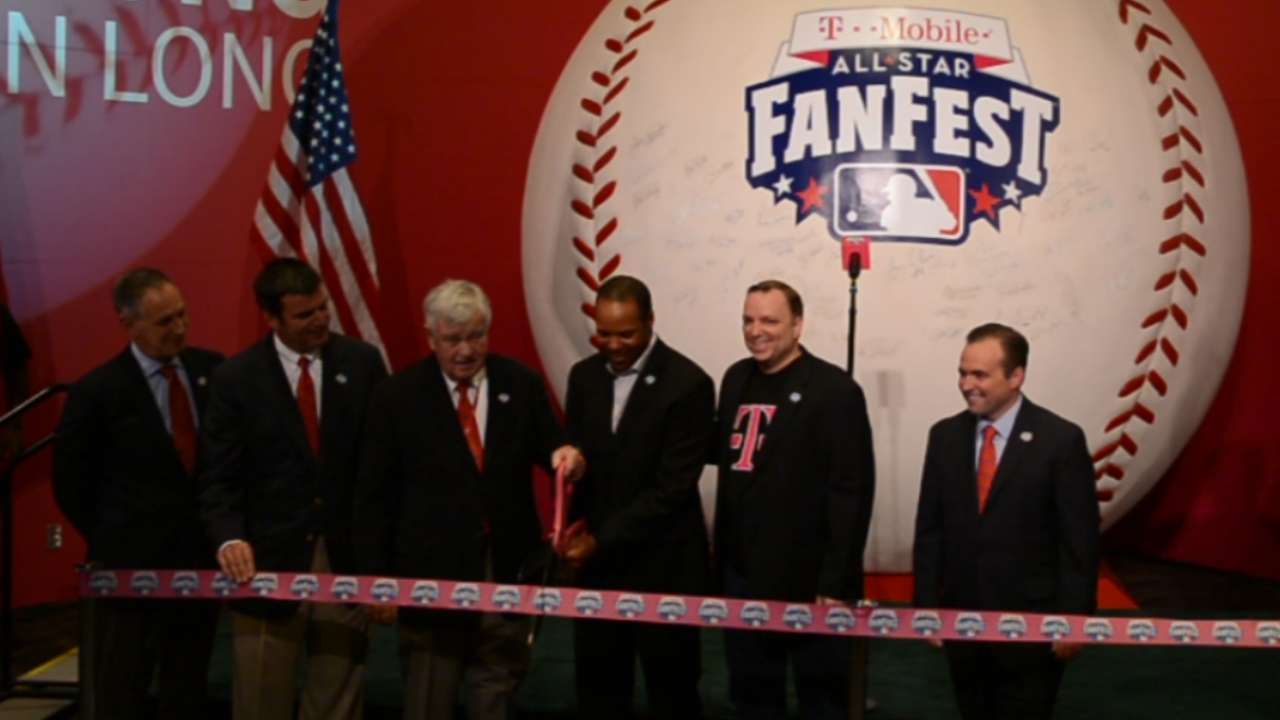 And this one belongs to the kids. So it was this Friday, on Opening Day of T-Mobile All-Star FanFest.
It all started with the national anthem -- sung by two young girls selected by MLB and the Reds -- and the free Barry Larkin plush doll, distributed to the first 2,400 kids under 12 to enter the event on Friday morning.
The Duke Energy Center in downtown Cincinnati was crammed with interactive exhibits for kids to participate in.
Just listen to young Hagan Kaylor recount his morning: "We pitched balls, got a lot of free stuff and ran the bases."
Indeed, Hagan and his brother Maddox got plenty of chances to hone their baseball skills -- The Diamond, an indoor baseball field, hosted hitting and fielding clinics with such guest instructors as All-Star spokesman Larkin, and there were batting cages and radar-equipped pitching mounds to try out, too.
Lest Hagan forget, his father, Terry, reminded him, "You got your picture taken, did a hitting clinic …"
The point is, according to Hagan, "We get to have fun!"
For Terry Kaylor and his wife, Jessica, both of Cincinnati, Kids' Day represented a once-in-a-lifetime opportunity.
"It's an experience that doesn't happen very often, so you have to take advantage of it when it's in your hometown," Kaylor said. "It's just nice to take in all the aspects about the game, see all the teams represented from the Major Leagues."
From stealing a base to practicing drills at the House of Performance (presented by Under Armour), young baseball and softball players of all ages were able to partake in the fun. Photo booths and video games allowed kids to rob -- or hit! -- a home run, try on an All-Star jersey or their favorite player's batting gloves, and even create their own baseball card.
Free autograph and photo sessions with MLB legends were interspersed throughout the day, along with a baseball boot camp and a "Take Me Out to the Ballgame" singing contest for kids.
Other special Kids' Day attractions included a home run derby, a spelling bee, face painters, balloon artists and even a kids-only news conference.
Jessica Kaylor's favorite part of it all?
"Just watching [Hagan and Maddox] have fun."
Mission accomplished.
During the All-Star Game presented by T-Mobile in Cincinnati on Tuesday, fans can once again visit MLB.com to submit their choice for the Ted Williams Most Valuable Player Award presented by Chevrolet. Voting exclusively at MLB.com, online and via their mobile devices in the 2015 All-Star Game MVP Vote presented by Chevrolet, the fans' collective voice will represent 20 percent of the overall vote that determines the recipient of the Arch Ward Trophy.
MLB.TV Premium subscribers will be able to live stream the All-Star Game via MLB.TV through FOX's participating video providers. Access will be available across more than 400 supported MLB.TV platforms, including the award-winning MLB.com At Bat app. MLB.com will provide extensive online coverage of the All-Star Week festivities, including the 2015 Gillette Home Run Derby presented by Head & Shoulders, part of Gatorade All-Star Workout Day on Monday. The Derby will feature a new format with brackets and timed rounds and will be broadcast live by ESPN and MLB.com beginning at 8 p.m. ET.
The 86th Midsummer Classic will be televised nationally by FOX Sports (coverage begins 7 p.m. ET), in Canada by Rogers Sportsnet and RDS, and worldwide by partners in more than 160 countries. ESPN Radio and ESPN Radio Deportes will provide exclusive national radio coverage of the All-Star Game. MLB Network and SiriusXM will also provide comprehensive All-Star Week coverage. For more information, please visit allstargame.com.
Megan Zahneis is a reporter for MLB.com. This story was not subject to the approval of Major League Baseball or its clubs.