MLB, Reds host 'All Lives Matter' diversity summit
CINCINNATI -- Issues of diversity, racial equality or injustice and inclusion are topics that Major League Baseball has not been afraid to engage for several years.
That's why it was viewed as important by the Reds and Major League Baseball to bring local community and business leaders together for a special diversity summit on Friday. Held at the National Underground Railroad Freedom Center, it was called "All Lives Matter: A Social Justice Dialogue of Faith, Community and Baseball."
With the 2015 All-Star Game presented by T-Mobile in Cincinnati, some community leaders were poised to use the event's national exposure to protest and call attention to important issues. Not only has there been a spike in violence locally, but also civil unrest this year in cities like Ferguson, Mo., Baltimore, Cleveland and New York. There are also social and economic disparities and struggles for equal justice under the law for the African-American community.
"We said, 'Hey look, if you want to have a conversation with the league, let's have a conversation and not have a protest," Reds COO Phil Castellini said. "Because that's not going to do a lot to get your voices heard. It would be lost in the sauce of other stuff going on.'"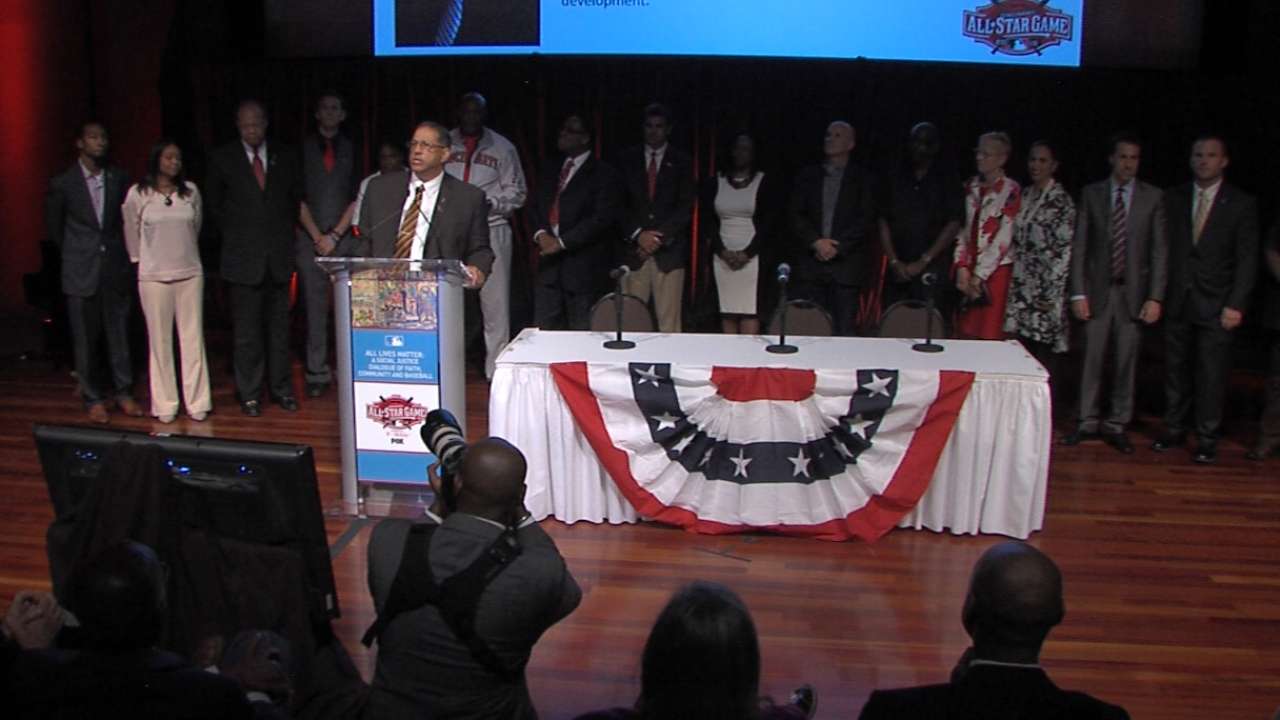 Castellini met two weeks ago with local clergy and community leaders, including the Rev. Damon Lynch III, the senior pastor of the New Prospect Baptist Church.
"In that first discussion, we came up with the concept of having the summit," Castellini said. "Let's look at the issues beyond the one big issue. We've broken it down to five key components that need work: education, assets, jobs, health and welfare and criminal justice-related issues, all of which need work."
Besides Castellini and Lynch, among those who spoke at the summit were Dr. Clarence Newsome, the president of National Underground Railroad Museum and Freedom Center; Pastor KZ Smith, the senior pastor of Corinthian Baptist Church; Wendy Lewis, MLB's senior vice president of diversity, inclusion and strategic alliances; and Judge Nathaniel Jones.
All-Star gallery: "All Lives Matter"
"We each are positioned to make a contribution and investment of ourselves to bring about a big enduring win for Cincinnati today," said Newsome.
Castellini discussed the club's efforts to broadening diversity in the front office, in hiring contractors and suppliers and with fan engagement. One of the biggest initiatives has been the Reds Community Fund, where 45,000 kids and coaches are connected annually with programs like Rookie Success League, the Match Program, field renovations and Greater Cincinnati RBI.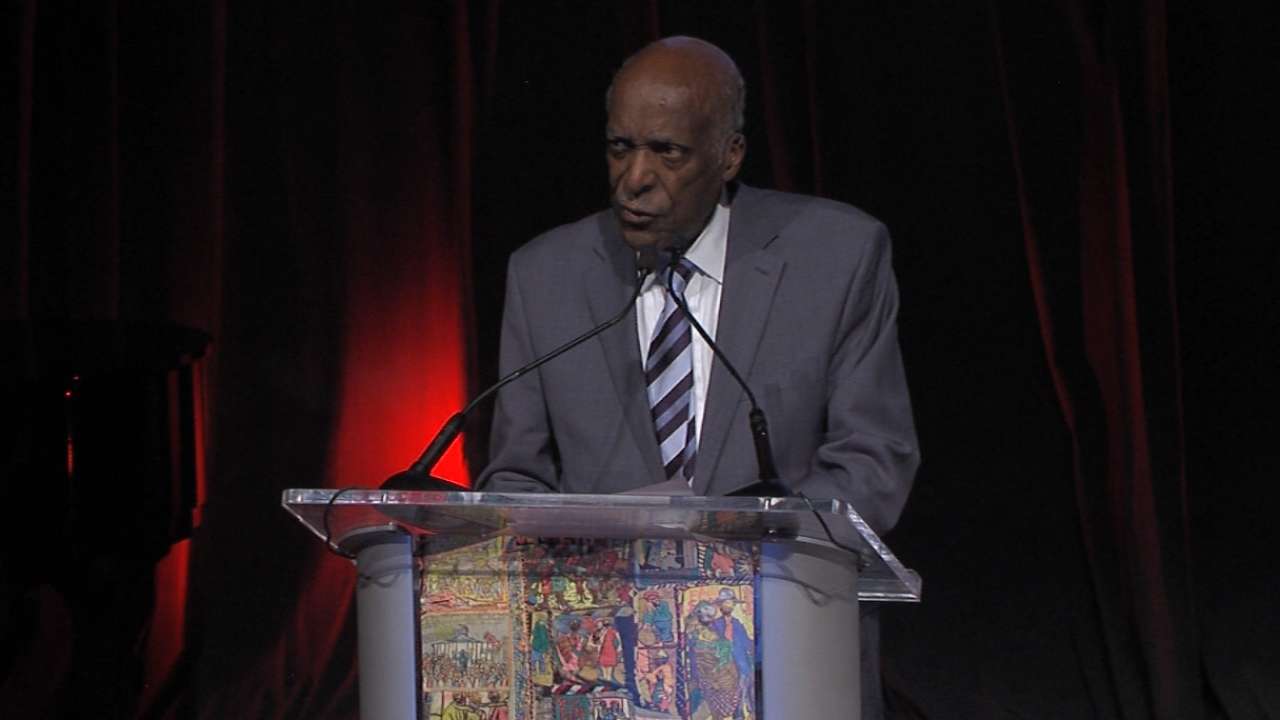 Lewis discussed MLB's multiple programs that underscore inclusion and diversity, going back to 1947 when Jackie Robinson broke the color barrier. Since Robinson's watershed moment, societal changes have continued to happen -- some bigger than others.
"Shift happens. It always happens," Lewis said. "If you don't believe that, today all you have to do is witness the coming down of the Confederate flag in South Carolina. Shift will happen with or without your permission, with or without your convenience. It is better that we collaboratively figure out how to do it in a very successful way."
The Rev. Lynch pointed out that disparities are visible throughout Cincinnati, noting that the life expectancy of a man in the predominantly wealthy Mt. Lookout section of Cincinnati is about 20 years longer than someone in South Fairmount, a poorer section on the other side of the city. Minorities earn less money and accrue higher debt to attend college.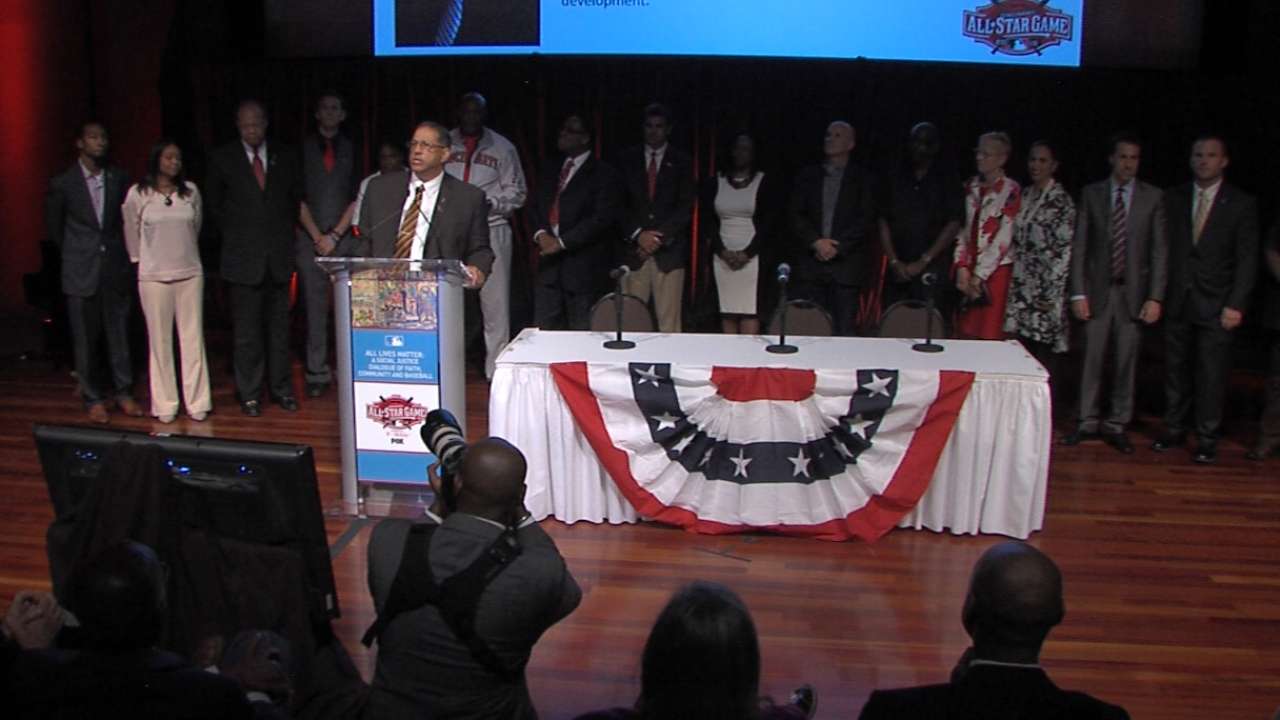 "One of the worst things you can do in baseball is leave men on base when they are in scoring position. That's one of the worst things we can do today -- leave our children, leave people with great opportunities and purpose in their lives -- left on base without us bringing them home," Lynch said.
Lynch, who noted he was 55 years old, realized he didn't have 55 more years to help improve opportunities from the next generations.
"Our work is not done. These disparities are huge. The gap is widening," Lynch said. "I have more behind me than is ahead of me. That pushes me to get our young people in our communities to the next base."
Cincinnati has made great improvements since the riots of 2001, and police-community relations are viewed as significantly better. That doesn't mean everything is good. Castellini noted that violence last weekend on Fountain Square during a local concert and the murder of Cincinnati police officer Sonny Kim last month, are signs of that imperfection.
"We've covered so much ground in a positive way, such a great revitalization of our urban core going on. But it's also a reminder that there is still work to do," Castellini said. "We need to continue to do the work. Taking this conversation into this format, instead of it happening on the street with signs and people shouting at each other, is a much more productive way to have a conversation that turns into action. That's the goal of today."
Mark Sheldon is a reporter for MLB.com. Read his blog, Mark My Word, follow him on Twitter @m_sheldon and Facebook and listen to his podcast. This story was not subject to the approval of Major League Baseball or its clubs.