Harrison upbeat, aims to return for stretch run
In cast for thumb injury, J-Hay maintains positive outlook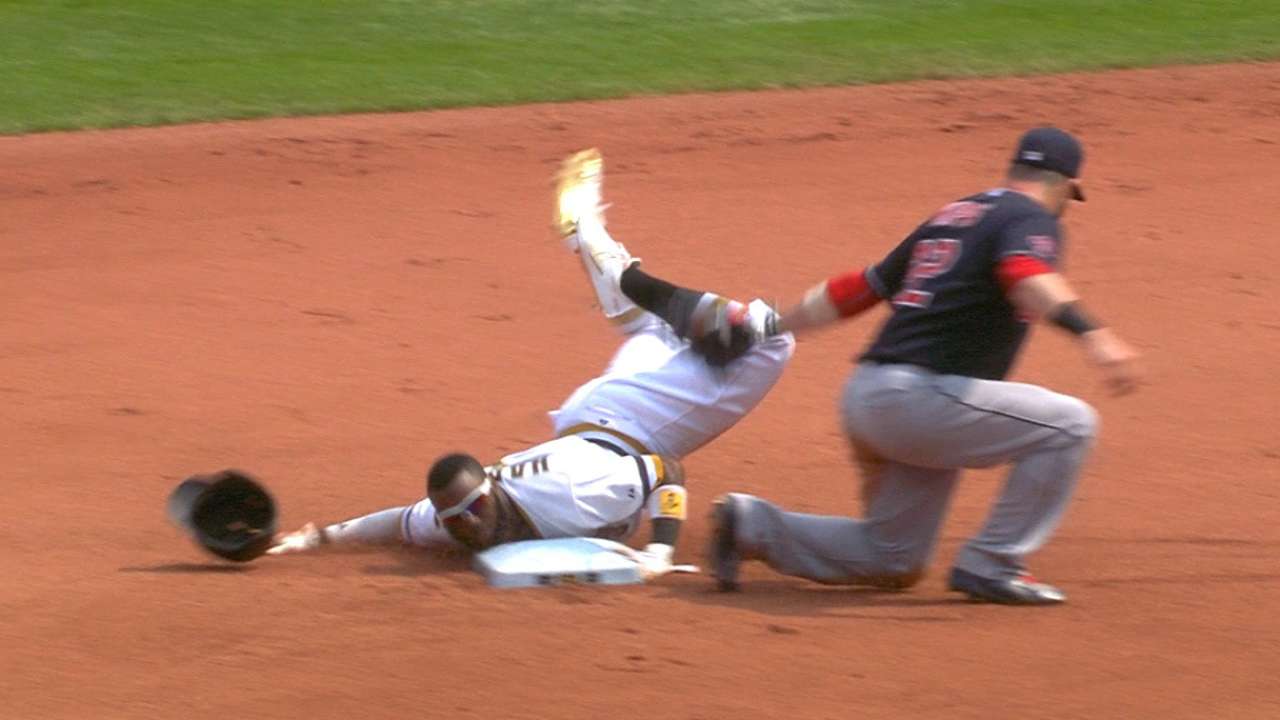 PITTSBURGH -- Josh Harrison stood in front of his locker at PNC Park on Friday with his usual wide grin and optimistic outlook. The only difference was the cast on his left hand and forearm, the product of an injury that could keep him out for nearly two months.
He is expected to miss about seven weeks after undergoing surgery to repair a torn ulnar collateral ligament in his left thumb. That would put him in line to return to the Pirates' lineup for the September stretch run.
Facing his first career stint on the disabled list, Harrison chose Friday to look on the bright side -- what could go right, rather than what went wrong when he jammed his thumb in the dirt on an awkward slide into second base Sunday.
"It hasn't been as tough as people think. I take the positives out of everything," Harrison said. "I always look at it as, it could have been worse. I put things in perspective and know people out there have it worse than me.
"There's really no need for me to get bent out of shape when I have an opportunity to come back this year and help make a playoff push."
Harrison said there's no set timeframe during which he must wear his cast -- which he said is "already driving me crazy" -- but mobility will be the biggest issue as he recovers.
He's right-handed, so the injury won't affect him too severely in everyday life. He received words of encouragement from fellow Pirate Andrew Lambo, who dealt with a similar injury last year in his right hand.
The good news, Harrison pointed out, is that he can still do lower-body workouts, run and throw. That should expedite his return once his thumb is healthy.
Harrison incurred the injury during a headfirst slide into second base, but he said the experience won't change the way he approaches running the bases. With one exception, that is.
"What I will do is take some precaution and start running bases with a mitt," Harrison said. "Other than that, I don't think it's anything I need to change. When you change the way you play, you have a tendency to get hurt even more when you play cautious."
Harrison will spend as much time with the team as possible as he recovers. He said that will help lift his spirits during a frustrating time.
But the thought of rejoining them later this summer is what truly had him thinking optimistically Friday afternoon.
"Only time will tell," Harrison said. "But knowing I have a chance to come back and go out there and put on the uniform and battle with these guys is all I really care about."
Adam Berry is a reporter for MLB.com. Follow him on Twitter at @adamdberry. This story was not subject to the approval of Major League Baseball or its clubs.