Mookie robs Ellsbury with diving catch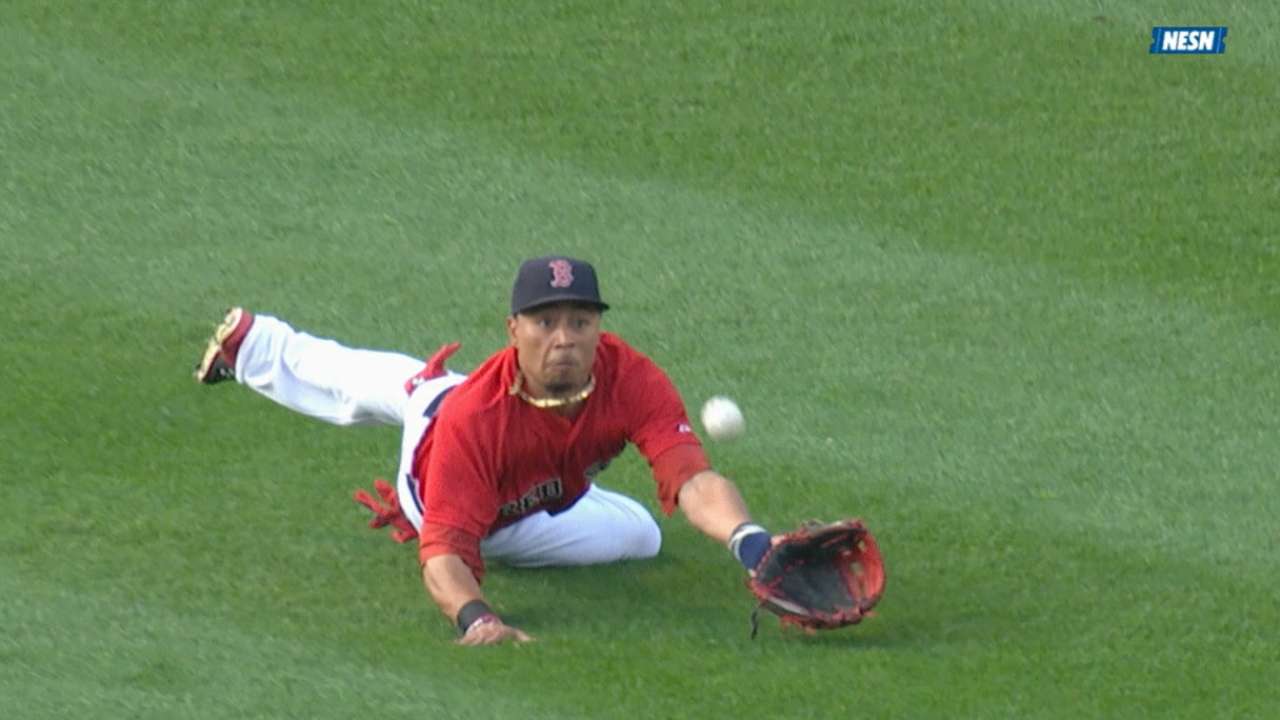 BOSTON -- The past and present of the Red Sox's outfield crossed paths during the first inning of Friday night's 5-1 loss to the Yankees at Fenway Park, and the present came away victorious.
In the game's leadoff at-bat, Boston center fielder Mookie Betts sprinted toward a liner into the right-center-field gap and made a spectacular diving catch to rob New York outfielder Jacoby Ellsbury of a hit. Ellsbury spent seven seasons as Boston's primary center fielder.
Statcast™ tracked Betts' first step at a lightning-quick 0.08 seconds, and his closing speed allowed him to overcome a calculated route efficiency of 89.69 percent. The ball, which had an exit speed of 92.5 mph, was projected by Statcast™ to land 280.5 feet away from home plate.
Betts nearly accomplished the same feat one inning later, when Garrett Jones reached first on a bloop to center that fell in for a hit just ahead of Betts' dive.
"Can't do it all. Not right now at least," Betts said. "Just working on catching the ball and doing what I can. As I continue to learn, I'll continue to do different things. Right now, I'm happy with the progression."
Betts later scored Boston's only run of the game in the fifth, when he belted an 0-1 slider into the Monster Seats for a home run. The blast, his 10th of the season, had an exit speed of 104 mph and was projected by Statcast™ to land 392 feet away from home.
Just 22 years old, Betts already has a handful of defensive highlights to his name this season, including a jaw-dropping leaping catch in the triangle that stole a home run from Nationals outfielder Bryce Harper during Boston's home opener on April 13.
That the one-time second baseman is still in his first full Major League season as an everyday center fielder only heightens the impressive nature of his defensive game.
"I haven't been out there too long, so I can't say I mastered it all," Betts said. "Cut myself a little slack. I feel like I've come a long way. I've still got a long way to go. Not going to be perfect out there. I was happy with it."
Alec Shirkey is an associate reporter for MLB.com. This story was not subject to the approval of Major League Baseball or its clubs.