MLB.com Columnist
Alyson Footer
Kids take field for Miracle League game
MLB, Reds co-host event for special-needs youth during All-Star Week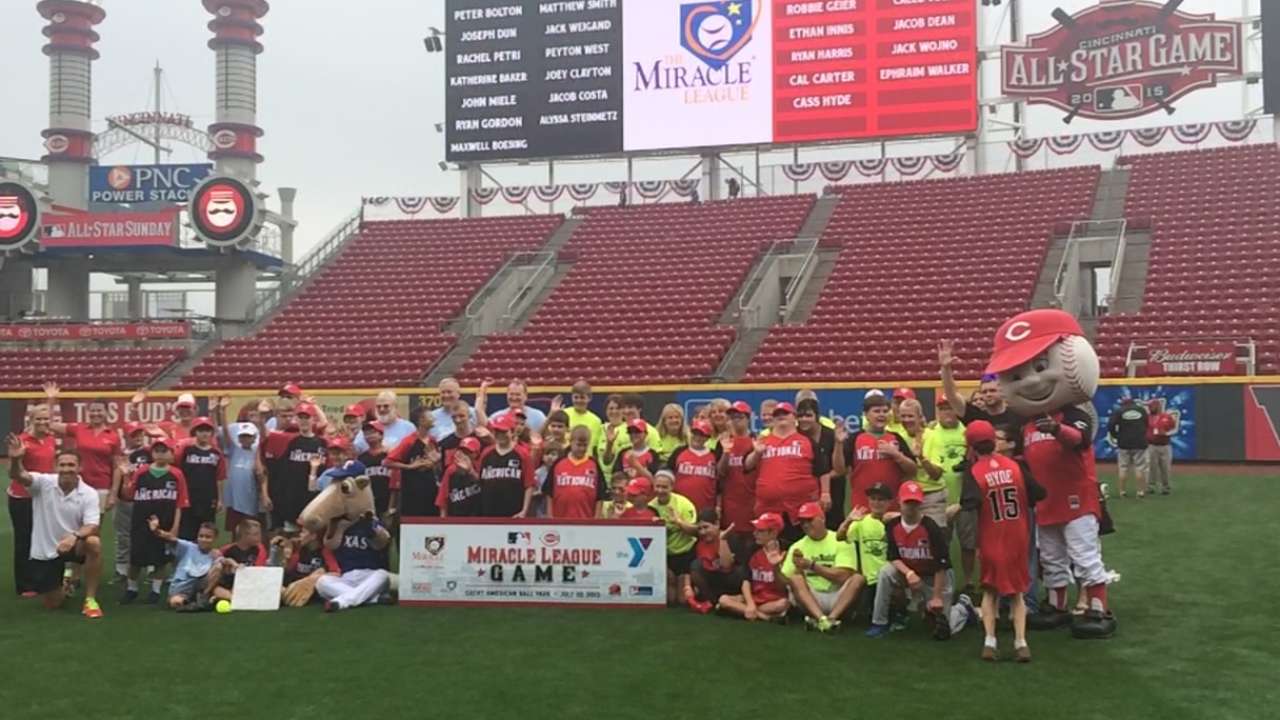 CINCINNATI -- In addition to the actual baseball game that is played during All-Star Week, Major League Baseball also sanctions dozens of supplemental activities that directly benefit the community surrounding the host city.
This year, in addition to renovating and building youth baseball fields at nine locations, Major League Baseball and the Cincinnati Reds included an event for the Cincinnati Recreation Commission Miracle League and the Great Miami Valley YMCA Youth Miracle League, both of which focus on children with physical and intellectual disabilities.
On Friday, with their parents and families cheering from the stands, the Miracle League kids played a one-inning game on the outfield grass at Great American Ball Park.
"We want every kid, regardless of needs and abilities, to play baseball," said Tom Brasuell, vice president of community affairs for Major League Baseball. "Giving the opportunity for the Miracle League to participate in the special needs game is really special for us."
There was plenty of star power for this event. Reds public-address announcer Joe Zerhusen, with his unmistakable booming voice, served as the emcee, and former Reds pitcher and 1999 National League Rookie of the Year Award winner Scott Williamson took the mound as the game's designated pitcher.
Throw in two cool mascots -- Cincinnati's Mr. Red and Texas' Rangers Captain -- and this was an event that few in attendance will forget. Steady rain fell on the field throughout the game, but it deterred no one from having a good time.
"It's an honor to be a part of something like this," Williamson said. "Being out here with these kids and watching their faces, I don't even have words for it. It's a great feeling. I'm very pleased and grateful that they even asked me to do it."
Each kid received a jersey, provided by Baseball Fantasy Camp for Kids. With the help of volunteer buddies from the community, all participants were engaged in the game, regardless of physical limitations.
Miracle League Baseball offers athletes with or without disabilities an opportunity to have fun and participate in an organized and competitive league. Friday's event at Great American Ball Park was a good example of how the simple act of playing baseball can impact a child and that child's loved ones.
"Looking in the stands and watching these parents," Brasuell said, surveying the more than 150 people watching from the seats, "this is also an unbelievable thing. Most of these parents never thought their kids would play any type of baseball, let alone playing baseball on a Major League field, with an ex-Major League All-Star and Rookie of the Year pitching to them. I see tears in the parents' eyes as much as I see joy on the kids' faces."
During the All-Star Game presented by T-Mobile in Cincinnati on Tuesday, fans can once again visit MLB.com to submit their choice for the Ted Williams Most Valuable Player Award presented by Chevrolet. Voting exclusively at MLB.com, online and via their mobile devices in the 2015 All-Star Game MVP Vote presented by Chevrolet, the fans' collective voice will represent 20 percent of the overall vote that determines the recipient of the Arch Ward Trophy.
MLB.TV Premium subscribers will be able to live stream the All-Star Game via MLB.TV through FOX's participating video providers. Access will be available across more than 400 supported MLB.TV platforms, including the award-winning MLB.com At Bat app. MLB.com will provide extensive online coverage of the All-Star Week festivities, including the 2015 Gillette Home Run Derby presented by Head & Shoulders, part of Gatorade All-Star Workout Day on Monday. The Derby will feature a new format with brackets and timed rounds, and it will be broadcast live by ESPN and MLB.com beginning at 8 p.m. ET.
The 86th Midsummer Classic will be televised nationally by FOX Sports (coverage begins 7 p.m. ET), in Canada by Rogers Sportsnet and RDS, and worldwide by partners in more than 160 countries. ESPN Radio and ESPN Radio Deportes will provide exclusive national radio coverage of the All-Star Game. MLB Network and SiriusXM will also provide comprehensive All-Star Week coverage. For more information, please visit allstargame.com.
Alyson Footer is a national correspondent for MLB.com. Follow her on Twitter @alysonfooter. This story was not subject to the approval of Major League Baseball or its clubs.