Gonzalez, Russell inducted into Rangers' Hall
ARLINGTON -- Juan Gonzalez, the only two-time American League Most Valuable Player in Rangers history, and Jeff Russell, who made the AL All-Star team in consecutive years as a starter and reliever, were inducted into the club's Hall of Fame before Saturday's game with the Padres.
Gonzalez did not attend because of family reasons in his home in Puerto Rico. But he was represented by his son Juan Jr., who recently graduated from Tarleton State University, and other family members, and presented by former general manager Tom Grieve.
Russell was there with his family and was introduced by former Rangers pitching coach Tom House.
"A Texas Rangers difference-maker and a young man who gave me 10 years of the best baseball of my life," House said.
"This means more to me than you can imagine. … I'm greatly humbled by the experience," Russell said. "I will always be a Ranger. I can't thank the organization enough for this accomplishment."
Russell was with the Rangers from 1985-92 and again from 1995-96. He was one of two players acquired from the Reds on July 19, 1985, for All-Star third baseman Buddy Bell. Russell was an All-Star as a starter in 1988 and as a reliever in 1989.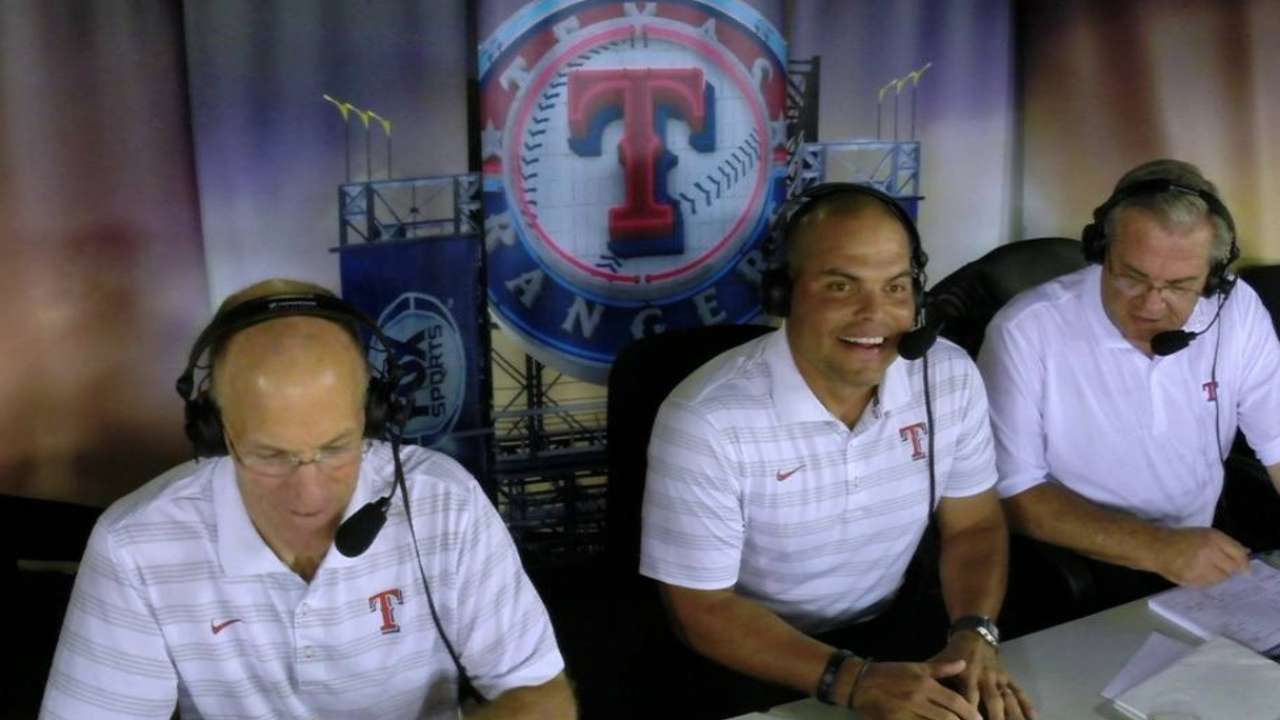 Russell ranks second in club history with 445 games and 134 career saves. His most memorable season was in 1989, when he was named the AL Relief Pitcher of the Year, going 6-4 with 38 saves and a 1.98 ERA. He also was a setup reliever on the 1996 Rangers team that won the first division title in club history.
"I remember how automatic he was and how filthy he was," said Rangers bench coach Steve Buechele, who was the third baseman at the time. "When he came into the game, it was over. He had that kind of stuff, the good fastball and the wipeout slider. Once he got rolling, it was over. It was our game."
Gonzalez is one of the greatest players in Rangers history. He is the Rangers' all-time leader in home runs and RBIs. He played for Texas from 1989-99 and again in 2002-03. He led the club to division titles in 1996 and 1998-99.
"He was one of the preeminent power hitters in the game," Grieve said. "He gave our lineup that credibility, batting in the middle of it, that we didn't have before."
"What people didn't see was he had one of the biggest hearts in the game," former outfielder Rusty Greer said. "Off the field, he was great. He treated people right, really worked hard; people didn't see how hard he worked. He was a guy who would do anything for you."
The Rangers Hall of Fame was established in 2003. The players previously inducted are pitchers Charlie Hough, Nolan Ryan, Ferguson Jenkins, John Wetteland and Kenny Rogers; catchers Jim Sundberg and Ivan Rodriguez; infielders Bell and Toby Harrah; and outfielders Greer and Ruben Sierra.
The non-player inductees are Grieve, former Arlington mayor Tom Vandergriff, former club president Tom Schieffer, former manager Johnny Oates and broadcasters Mark Holtz and Eric Nadel.
T.R. Sullivan is a reporter for MLB.com. Read his blog, Postcards from Elysian Fields, follow him on Twitter @Sullivan_Ranger and listen to his podcast. This story was not subject to the approval of Major League Baseball or its clubs.