Reserves come through for only offense
Bonifacio scores on Shuck's sac fly in 8th after HBP, stolen base and sac bunt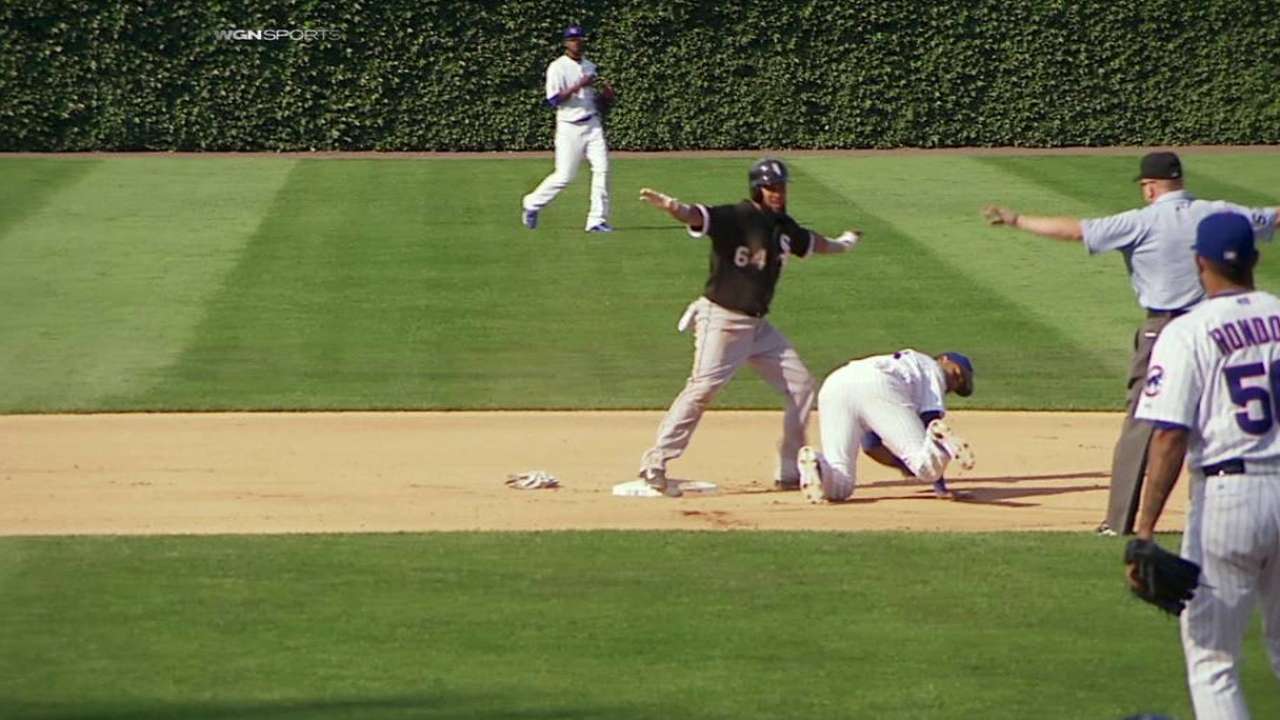 CHICAGO -- The White Sox scored the lone run of Friday's 1-0 victory over the Cubs at Wrigley Field without the benefit of a hit in the eighth inning. They also pushed across the tally with Adam Eaton as the lone everyday player to contribute, through a perfectly placed sacrifice bunt.
This run manufacturing was courtesy of the reserves, namely Emilio Bonifacio and J.B. Shuck. Bonifacio opened the frame as a pinch-hitter for reliever Jake Petricka, and he was hit by a Hector Rondon pitch as he squared around to bunt.
Bonifacio promptly swiped second base, marking the first stolen base in five attempts this season for a man who has 164 in his career.
"I'm happy to finally get my first one," Bonifacio said. "That's why they use me in this role, to try to steal the base."
Kris Bryant took a hit away from Eaton on his bunt up the third-base line, but it did the job in terms of runner advancement. Shuck then hit for Tyler Saladino, who made his Major League debut at third base Friday, and worked the count to 2-2 before he lined a sacrifice fly to Chris Coghlan in left to bring home the go-ahead run.
"You roll the dice, and Shucky is our main guy going up there," White Sox manager Robin Ventura said. "He has pinch-hit the most of any of our guys, so you trust him in that situation and he got the job done."
"Same as always, I'm looking for something out over the plate," Shuck said. "When they brought the infield in, I'm just looking to get something into the outfield and hopefully give [Bonifacio] a chance to score."
Five double plays turned by the White Sox, combined with a gritty effort by rookie Carlos Rodon to pitch around six walks, contributed to the White Sox third straight win and eighth in 10 games. They also have a 10-4 record over their last 14 contests at Wrigley Field.
But on this perfect afternoon in Chicago, two players who have a combined 147 at-bats this season ultimately made the difference.
"I know my role. I just want to get on base however and see what happens," Bonifacio. "I want to be here for whatever they need me."
"They're fun," Shuck said of the game-on-the-line opportunities. "You get one chance in a game, and it's usually a situation like that. And I try to do the best in an opportunity and take advantage of it."
Scott Merkin is a reporter for MLB.com. Read his blog, Merk's Works, follow him on Twitter @scottmerkin and listen to his podcast. This story was not subject to the approval of Major League Baseball or its clubs.