Day after big win, Martinez claims Final Vote
Pitcher surges atop polls to become Cards' sixth All-Star
PITTSBURGH -- Cardinals starting pitcher Carlos Martinez wasn't shy about his candidacy for the 2015 Esurance MLB All-Star Game Final Vote.
He did what anyone would do: he voted for himself. How much?
"A lot," Martinez said with a laugh.
He wasn't the only one, either. Staving off stiff competition -- Reds starter Johnny Cueto, Dodgers ace Clayton Kershaw, and Rockies shortstop Troy Tulowitzki -- Martinez garnered enough support from fans, family and even teammates to win the National League's Final Vote, earning his first All-Star nod.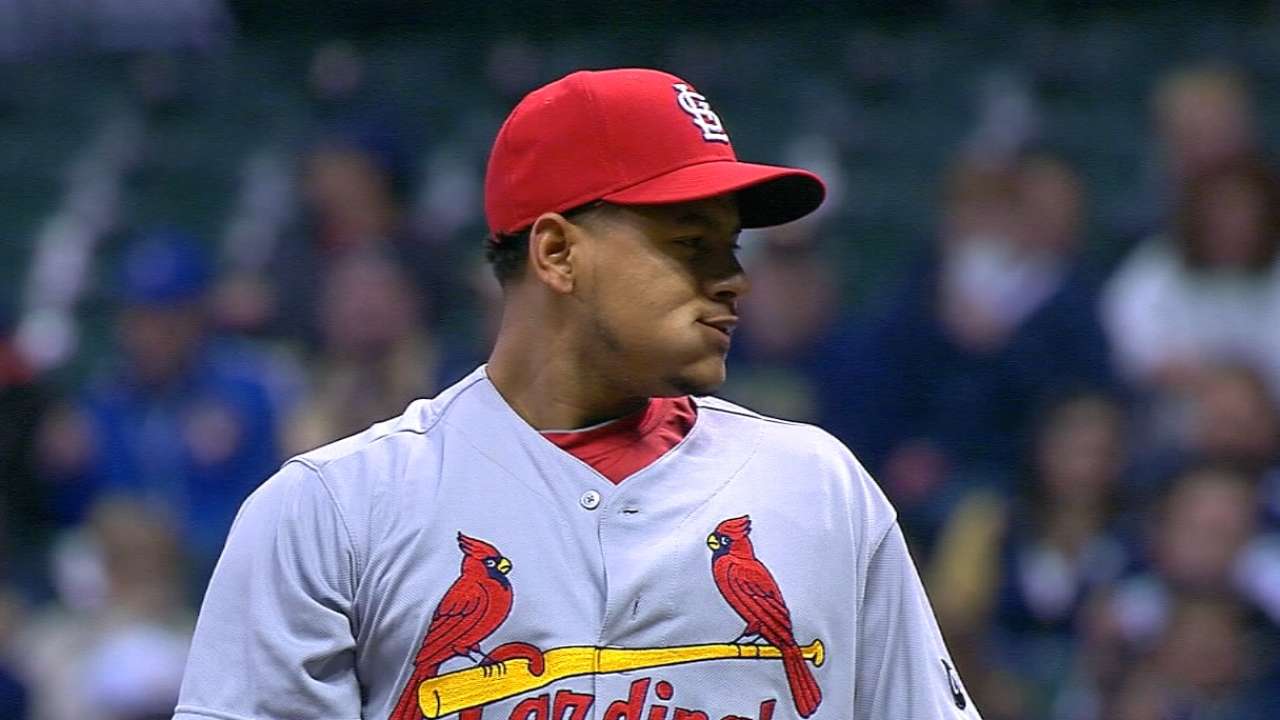 He is the sixth Cardinal selected for this year's All-Star Game presented by T-Mobile, and became the second St. Louis player to win the Final Vote in the past four years (David Freese won in 2012).
Martinez, who owns a 10-3 record and 2.52 ERA in 107 1/3 innings this year, used Thursday night's performance to propel him to the top of voting.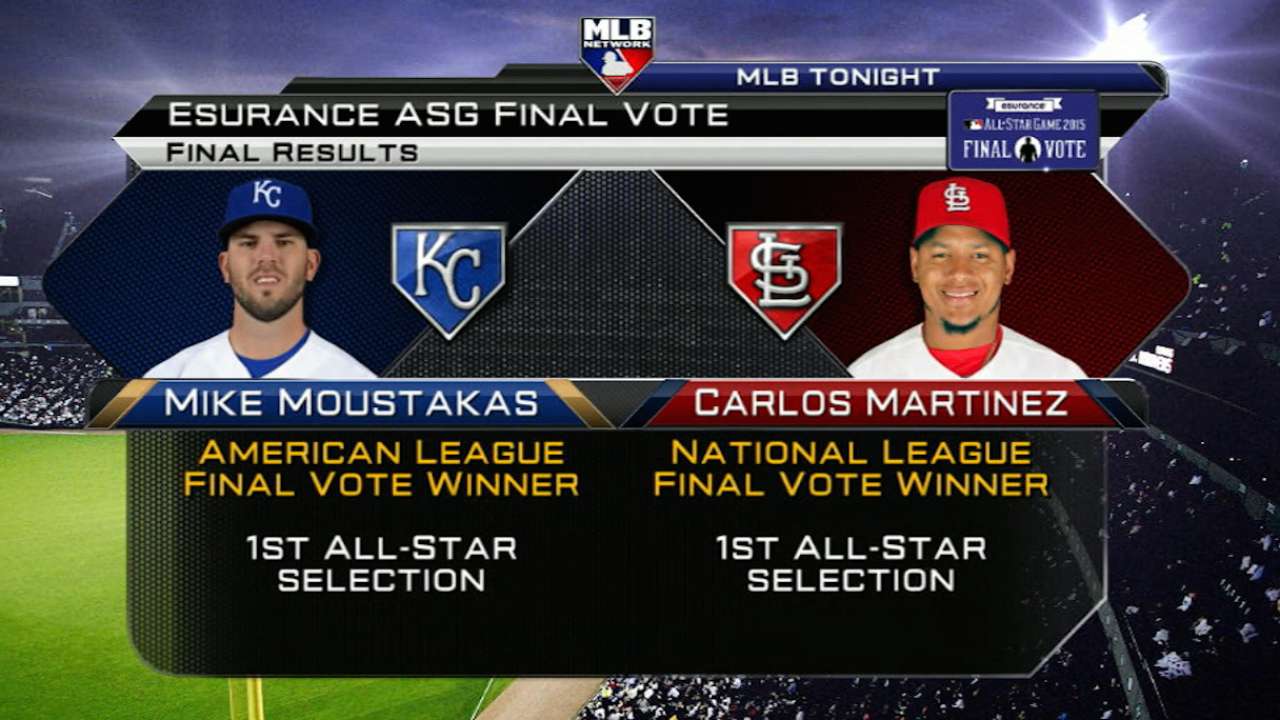 Martinez, in second place behind Cueto as of Thursday afternoon, was in the Final Vote lead by Friday morning after throwing 7 1/3 scoreless innings in a series-opening win over the Pirates the night before.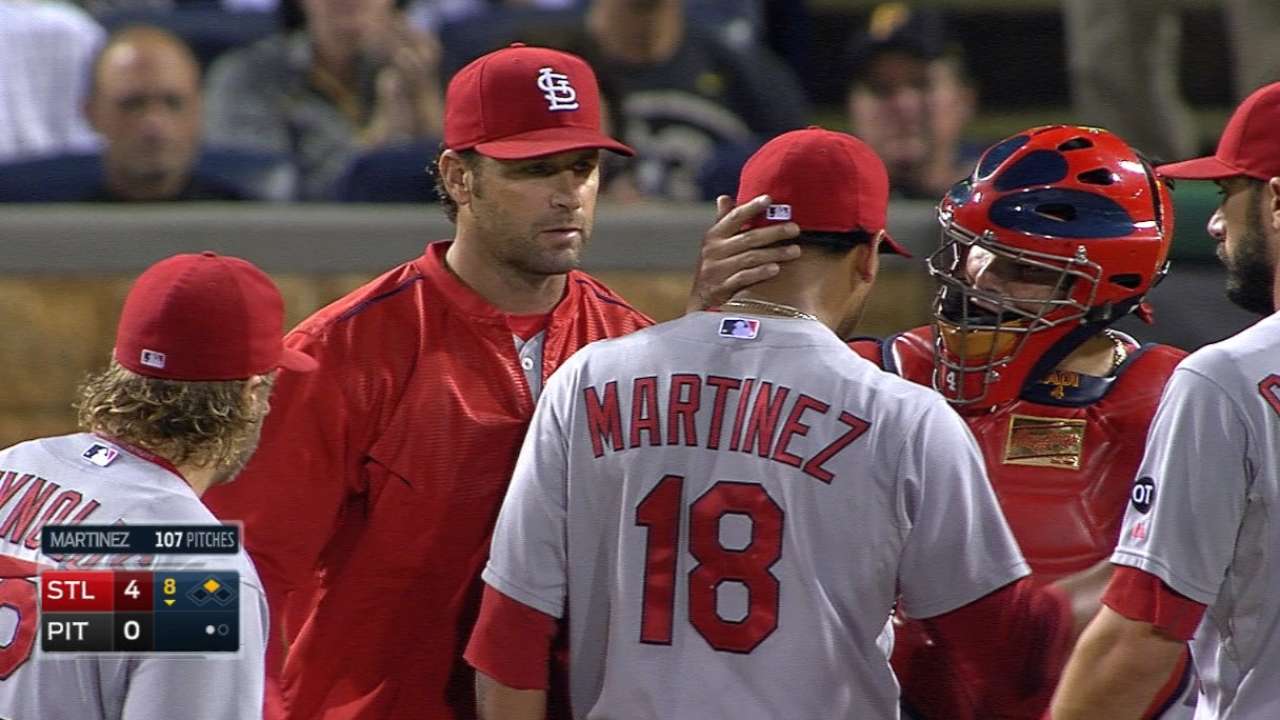 That seemingly put him over the edge, but it was the 23-year-old's recent consistency that has been most impressive. He has 10 consecutive quality outings, and over that span, the right-hander totes a 7-1 mark and 1.20 ERA.
Considering the competition -- Cueto's Reds are hosting the All-Star Game, Kershaw is a four-time selection, and Tulowitzki entered Friday night with a 21-game hitting streak -- Cardinals manager Mike Matheny wasn't sure if Martinez would win.
"I know that we've got a whole bunch of guys with sore thumbs from voting," Matheny said. "It was non-stop."
And when Matheny called Martinez into his office to give him the good news, the manager couldn't help but have a little fun with his player.
"I kind of messed with him a little bit. In Spanish, I told him I was sorry, but he has to take up the last spot on the National League roster. It took him a second because I don't know if sarcasm in my tone in Spanish actually translates real well," Matheny said with a laugh. "He was elated, to say the least."
.@Tsunamy27's reaction to the news that he won the #FinalVote. #VoteTsunami pic.twitter.com/VFrXz5C1lE

— St. Louis Cardinals (@Cardinals) July 10, 2015
Martinez, too, recognized how difficult it would be to outdistance the trio of NL players vying for the spot.
But the pitcher said he believed in his family and fans to provide the necessary support to get him to Cincinnati. And they did.
"I'm thankful for the opportunity and thankful for the fans for voting for me," Martinez said. "It's a dream come true."
John McGonigal is an associate reporter for MLB.com. This story was not subject to the approval of Major League Baseball or its clubs.