Angels call up Pestano, option Navarro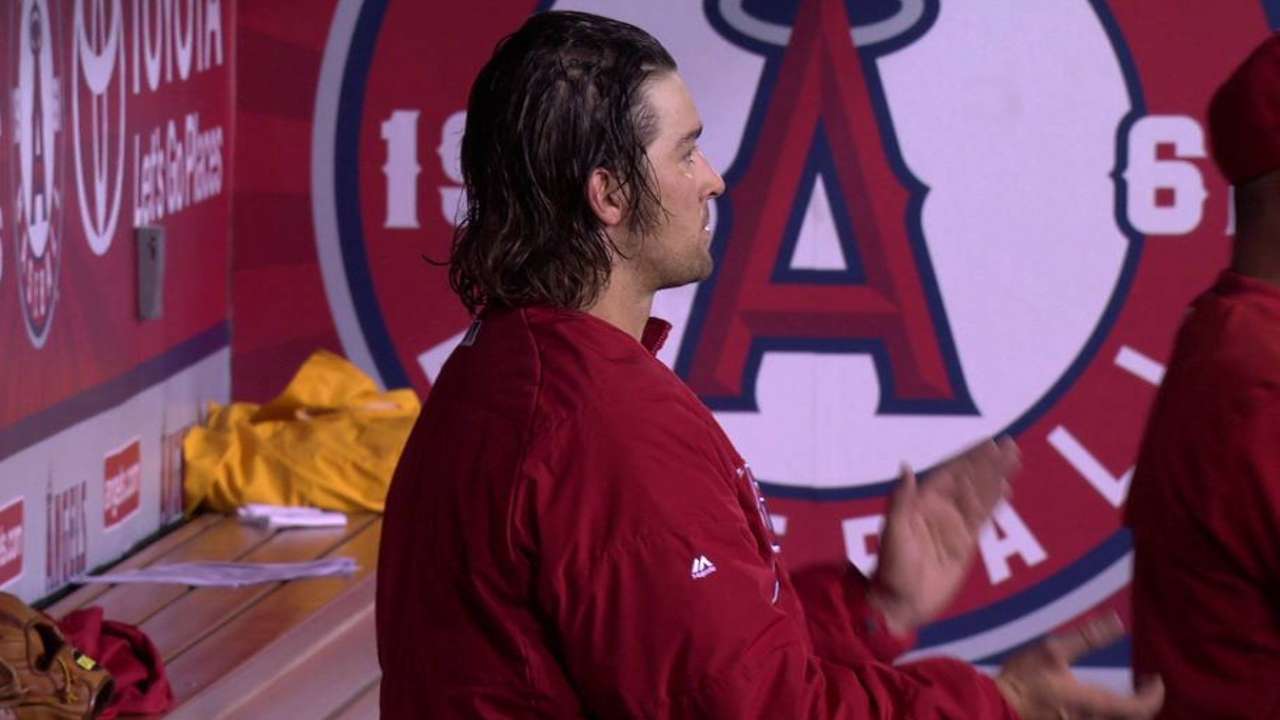 SEATTLE -- Tinkering and trying to do too much were what right-handed reliever Vinnie Pestano said got him sent down to Triple-A in late May. It's also what allowed him to find his command again in Salt Lake City.
Pestano was back with the Angels on Friday, adding a seventh arm to the bullpen as Huston Street recovers from a right groin injury.
"Everybody down below felt that Vinnie's last outings have been really good, so we felt it was the best mix," said Angels manager Mike Scioscia.
Infielder Efren Navarro was optioned to Salt Lake City after the Angels' 7-2 loss to the Mariners on Thursday night, freeing up a roster spot for the Angels to pad their bullpen as they close out the first half with the final three games of a four-game series in Seattle.
Navarro appeared in the Angels' Thursday night loss to the Mariners, pinch-hitting for Taylor Featherston. He grounded out to Mariners third baseman Kyle Seager to end the seventh inning. Navarro has hit .260 (20-for-77) in 37 games with the Angels this season.
Pestano has appeared in 221 Major League games over six seasons with the Indians and the Angels. In 17 games with the Angels earlier this season, he went 1-0 with a 4.22 ERA over 10 2/3 innings before being optioned to Salt Lake.
"When you go down there you start trying to fix stuff, and stuff doesn't jump out at you right away and make itself apparent so you kind of have to dig for it," Pestano said. "Through those outings you find out valuable information about what not to do again."
The 30-year-old reliever went 0-3 with a 4.41 ERA in 15 games with Salt Lake this season but did not allow a run in his last eight appearances with the Bees.
"It's a blessing and a curse," Pestano said of his time with the Bees. "After a couple weeks back down there I started to feel more comfortable and I've started to get the results I'm used to."
Worth noting
• Scioscia said his conversations with Angels interim general manager Bill Stoneman, who is with the club during its four-game series in Seattle, have picked up where they left off. He added that Stoneman is working the phones as the Trade Deadline nears just like any GM would, though Scioscia wouldn't commit to the idea of the Angels trading for a new bat before the Deadline.
"If you're looking at the evolution at our offense, we get Matt Joyce swinging like he can and we get David Freese back on track, that need for a bat starts to dissipate a little bit," Scioscia said before Friday's game. "Bill's made contact with teams like GMs do, and he's putting together a list of guys that I think might help us on an everyday level or even a depth level, and we'll see where it goes."
Andrew Erickson is an associate reporter for MLB.com. This story was not subject to the approval of Major League Baseball or its clubs.