Folty's long-term role may yet be as starter
Braves not done looking at right-hander as potential rotation piece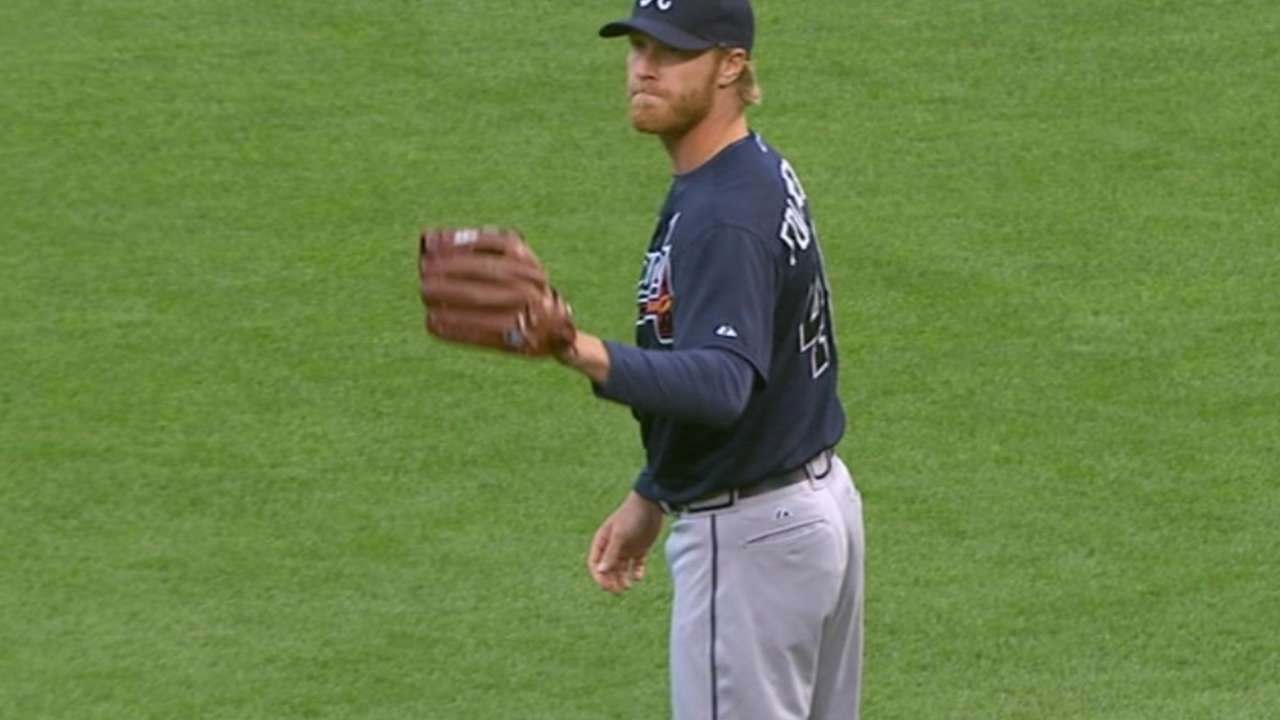 DENVER -- Mike Foltynewicz displayed some of his potential as a reliever when he struck out four of the final six batters he faced while working two innings during Thursday night's 5-3 loss to the Rockies. But the Braves remain intrigued by the possibility that his power repertoire could still prove effective as a starter.
"It's an easy move for us as an organization to make and say, 'Hey, you're a bullpen piece,' which for us that could always be there," Braves manager Fredi Gonzalez said. "But let's first try to develop him as a starter. There aren't too many guys who have the potential to throw 96, 97 or 98 miles an hour and carry it through seven or eight innings."
When the Braves recalled Foltynewicz from Triple-A Gwinnett earlier this week, they wanted to carry an extra reliever during this weekend's series at Coors Field and also get a feel for how the hard-throwing right-hander might handle the relief role. They have not revealed their plans for him after the All-Star break, but Gonzalez's comments indicate that Foltynewicz could soon move back to a starting role with Atlanta or Gwinnett.
Atlanta will likely have a vacant rotation spot when Manny Banuelos transitions to a reliever after the All-Star break because he is on an innings limit. That spot could be filled by either Foltynewicz or Williams Perez, who posted a 2.27 ERA in eight starts before going on the disabled list with a bruised left foot two weeks ago.
If the Braves are truly committed to winning as many games as possible this season, it would be hard for them to sell giving the rotation spot to Foltynewicz, who posted a 5.19 ERA in nine starts before he was optioned to Gwinnett on June 18.
But given that Foltynewicz has much greater upside, it might be in the club's best long-term interest to put him back in the rotation for the season's second half and allow him to prove that he can consistently locate his plus fastball and command his slider.
"I can throw [the slider] for strikes," Foltynewicz said. "They said the main thing I need to do is put it away and throw it [off the plate]. To lefties, I have to throw it to the back foot and in the dirt. I can throw it for strikes, but I've got to use it as a put-away pitch. I've been working with a new grip and just trying to get comfortable with it."
The slider would obviously be very influential to the success Foltynewicz might have in the bullpen or rotation. But the Braves are holding out hope that the pitch might provide value over the course of seven or eight innings at a time.
"It's hard to find Major League starters with power arms," Gonzalez said. "This guy may or may not be able to do it. Why not take the time an effort to see if he can do it?"
Mark Bowman is a reporter for MLB.com. This story was not subject to the approval of Major League Baseball or its clubs.