Alderson: Matz's injury 'difficult to project'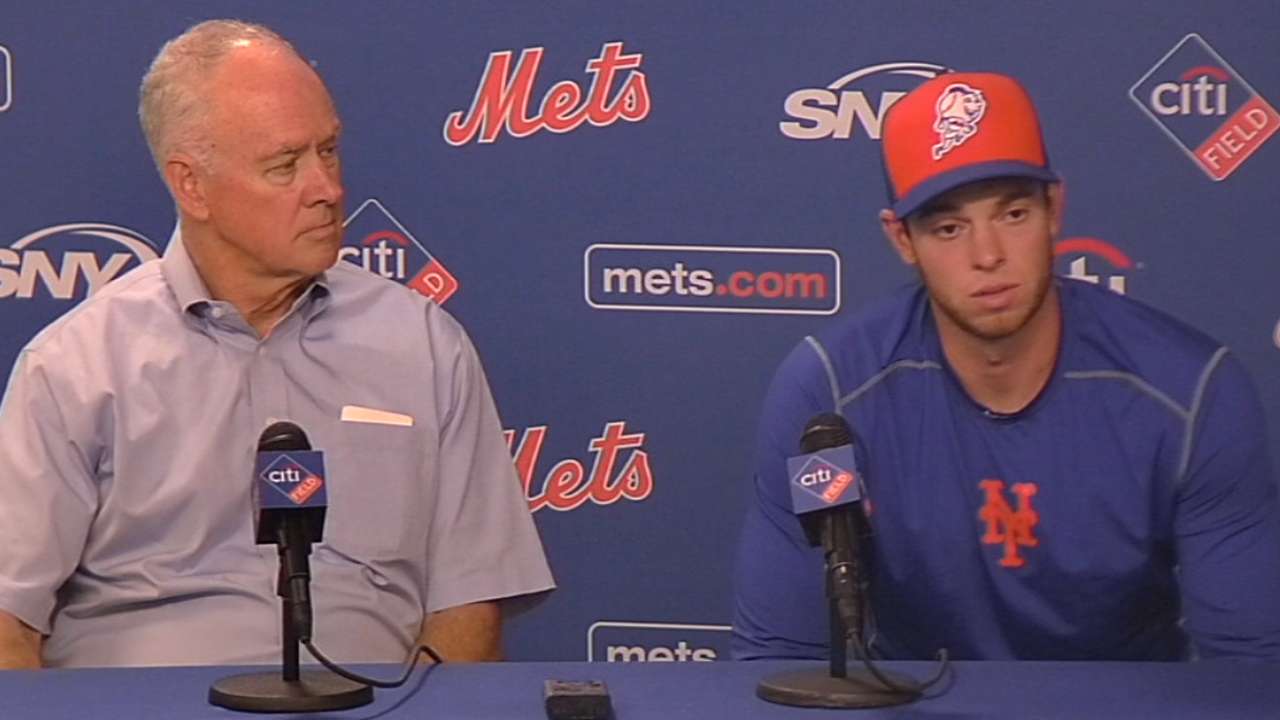 NEW YORK -- If Steven Matz didn't ask anyone to pinch him during his magical two-start first act in the Majors, over which he led his childhood team to two dominant wins, it's probably because something already had.
Ever since Matz's June 28 debut against Cincinnati -- when he threw 7 2/3 innings and drove in four runs at the plate -- the rookie southpaw has felt a nagging behind his valuable left shoulder.
"It's hard to describe," Matz said Friday, when the Mets officially placed him on the 15-day disabled list and recalled infielder Daniel Muno from Triple-A Las Vegas in a corresponding move.
Matz consulted with team doctors after his dazzling debut, and again after he shut out the Dodgers over six innings on Sunday. An examination at New York's Hospital of Special Surgery on Thursday proved similarly "unremarkable," as Mets general manager Sandy Alderson put it. But an MRI finally revealed the issue: a partial tear in Matz' left latissimus dorsi muscle.
Video: Steven Matz has a partially torn lat muscle
Alderson indicated that Jon Niese would likely fill Matz' scheduled Sunday start against the Diamondbacks, and that Dillon Gee could be a candidate to retake his position in the six-man rotation.
"It was weird because it was something I had never really felt before," said Matz. "It's really a minor thing."
"If it was the World Series, I wouldn't jump in front of the door to stop you," Matz recalled the doctor telling him. But Alderson admitted he disagreed with that assertion, and rather transparently expressed that he doesn't know when Matz will return to the rotation. What he does know is this: Matz will not throw for three weeks, at which time it will be determined if the tear has healed on its own. If it hasn't, Matz could remain inactive for longer.
"Nobody has guaranteed to us it will heal in three weeks," Alderson said. "These things are very difficult to project. But based on what the doctors have told us, there is a very, very high likelihood this will heal without problem."
The latissimus dorsi expands across most of the back and is responsible for most lumbar flexibility and strength. At the top of its range it connects to the shoulder joint, where it becomes involved with internal rotation. Injuries to this region have become increasingly common in pitchers, particularly hard throwers.
Like with all injuries, a range of severity exists. Then-White Sox starter Jake Peavy suffered the most crippling variety when his muscle tore off the bone in 2010. He missed the final three months of the season. Nationals pitcher Stephen Strasburg was diagnosed with just a strain in June 2013. He completed a 15-day disabled list stint and returned without hiccup. In Spring Training, Astros prospect Vincent Velasquez suffered a lat injury intermediate in severity. He didn't pitch until May.
Alderson said Matz could have been predisposed to lat issues due to a condition present at birth. Instead of being symmetrical, Matz' left lat is smaller than his right.
"That revealed almost an atrophy of that muscle," Alderson said. "It's possible that this injury existed before and it was just asymptomatic. The size of the muscle versus the other side tends to suggest that."
Several recent injuries have sidelined key players for longer than the club originally projected. Last season, Zack Wheeler was diagnosed with elbow tendinitis before it was determined he needed Tommy John surgery. When David Wright landed on the disabled list in April, it was with a hamstring strain that was supposed to last a few weeks. That turned into spinal stenosis that has threatened his season, and possibly his career. Daniel Murphy's early-June quad strain wasn't supposed to be serious. He missed 22 games. There are other examples, most recently that of Jerry Blevins, who Alderson revealed Friday still isn't cleared to begin throwing. Blevins had the cast removed from his fractured forearm by May 21, earlier than the expected date of June 1. But a second opinion received this week once again delayed his return.
"He's still not healed well enough to throw," Alderson said.
Joe Trezza is an associate reporter for MLB.com This story was not subject to the approval of Major League Baseball or its clubs.