Reds recall Iglesias, scratch DeSclafani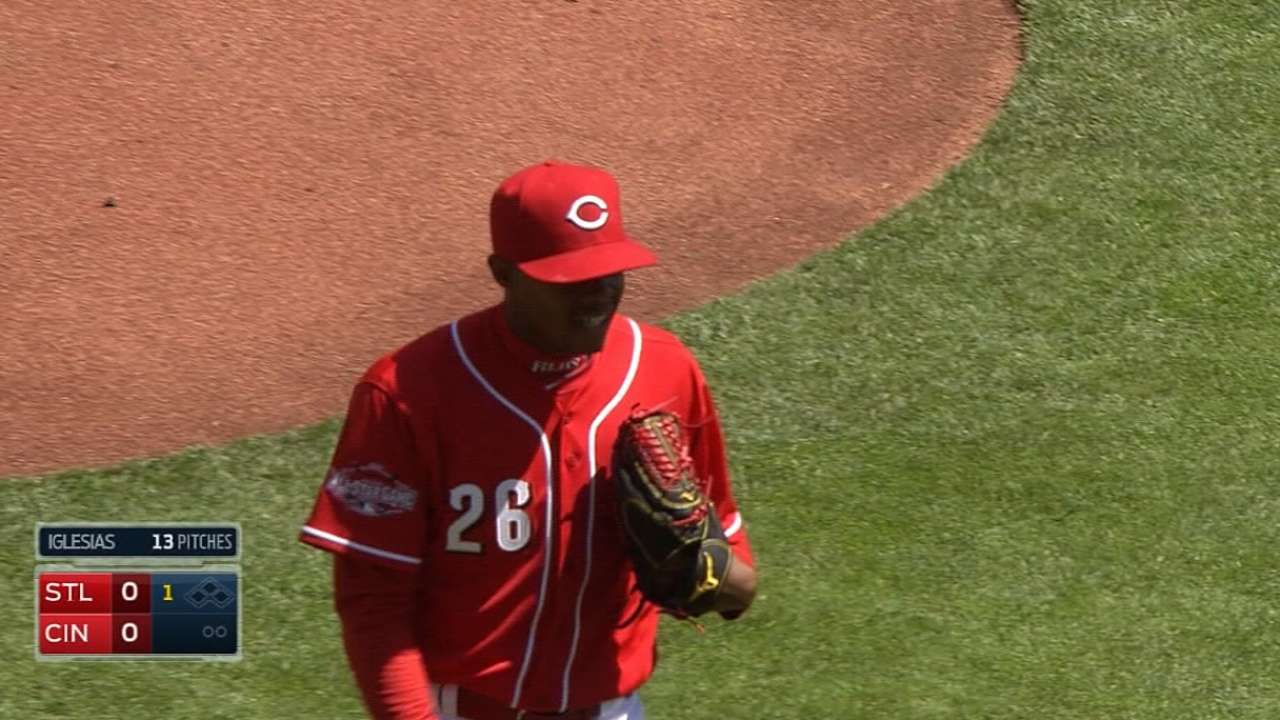 MIAMI -- With right-hander Anthony DeSclafani still dealing with tightness in his gluteal muscle, the Reds are taking precautionary measures and skipping his scheduled start on Saturday in Miami. In turn, manager Bryan Price said Raisel Iglesias will be recalled from Triple-A Louisville to make the start.
DeSclafani, a rookie, pitched with the gluteal strain on Monday against Washington as he went 5 2/3 innings and allowed two runs. Price said the injury does not require a disabled-list stint, and he said the club isn't overly concerned.
"That glute tightness just hasn't subsided to the point where we want it to," Price said. "He can pitch -- it's not something that would prevent him from pitching -- it's just that we'd like him to be back to 100 percent coming out of the All-Star break."
Price added that DeSclafani will rejoin the starting rotation immediately following the break. In 17 starts this season, the 25-year-old is 5-6 with a 3.65 ERA.
"We're organizationally confident that it'll be better if we skip him one start, and let him get more treatment and get stretched out," Price said. "We'll let the stiffness subside in the glute, and [he'll] be ready to go in the second half."
Iglesias (1-1, 5.11 ERA) is also a 25-year-old right-handed rookie, and he has been on the disabled list since June 5 with right shoulder tendinitis.
Prior to his injury, the Cuba native made six appearances for Cincinnati, four of which were starts (11 earned runs in 21 2/3 innings). He recently made two rehab starts for Louisville, striking out 10 in 7 2/3 innings while allowing two earned runs.
"We've been looking forward to getting Iglesias back here," Price said. "We think he's a big leaguer, and a guy that's gonna benefit greatly from being in the rotation and pitching at the big league level. We see him as a big part of this ballclub moving forward, and these are valuable innings for him."
Price added that Iglesias will be on a pitch count "somewhere in the range of 90 pitches."
"If he was in the neighborhood where he could throw 55-60 pitches, we wouldn't have made this decision," Price said. "But because his pitch count will allow it, we're gonna use him."
Steve Wilaj is an associate reporter for MLB.com. This story was not subject to the approval of Major League Baseball or its clubs.