White Sox turn 5 DPs, 4 in first 4 innings
Ramirez, Garcia highlight defensive effort to quell potential Cubs rallies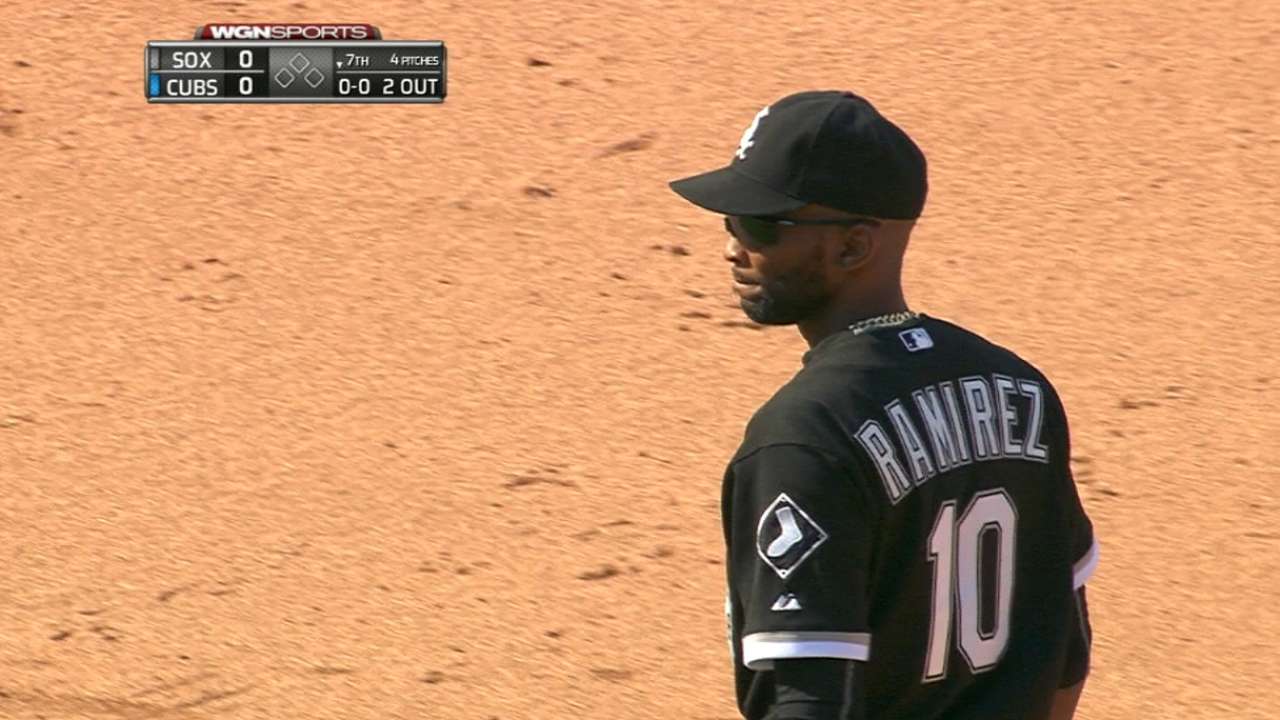 CHICAGO -- The Windy City showdown between the Cubs and White Sox has been wild in the past, but the early portion of Friday's series opener took it up a notch. The White Sox accomplished a rare feat by ending each of the first four innings with a double play. They are the first team to do that since the Rangers on June 2, 2012, according to the Elias Sports Bureau.
The White Sox added another double play in the seventh inning in a 1-0 victory over the Cubs.
"We got fortunate on a couple of them," said White Sox manager Robin Ventura. "But we have to play defense like that to win. We scratched out one, but we'll take it."
After he walked No. 2 hitter Anthony Rizzo, White Sox left-hander Carlos Rodon ended the first inning by getting Cubs All-Star third baseman Kris Bryant to ground into a 4-6-3 double play.
Rodon got some more help from his defense in the second inning when shortstop Alexei Ramirez robbed Starlin Castro of a hit. Ramirez dove toward second base, then shoveled the ball to Carlos Sanchez, who avoided Chris Denorfia's hard slide and fired to first to get Castro.
"It's always important to try to play good defense, especially when you're in close games," Sanchez said through interpreter Billy Russo. "It was key for us today for us to win this game. Every time you can play good defense, you're giving a best chance to your team to win the game."
The third inning featured a bizarre play that may have left a handful of spectators confused.
With runners on first and second, the Cubs' Dexter Fowler lined a ball toward White Sox right fielder Avisail Garcia. As Garcia laid out to make a terrific catch, he rolled over and lost control of the ball.
Sitting on second base after hitting a single and advancing on a passed ball, Cubs pitcher Kyle Hendricks watched the ball pop out of Garcia's glove and ran to third without tagging up. Meanwhile, Garcia threw to first base to try to double up Addison Russell, who had walked. Garcia's throw was off target and hit the fence of the White Sox dugout, but catcher Tyler Flowers was there to pick it up and throw out Hendricks at second.
"You know how much pitchers run the bases, so it's a little foreign to us to begin with," Hendricks said. "There's nothing I could do either way. I wasn't going to score if I went, but if I went back, it could've fallen for a hit. It's definitely a tough one and didn't fall in our favor."
Cubs manager Joe Maddon challenged the call on the field, but it was confirmed during replay that Garcia had made the catch.
"I really thought the ball hit the ground," Maddon said. "I don't know conclusively if it showed it did or not. Beyond all that, just have total control of the baseball -- kind of a football move. It was a very non-definitive look at the whole thing, I thought."
Rodon once again managed to escape with runners on first and second in the fourth inning. He struck out Denorfia before Flowers caught Bryant stealing third base.
Greg Garno is an associate reporter for MLB.com. This story was not subject to the approval of Major League Baseball or its clubs.