Submit a question for Manfred's live chat
Commissioner continues tradition today with his first Town Hall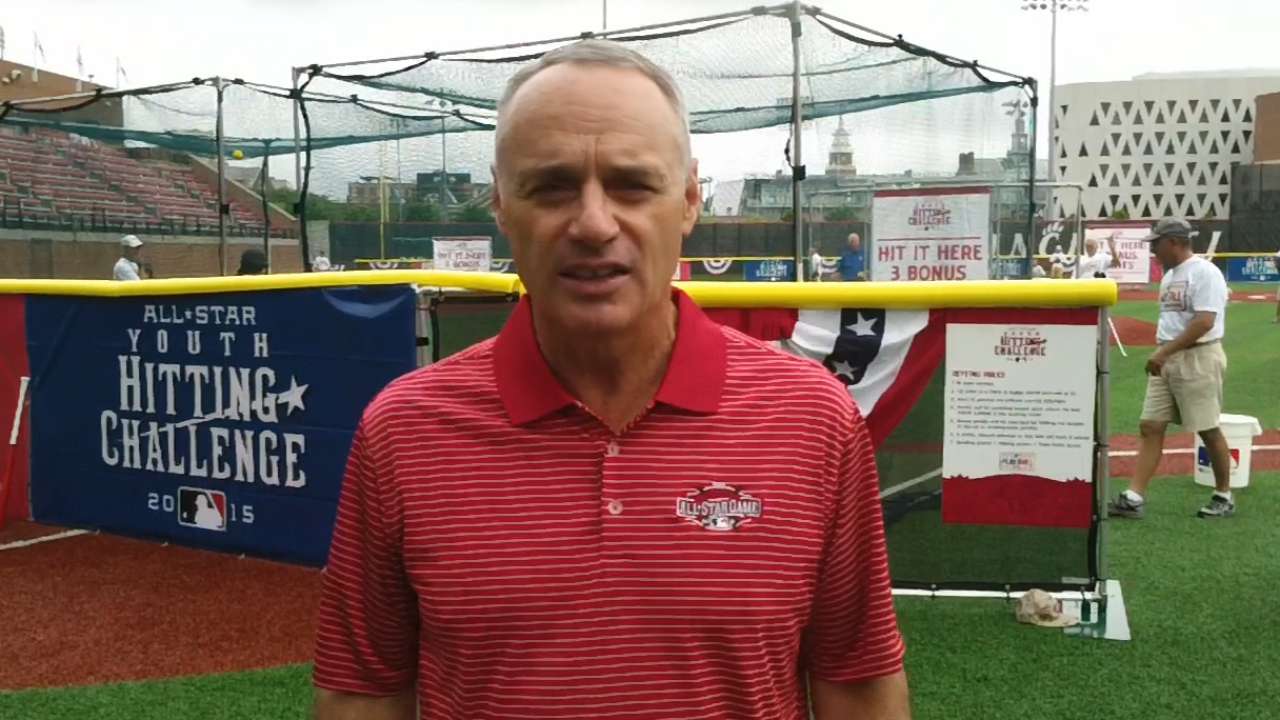 Continuing a popular tradition, Commissioner Rob Manfred will interact with fans from around the globe during a live chat, exclusively on MLB.com from the T-Mobile All-Star FanFest at the Duke Energy Convention Center this afternoon.
This will be Manfred's first time hosting the Town Hall Meeting, now in its 15th year. He'll make brief opening remarks, then answer e-mailed and audience questions from fans in attendance beginning at 1:30 p.m ET. Fans can submit their questions now at allstarchat@website.mlb.com.
A live video stream of the interactive chat session with baseball fans will be carried on MLB.com. A transcript of the dialogue, as well as an archived replay of the chat, also will be available.
Major League Baseball is enjoying another exciting season. Going into the weekend, 21 teams were within five games of a Wild Card spot. A fresh wave of rookie hitters -- Kris Bryant of the Cubs, Carlos Correa of the Astros, Joc Pederson of the Dodgers, Devon Travis with the Blue Jays, Maikel Franco with the Phillies, Yasmany Tomas of the D-backs, Steven Souza Jr. of the Rays -- is making an impact.
FanFest, which began Friday, is the world's largest baseball theme park, occupying 400,000 square feet. It's a five-day celebration of the game featuring interactive activities and historical exhibits.
Tickets include access to clinics, photo ops and autograph sessions with Hall of Famers and MLB legends including Pedro Martinez, John Smoltz, Ozzie Smith, Lou Brock, Andre Dawson, Ferguson Jenkins, Luis Tiant, Dave Winfield, Rollie Fingers, Barry Larkin, Juan Marichal, Gaylord Perry, Tony Perez, Eric Davis and Vladimir Guerrero.
Fans can have their picture taken with the world's largest baseball, which is signed by Derek Jeter and Hank Aaron, visit the exhibition of the National Baseball Hall of Fame and Museum, try to steal a base in the interactive exhibit and much more.
During the All-Star Game presented by T-Mobile in Cincinnati on Tuesday, fans can once again visit MLB.com to submit their choice for the Ted Williams Most Valuable Player Award presented by Chevrolet. Voting exclusively at MLB.com, online and via their mobile devices in the 2015 All-Star Game MVP Vote presented by Chevrolet, the fans' collective voice will represent 20 percent of the overall vote that determines the recipient of the Arch Ward Trophy.
MLB.TV Premium subscribers will be able to live stream the All-Star Game via MLB.TV through FOX's participating video providers. Access will be available across more than 400 supported MLB.TV platforms, including the award-winning MLB.com At Bat app. MLB.com will provide extensive online coverage of the All-Star Week festivities, including the 2015 Gillette Home Run Derby presented by Head & Shoulders, part of Gatorade All-Star Workout Day today. The Derby will feature a new format with brackets and timed rounds and will be broadcast live by ESPN and MLB.com beginning at 8 p.m. ET.
The 86th Midsummer Classic will be televised nationally by FOX Sports (coverage begins at 7 p.m. ET), in Canada by Rogers Sportsnet and RDS, and worldwide by partners in more than 160 countries. ESPN Radio and ESPN Radio Deportes will provide exclusive national radio coverage of the All-Star Game. MLB Network and SiriusXM will also provide comprehensive All-Star Week coverage. For more information, please visit allstargame.com.
Paul Hagen is a reporter for MLB.com. This story was not subject to the approval of Major League Baseball or its clubs.