Derby distance: Hitters have ability to astonish
Statcast shows Donaldson, Bryant homers among longest this season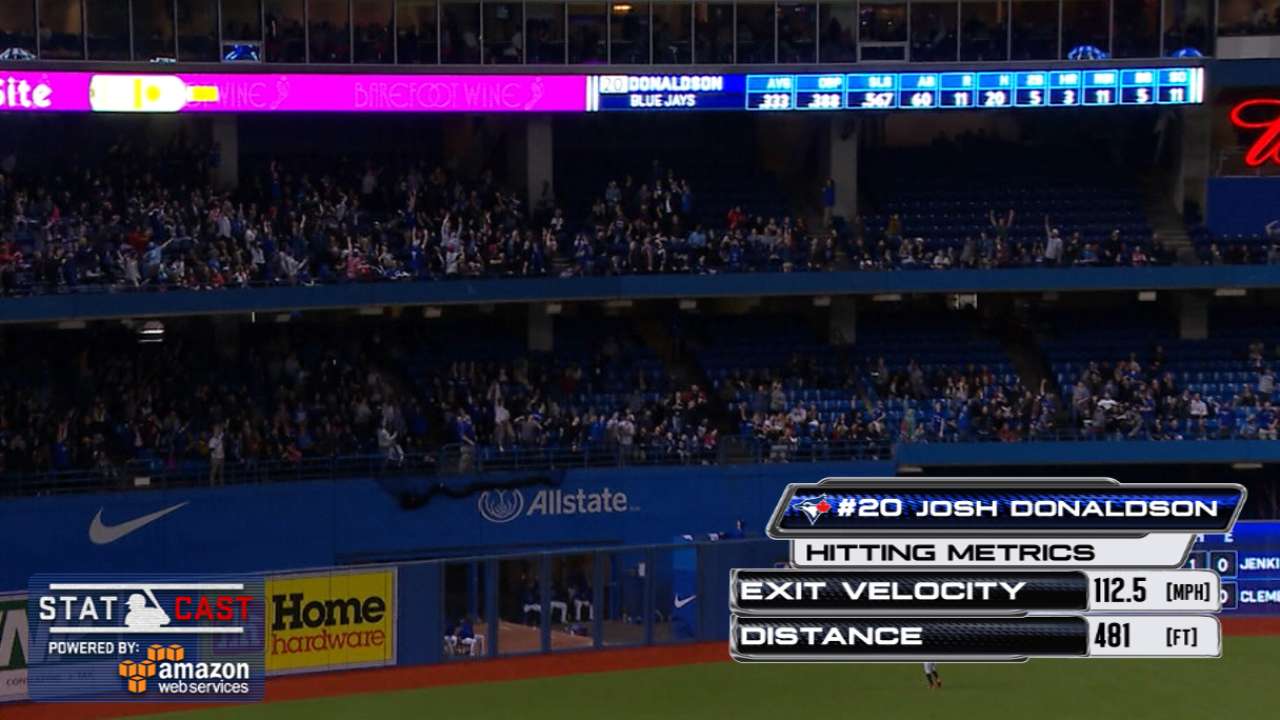 Each of the eight competitors in the Gillette Home Run Derby presented by Head & Shoulders is capable of hitting the ball far, and doing so often. That's why they were selected for the event, which begins at 8 p.m. ET on Monday at Cincinnati's Great American Ball Park.
But with the introduction of MLB's Statcast™ technology in all 30 ballparks this season, we now know more than ever about the abilities of baseball's best sluggers. Not only will the tool provide the official measurements for the newly formatted Derby, but we also can use it to look back on what these hitters accomplished during the first half.
• Complete Home Run Derby coverage
With that in mind, here's a look at the eight contestants and their longest home runs of the season, in order of distance.
Josh Donaldson, Blue Jays
Longest home run: 481 feet, April 23 vs. Orioles, off RHP Chris Tillman
Donaldson's two-run blast is the second longest in the Major Leagues this season, only two feet shorter than one hit by the Mariners' Nelson Cruz on April 29. The third baseman got a center-cut pitch from Tillman and launched it, with an exit velocity of 112.51 mph, off the facade above the second deck of the left-field seats at Rogers Centre.
Donaldson has served as a long-ball threat all season for Toronto, which acquired him in a trade with the A's last November. He has especially enjoyed hitting at his new home park, where he owns a .352/.383/.670 line with 14 of his 21 homers, including his six longest of the season, all of which have traveled at least 430 feet. Donaldson also ranks ninth in average exit velocity (93.76 mph) among players with at least 100 balls in play, as well as 12th in average generated velocity (4.84 mph), which subtracts pitch velocity from a hitter's exit velocity.
• Free download: Home Run Derby 15 game
Kris Bryant, Cubs
Longest home run: 477 feet, May 26 vs. Nationals, off RHP Aaron Barrett
Bryant has provided plenty of thrills during his electric rookie season, and this solo shot ranks at the top of the list. With the Cubs trailing, 2-1, in the bottom of the eighth inning, Bryant worked a full count before bashing a hanging breaking ball off the huge new video board beyond Wrigley Field's bleachers in left-center field. That tied a game the Cubs would win, 3-2.
Bryant's homer ranks as the league's seventh longest in 2015, and only four players have hit one further, since Miami's Giancarlo Stanton accounts for three. Bryant is also notable for the way in which he hits the ball. Of all players to have at least 100 balls in play recorded by Statcast™, the 23-year-old averages the second-steepest launch angle (16.83 degrees) and the second-greatest average height (51.20 feet).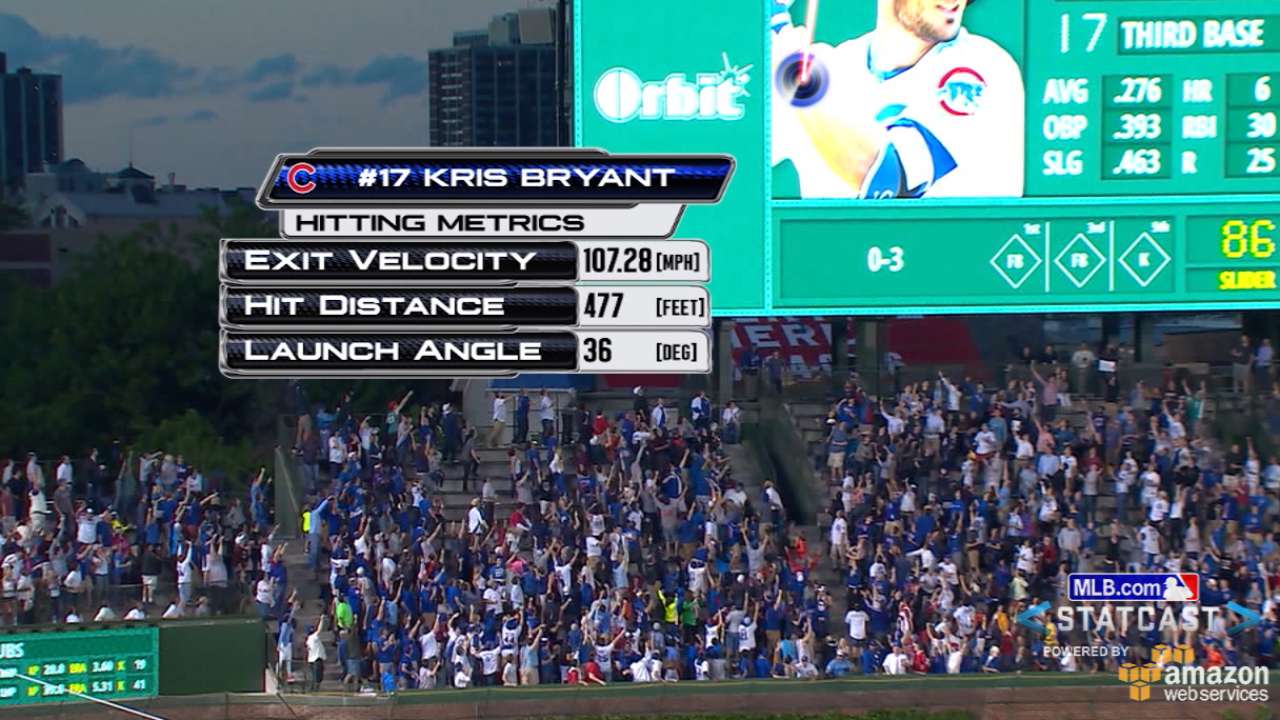 Joc Pederson, Dodgers
Longest home run: 477 feet, June 2 at Rockies, off LHP Jorge De La Rosa
Bryant's fellow National League rookie owns the eighth-longest homer of the season, just a fraction of a foot behind Bryant. Even more impressive, the left-handed batter did it off a southpaw, albeit at the launching pad that is Coors Field. Pederson struck this go-ahead two-run shot so well that neither the center fielder nor the right fielder did more than jog a few steps and look up as the ball dropped into the right-center-field seats, above the bullpens.
Going very deep has not been a rare occurrence for Pederson, whose six homers of at least 449 feet are more than any player besides Stanton. The 23-year-old center fielder also ranks behind only Stanton is average generated velocity, at 6.64 mph. Pederson is fourth in average exit velocity (94.28) among hitters with at least 100 balls in play.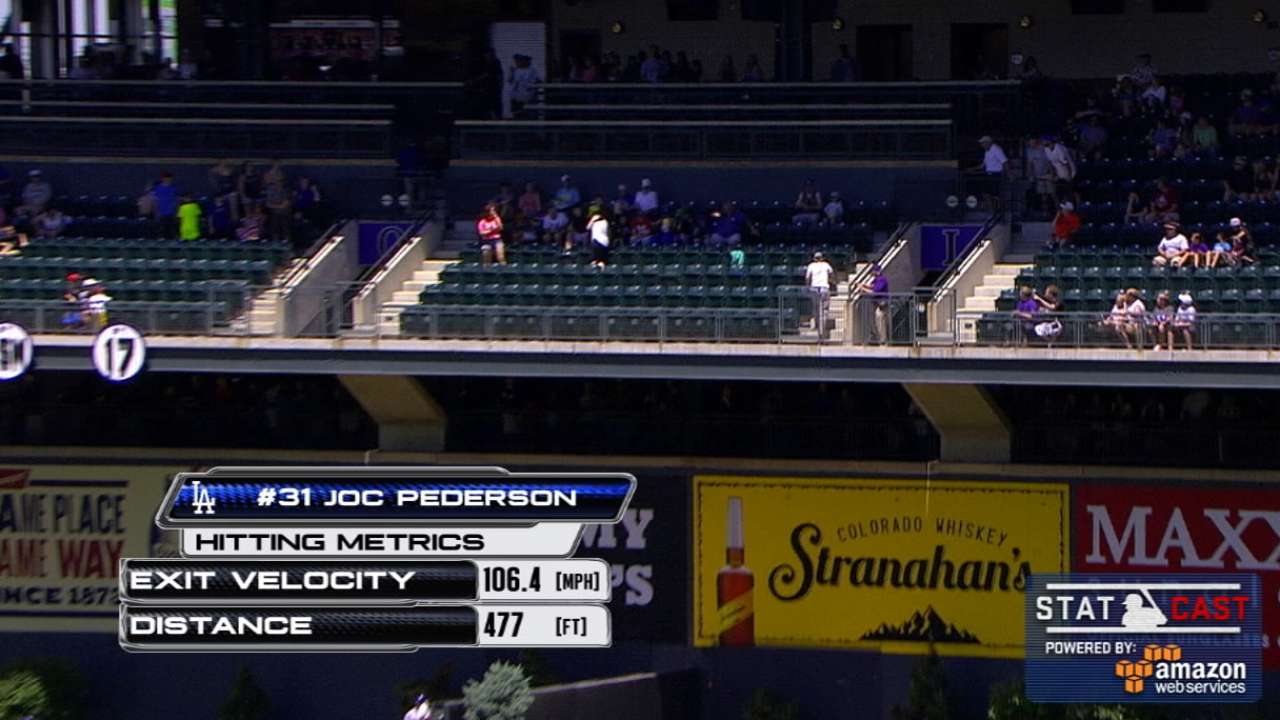 Albert Pujols, Angels
Longest home run: 454 feet, May 30 vs. Tigers, off RHP Shane Greene
The elder statesman of the Derby field at age 35, Pujols leads the American League with 26 homers in 81 games, including 18 since May 28. He began that stretch by homering in three straight games, capping the streak with this three-run shot that he ripped down the left-field line and way up into the seats at Angel Stadium, with an exit velocity of more than 109 mph.
That homer, the 531st of his career, is the 45th-longest hit this season. It's also one of six that Pujols has smacked at least 430 feet.
Prince Fielder, Rangers
Longest home run: 447 feet, May 26 at Indians, off RHP Danny Salazar
It's been a resurgent season for Fielder, who hit only three homers over 42 games during an injury-plagued 2014. He is back to his old tricks in 2015, however, as Salazar discovered when he hung a curveball to Fielder with two runners aboard. Fielder jumped all over it, tying the game while nearly clearing the right-center-field bleachers at Progressive Field.
That wasn't an aberration, as Fielder has launched three other homers of at least 433 feet. In addition, among players with 100 balls in play, he sits fifth in average generated velocity (5.61 mph) and eighth in average exit velocity (93.81 mph).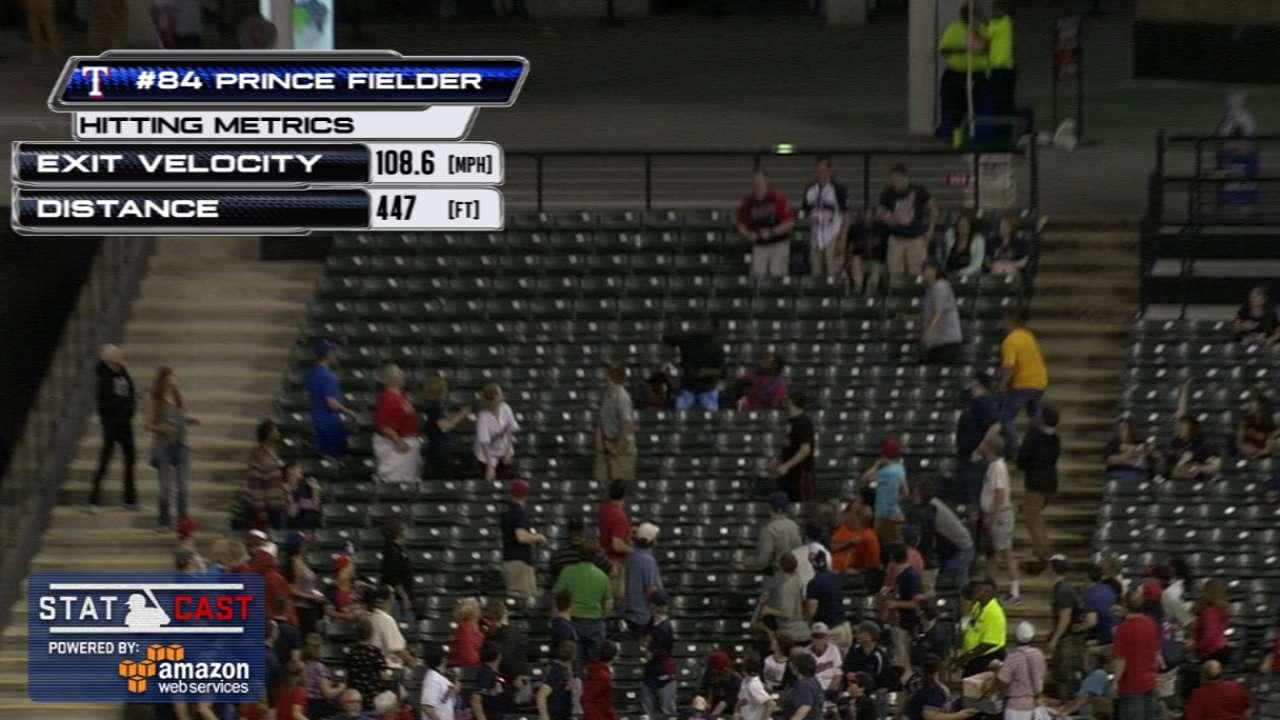 Manny Machado, Orioles
Longest home run: 437 feet, June 16 vs. Phillies, off RHP Jerome Williams
Machado has thrived in the top spot in the batting order this season for Baltimore, smacking four leadoff homers to tie for the Major League lead heading into play Friday. One of those came against Williams, whose second pitch of the game wound up sailing into the left-field seats at Camden Yards, coming off the bat at 109 mph.
Machado hit his 19th homer of the season against the Twins on Wednesday, giving him 13 over his last 37 games heading into play Friday and topping his previous career high by five. The 23-year-old's average exit velocity of 93.31 mph is the 14th highest among players with at least 100 balls in play.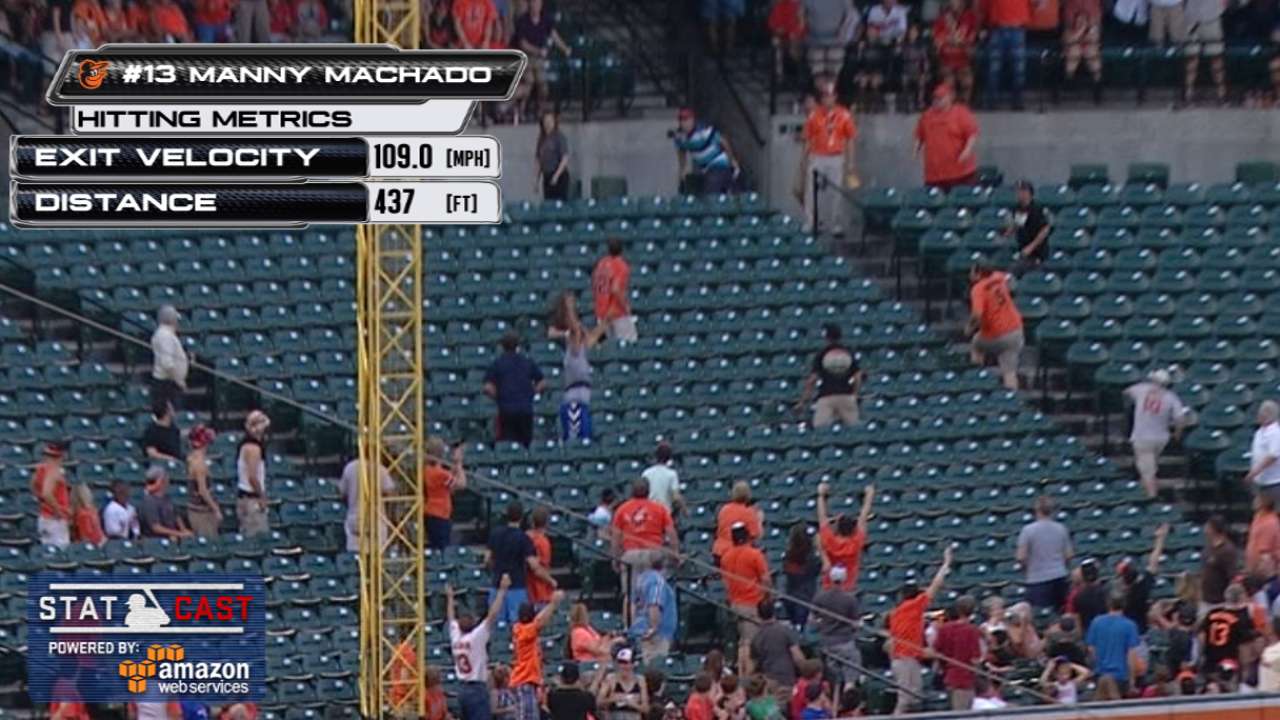 Todd Frazier, Reds
Longest home run: 436 feet, May 29 vs. Nationals, off RHP Blake Treinen
The All-Star Game's hometown favorite has already gone deep 25 times, just four shy of the career high he set last year. During the Derby, he'll be taking aim at the same seats he reached against Treinen by clubbing a hanging slider into the second deck in left-center field at Great American Ball Park.
While the homer isn't among the longest hit this season, Frazier owns the league's fourth-best average batted ball distance overall, at 252.22 feet. He also is third in average height (50.05 feet) and ninth in average launch angle (15.75 degrees) among players with at least 100 balls in play.
Anthony Rizzo, Cubs
Longest home run: 429 feet, June 5 at Nationals, off RHP Tanner Roark
Bryant isn't the only Cubs hitter to do serious damage against the Nats this year. In this case, Roark tried to sneak a 93-mph fastball past Rizzo up in the zone, but the left-handed batter got to it and clubbed a high-arcing drive well over the center-field wall for a two-run shot.
Among hitters with at least 100 balls in play, Rizzo also ranks in the Top 30 with an average distance of 231.81 feet and an average launch angle of 13.56 degrees.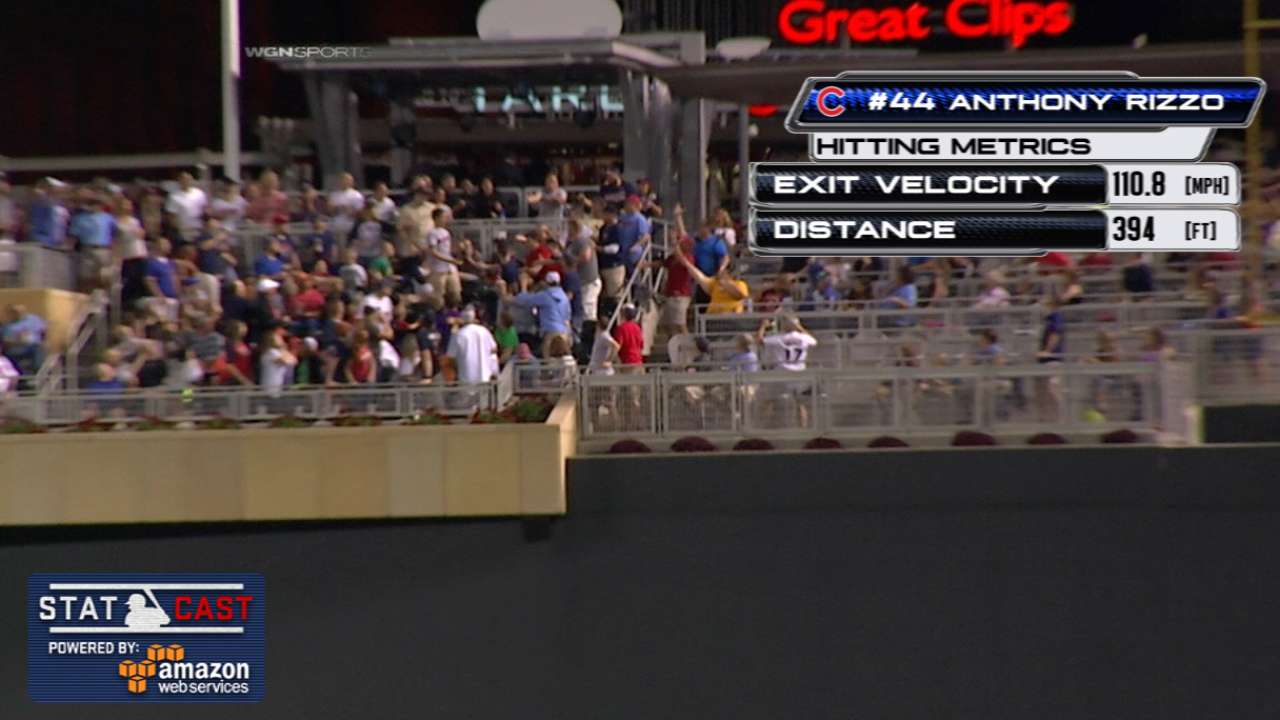 During the All-Star Game presented by T-Mobile in Cincinnati on Tuesday, July 14, fans can once again visit MLB.com to submit their choice for the Ted Williams Most Valuable Player Award presented by Chevrolet. Voting exclusively at MLB.com, online and via their mobile devices in the 2015 All-Star Game MVP Vote presented by Chevrolet, the fans' collective voice will represent 20 percent of the overall vote that determines the recipient of the Arch Ward Trophy.
MLB.TV Premium subscribers will be able to live stream the All-Star Game via MLB.TV through FOX's participating video providers. Access will be available across more than 400 supported MLB.TV platforms, including the award-winning MLB.com At Bat app. MLB.com will provide extensive online coverage of the All-Star Week festivities, including the 2015 Gillette Home Run Derby presented by Head & Shoulders, part of Gatorade All-Star Workout Day on Monday, July 13. The Derby will feature a new format with brackets and timed rounds and will be broadcast live by ESPN and MLB.com beginning at 8 p.m. ET.
The 86th Midsummer Classic will be televised nationally by FOX Sports (coverage begins 7 p.m. ET), in Canada by Rogers Sportsnet and RDS, and worldwide by partners in more than 160 countries. ESPN Radio and ESPN Radio Deportes will provide exclusive national radio coverage of the All-Star Game. MLB Network and SiriusXM will also provide comprehensive All-Star Week coverage. For more information, please visit allstargame.com.
Andrew Simon is a reporter for MLB.com. Follow him on Twitter @AndrewSimonMLB. This story was not subject to the approval of Major League Baseball or its clubs.