All-Star Week fun begins with opening of FanFest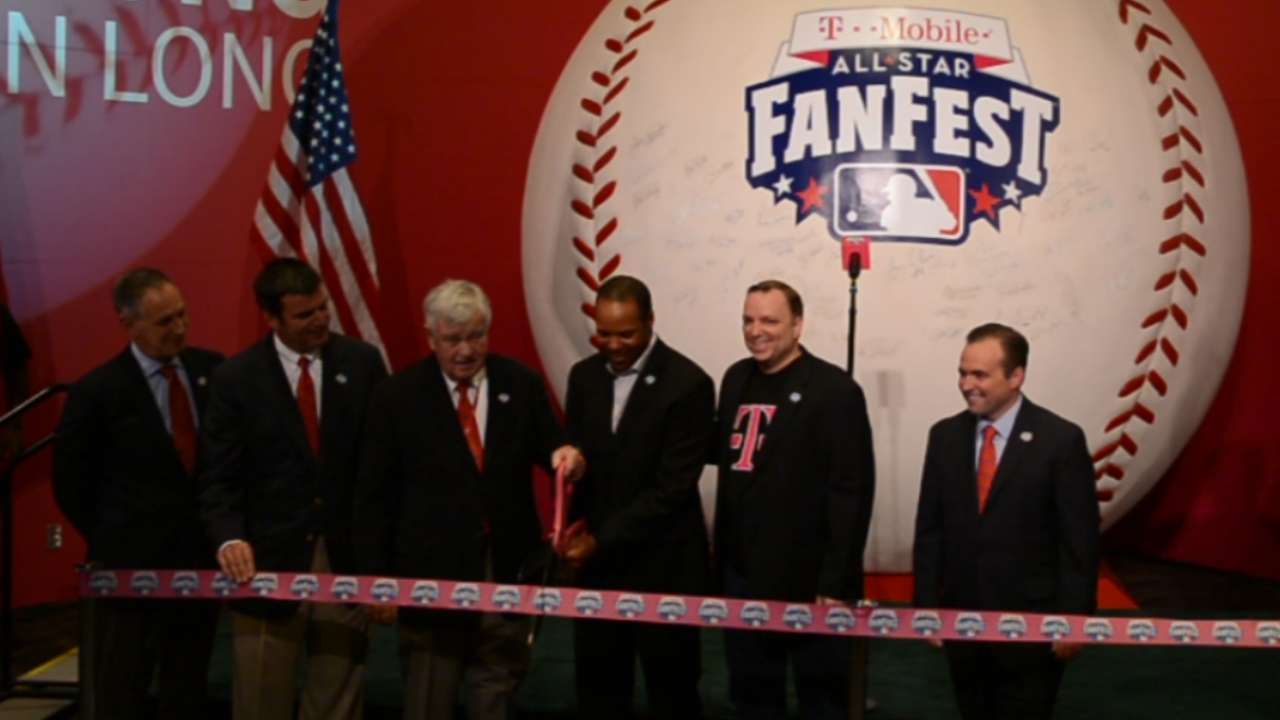 CINCINNATI -- The Opening Ceremonies of the T-Mobile All-Star FanFest on Friday had a little bit of everything: music, mascots, dignitaries, fans and, of course, a beloved Hall of Famer.
Barry Larkin, a 12-time All-Star who played in his first Midsummer Classic the last time the Reds hosted the game in 1988, was the official ribbon-cutter in a brief but energetic ceremony that officially began the festivities surrounding the 2015 All-Star Game presented by T-Mobile.
"What a fantastic week to be up here for the All-Star Game," said Larkin, who grew up in Cincinnati and now resides in Florida. "I had the chance to play in the All-Star Game in 1988. I remember the energy and excitement in the city. It wasn't as big an event then as it is right now.
"I'm happy to be here, and let's put on a great show for Major League Baseball. I'm happy to be home."
Larkin will be present throughout All-Star Week as one of two main spokesmen who will represent the host Reds and Major League Baseball. The other is current Reds third baseman Todd Frazier, who will join in on the fun as soon as Cincinnati finishes up its series in Miami on Sunday.
The Opening Ceremony began with a performance by the Mistics, a local R&B/pop band that grooved to the smooth stylings of four famous songs: "Sittin' on the Dock of the Bay," "My Girl," "Johnny B. Goode" and "Signed, Sealed, Delivered I'm Yours."
Flanked by two rows of kids from the Boys & Girls Clubs and the color guard from Diamond Oaks, two young ladies named Selena and Alexa, who were chosen by Major League Baseball and the Reds, performed the national anthem.
Reds president and CEO Bob Castellini welcomed the crowd with a few words on behalf of the host franchise.
"Cincinnati is a baseball city, and we can think of no better use for our convention center than housing three floors of exhibition space dedicated to a game that started right here in 1869," said Castellini, who was joined on the stage by his son, Phil, who is the Reds' COO. "Across the world, baseball may be known as America's pastime, but here it is known as Cincinnati's passion."
In addition to the Castellinis, a few more dignitaries were on hand to welcome the start of the FanFest: Tony Petitti, COO of Major League Baseball; Marty Pisciotti, North Central Area Vice President of T-Mobile; and John Cranley, the Mayor of Cincinnati.
"Over the last 10 years, we've seen an incredible renaissance and rebirth of our city," Cranley said. "Our Riverfront Park, our Fountain Square, our Washington Park. We're ready to show this off to the whole world."
Friday was designated as "Kids Day," giving young fans special opportunities to enjoy all aspects of baseball through skills games, a kids-only news conference, a home run derby and more.
The first eligible 2,400 children ages 12 and under received a Barry Larkin plush figure at the entrance of the event. A random selection of T-Mobile All-Star FanFest "MVP" kids received promotional items from each day of the event, including a T-Mobile JUMP! Lane bracelet and T-shirt.
The first activities on Friday's FanFest schedule included the MLB Drill the Skills Clinic with Larkin, MLB Mascot Home Run Derby and FanFest Home Run Derby, where young fans were invited to compete for the daily title of Home Run Derby Champion.
Alyson Footer is a national correspondent for MLB.com. Follow her on Twitter @alysonfooter. This story was not subject to the approval of Major League Baseball or its clubs.