Offense stymied by nemesis Hernandez
Five-game win streak halted by Mariners ace
SEATTLE -- Angels pitchers allowed a season-high 19 hits in a 7-2 loss to the Mariners on Thursday night, but with just one, Seattle starter Felix Hernandez nearly had all the run support he needed.
Mariners first baseman Logan Morrison launched a 96-mph fastball from starter Garrett Richards that Statcast™ estimated to travel 442 feet away from home plate to put the Angels in a 1-0 hole after one batter. The Angels eventually got a home run of their own, an eighth-inning blast to right-center by right fielder Kole Calhoun, but for the majority of the night, their bats went silent.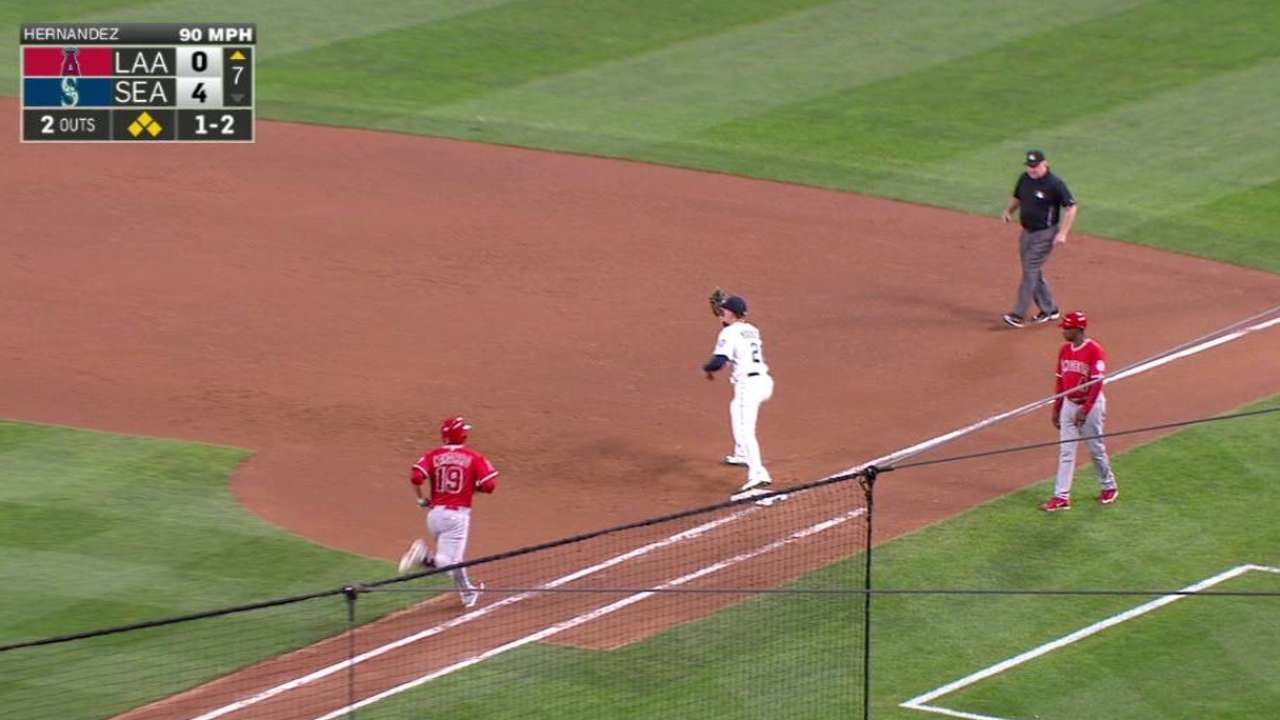 Calhoun's home run and a fielder's choice to score Erick Aybar in the ninth inning were all the Angels could muster, and a Los Angeles offense that had scored eight or more runs four times during a five-game win streak heading into Thursday's game rarely posed a threat to Hernandez, who is 7-1 with a 0.91 ERA in his last 12 starts against the Angels dating back to 2013.
For the first six innings of Hernandez's scoreless, seven-inning start, the Angels were unable to reach third base. After a second inning in which they notched two singles, they struggled to find any momentum, managing just one hit between the start of the third and the end of the sixth inning.
• Street likely to sit out series against Mariners
Calhoun, who finished the night 2-for-4 with the homer as well as a first-inning double, said the offense's struggles were heightened by the fact that the Angels faced an early deficit, allowing Hernandez to settle into a groove.
• Angels option Navarro to Triple-A
"Everybody knows [if] you get a lead, it's easy to settle into a ballgame and kind of relax and go out there and throw your game. It just makes a dominant pitcher a little more dominant," Calhoun said. "He's one of the best, man. When he's on, he's unbelievable."
The Angels had a chance to break through in the seventh. Aybar bunted to the left side to get on with one out and Hernandez issued back-to-back walks to Matt Joyce and C.J. Cron to load the bases, but the Angels couldn't push the runs across. Catcher Carlos Perez struck out on three pitches and pinch-hitter Efren Navarro grounded out to third to end the inning.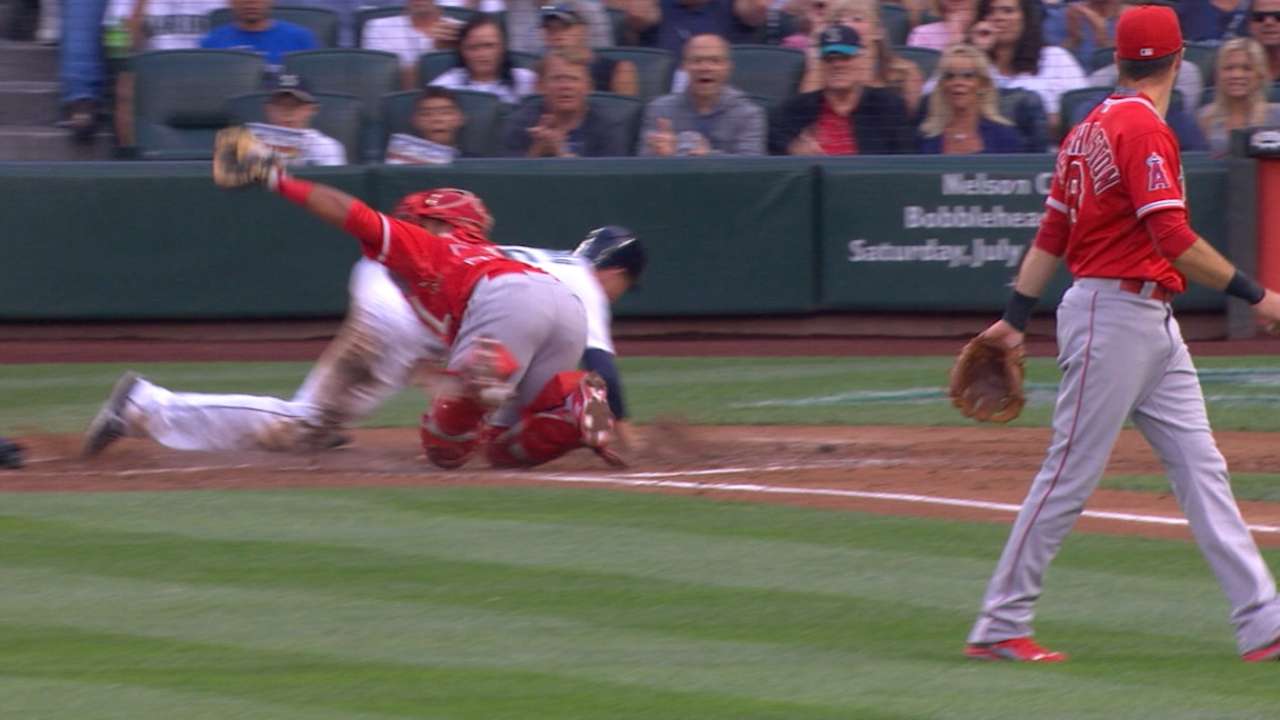 "We had a chance to get back in the game," said Angels manager Mike Scioscia. "At that point, it looked like [Hernandez's] release point was a little bit off and one swing and we're going to get back into it, but he's got a way to make pitches."
In lieu of run support, the Angels kept the floodgates from opening early thanks to a pair of outfield assists from Joyce and Calhoun. They were run-saving, highlight-reel throws, but were not enough to counter the Angels' tough night at the plate.
"We made some nice plays on defense, cut down some runs at the plate, but we just never got enough momentum where we were going to be back in that game," Scioscia said. "We got a little rally going, but it wasn't enough."
Andrew Erickson is an associate reporter for MLB.com. This story was not subject to the approval of Major League Baseball or its clubs.