Clark hits for cycle in seventh pro game
Brewers first-round pick hits his first professional home run less than 3 weeks after he leaves game on a stretcher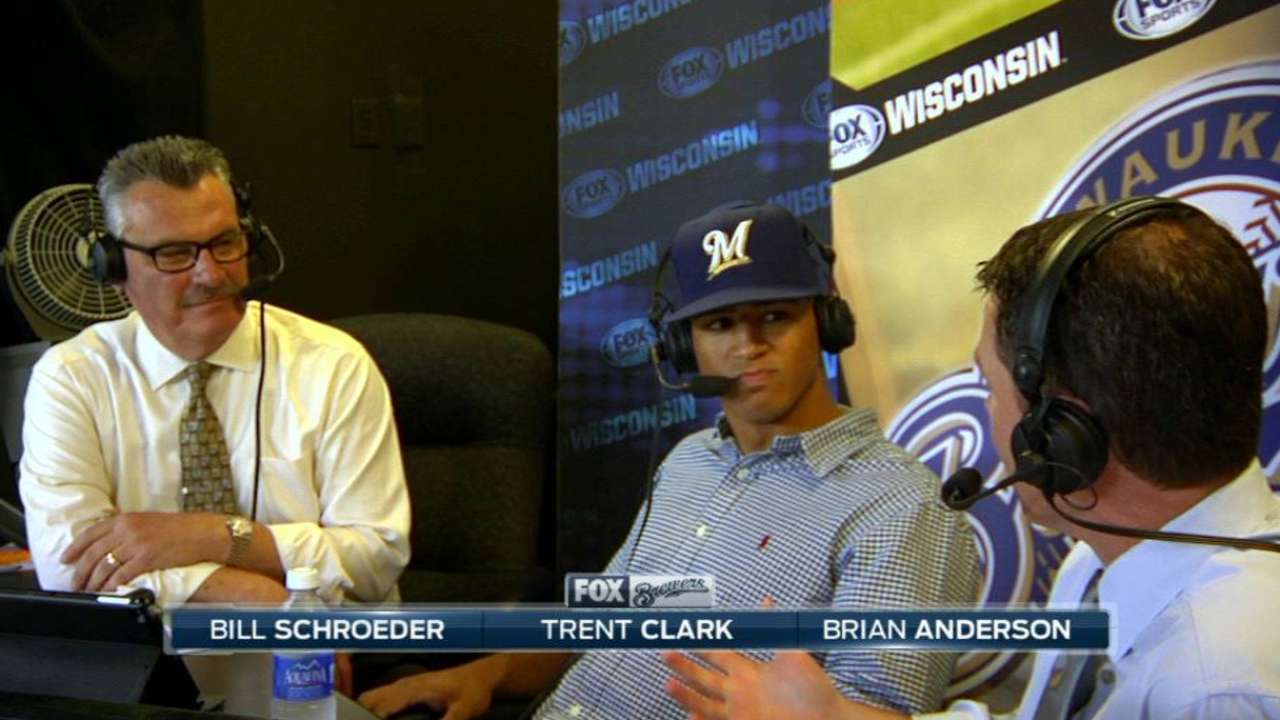 In just his seventh pro game, Brewers 2015 first-round Draft pick Trent Clark hit for the cycle for Milwaukee's Arizona League squad.
The 18-year-old from Fort Worth, Texas, led off an 18-4 win over Cleveland's AZL team Thursday with a triple before adding a double in the second inning, a grand slam in the third and a single in the ninth. The homer was his first at the professional level. He finished 4-for-6 with four runs and five RBIs.
"The last three at-bats, everybody was giving me hell," Clark told MiLB.com. "They were placing bets on what pitch it would happen, if it would happen. It was exciting, fun to be around. Everybody was so loose with the nice lead. Everyone was having fun."
Milwaukee drafted Clark No. 15 overall in June and signed him less than a week later. The center fielder made his debut on June 20, going 1-for-3 with an RBI. But, considering what might have happened, it's fortunate that he's playing right now.
In his second game, Clark ran headfirst into the outfield wall after making a catch and remained on the ground for 15 minutes. He was carted off the field on a stretcher but avoided sustaining a serious injury.
Clark sat out for two weeks before returning to the lineup on July 4 and is hitting .375/.483/.667 in seven games.
"It was fun, exciting," Clark said to MiLB.com. "I was zoned in at the plate. I'm starting to get my timing back after the injury. It's been fun to be able to get my timing back and have things come together like that."
Alex M. Smith is a reporter for MLB.com. This story was not subject to the approval of Major League Baseball or its clubs.