Well-rested Kinsler puts a charge in Tigers
MINNEAPOLIS -- Second baseman Ian Kinsler doesn't get many days off. He has been a stalwart in the lineup, playing in 84 of the Tigers' 85 games this season. He got most of the day off on Wednesday, playing just the ninth inning. And after a sound night's sleep, he felt good on Thursday prior to the Tigers' 4-2 win over the Twins.
The rest seems to be a recipe for success for Kinsler, who took the second pitch he saw on Thursday and turned it into a leadoff home run. In the sixth, shortly after the Twins took a one-run lead, he tied the score with an RBI fielder's choice. And in the eighth, he nearly hit his second home run of the day, missing by just a few inches and ultimately settling for a go-ahead double.
"He plays almost every day," manager Brad Ausmus said. "He looked a lot fresher today. A lot better swing."
Kinsler had gone just 1-for-10 in the team's last series and entered the game 2-for-12 in his career against Twins starter Mike Pelfrey, but on Thursday he propelled the Tigers to victory. He helped his team inch a game closer to second place in the American League Central on a night when his teammates weren't able to scrape together much against Pelfrey, and it sparked the Tigers in a game in which ace David Price had to battle.
"Pelfrey's been tough on me in the past, so to be able to contribute right away and get a run on the board was big," Kinsler said.
The Tigers couldn't maintain that lead, though, as a pair of unearned runs scored in the fifth after third baseman Nick Castellanos committed an error to begin the inning.
"When the other team comes back and ties it, it kind of makes it a moot point," Ausmus said of the leadoff home run. "You've got to regather yourself and find a way to score again."
So Kinsler did just that. Pelfrey got Kinsler to ground out twice between his home run and his double, but one of the groundouts was a fielder's choice and good for an RBI.
By the time the eighth inning came around, Kinsler expected to see another splitter from Pelfrey. Instead, Pelfrey threw him fastballs. And although that wasn't exactly what Kinsler was expecting, he still took Pelfrey deep to left-center, and chased him out of the game.
Kinsler thought he had a home run, but after a short crew chief review, the call on the field was confirmed.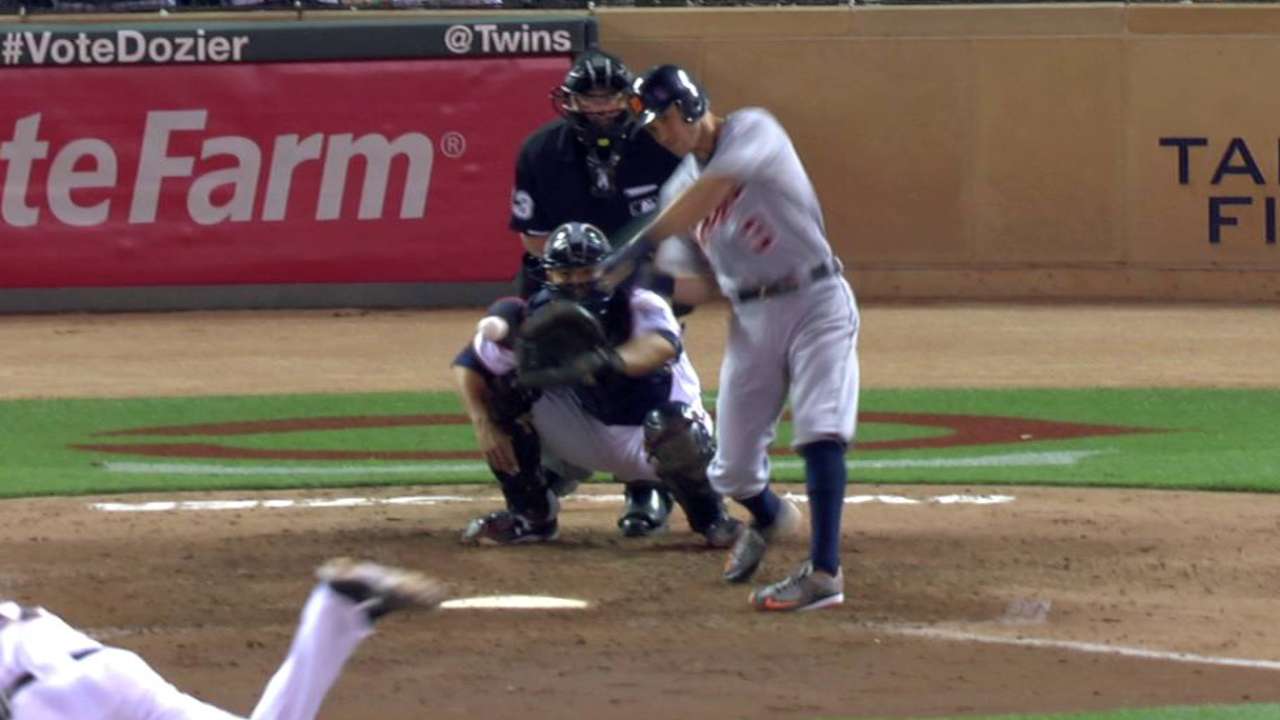 "When the sun goes down in this ballpark, the ball seems to stop carrying a little bit," Kinsler said. "The go-ahead run's fine. That's plenty for me."
Betsy Helfand is an associate reporter for MLB.com. This story was not subject to the approval of Major League Baseball or its clubs.