MLB.com Columnist
Tracy Ringolsby
Braves' revamped lineup finds strength in youth
Freeman, Peterson, Miller and other young talents usher Atlanta into new era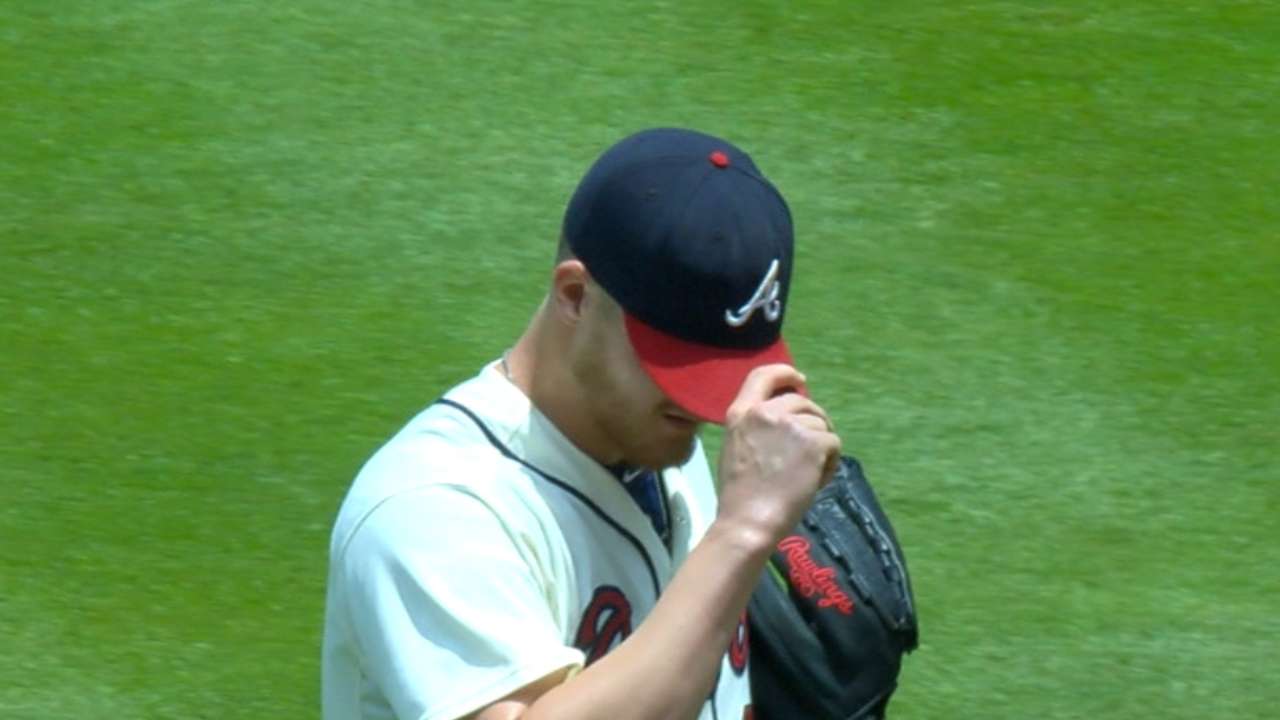 DENVER -- Returning to the role of a general manager after nearly a decade of advising and broadcasting and playing golf, John Hart wasted no time making sure that the baseball world knew he was back at work, this time overseeing the Atlanta Braves.
By the time he completed an off-season revamping the Braves, Hart had dealt his primary catcher (Evan Gattis), second baseman (Tommy La Stella), left fielder (Justin Upton), center fielder (Melvin Upton Jr.) and right fielder (Jason Heyward). He shuffled the bullpen, getting rid of five regulars, and allowing the team's only two 30-something starting pitchers to depart as free agents.
He refurbished the bullpen, including dealing closer deluxe Craig Kimbrel, only-returning-lefty Luis Avilan and right-hander David Carpenter from the eight who made at least 20 appearances last year. He also let the two over-27 starting pitchers -- Ervin Santana and Aaron Harang -- leave as a free agents.
And then he made it clear that this rebuilding project wasn't in a hold pattern. He's looking to have things in place so the Braves would be ready to compete by 2017, when they plan to move into the under-construction Sun Trust Park in Cobb County, north of Atlanta.
Not that many believed him.
One guy, however, did, and that one guy, manager Fredi Gonzalez, was probably the most critical believer in Hart's plan.
With the All-Star Break looming, it's Hart and Gonzalez who keep finding answers to the questions that may surface as the Braves continue to play competitive baseball -- while simultaneously undergoing a major roster overhaul.
They went into Thursday night's rain-delayed game against the Rockies at Coors Field a victory shy of .500, in third place in the NL East, just 4 1/2 games back from the division-leading Nationals, and having won six of their last eight games.
"I didn't start this with the idea of taking things down to the bare bones," Hart has said.
Rebuilding and competing simultaneously?
"It's not difficult because the guys are good," said Gonzalez. "When you have talent, you can do both."
How good?
Three of the four primary infielders are 25 years old -- first baseman Freddie Freeman, second baseman Jace Peterson and shortstop Andrelton Simmons.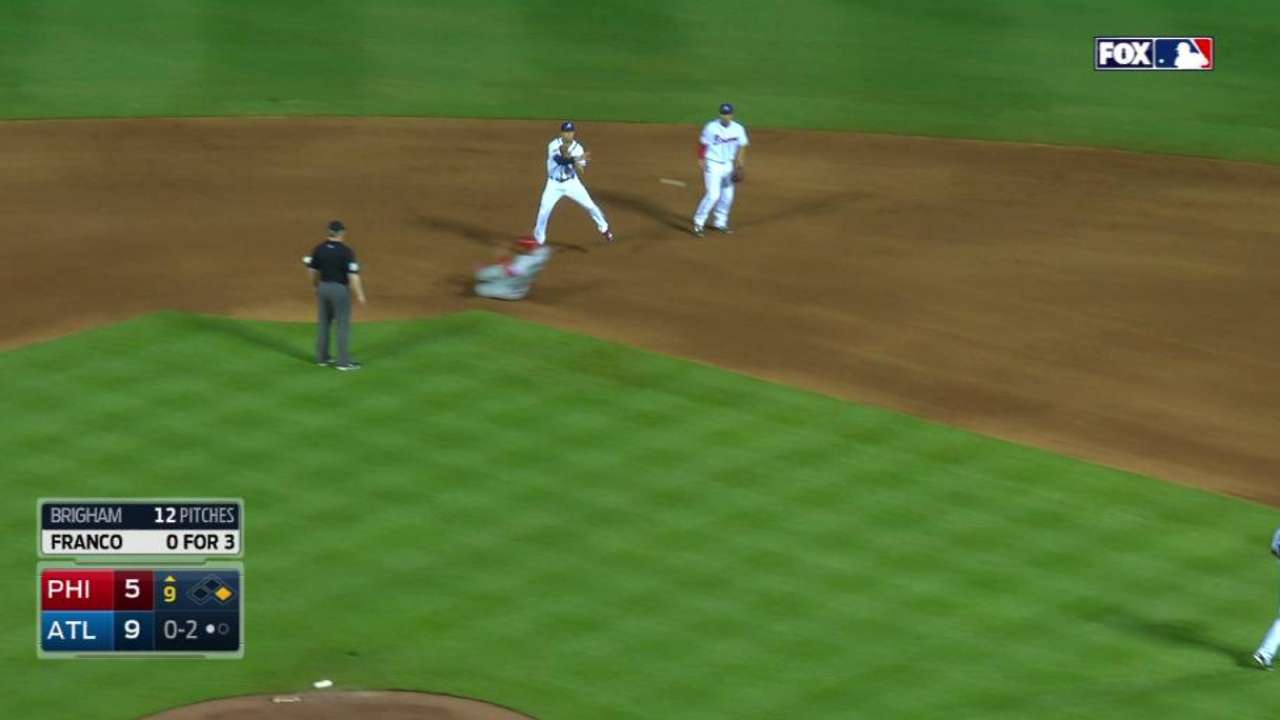 The real impact, however, has come in the rotation.
Seventy-five of the Braves' first 86 games have been started by pitchers 24 or younger, and the combined ERA for the starters in those 75 games is 3.28, which would be the fourth lowest among NL teams.
Left-handers Shelby Miller and Alex Wood and righty Julio Teheran -- all 24 -- are the sage veterans on the staff, having combined to make 216 big-league starts. And they are getting strong support from the recent arrival of right-hander Matt Wisler and left-hander Manny Banuelos, who are scheduled to start the final two games before the break, in Colorado on Saturday and Sunday. Williams Perez, another 24-year-old, was 4-0 with a 2.88 ERA in 11 appearances (eight starts) before being sidelined with a bruised left foot.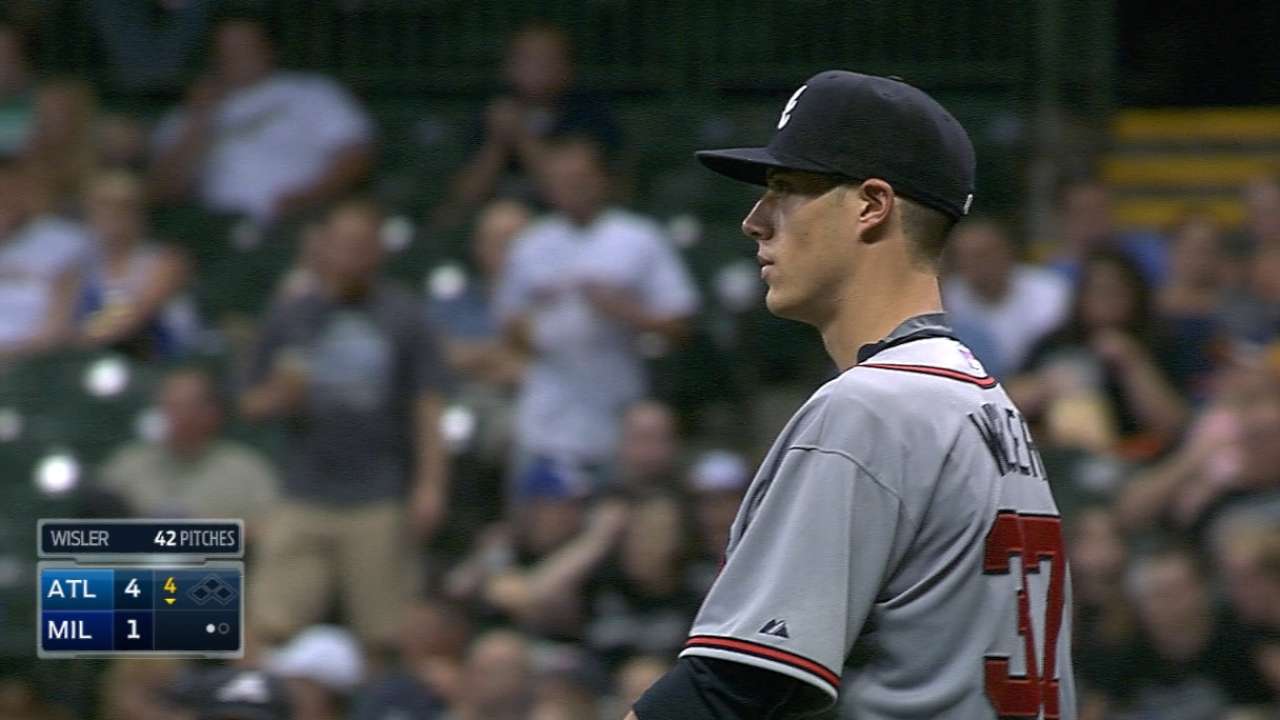 Perez could be back after the All-Star break, which would allow the Braves to take a cautious approach and put Banuelos in the bullpen. He was, after all, limited to 76 1/3 innings in the Yankees' minor league system last year, after sitting out 2013 recovering form Tommy John surgery.
"You want to make sure you don't abuse them, that's the challenge," said Gonzalez. "You're not going to run them out there with 130 pitches. But you know with their ability, they can compete."
And there is more on the way, thanks to the off-season whirlwind, which included the Braves also acquiring the 41st and 77th selections in last month's draft as part of trades with the Padres and Diamondbacks.
Consider that MLB.com's Top 20 Braves prospects includes 14 players acquired in trades since Hart took charge, including Wisler, who is No. 2, and Banuelos, who is No. 11.
The others include right-hander Touki Toussaint, No. 4; left-hander Max Fried, No. 6; third baseman Rio Ruiz, No. 7; left-hander Ricardo Sanchez, No. 9; right-hander Tyrell Jenkins, No. 10; right-hander Arodys Vizcaino, No. 14; outfielder Mallex Smith, No. 15; third baseman Dustin Peterson, No. 16; right-hander Andrew Thurman, No. 19, and catcher Jose Briceno, No. 20.
"It's exciting to be part of this, watching the young players not only develop but compete and being able to anticipate what lies ahead," said Gonzalez.
Tracy Ringolsby is a national columnist for MLB.com. This story was not subject to the approval of Major League Baseball or its clubs.