Not at his best, Anderson still looks great
Right-hander allows just one earned run over 6 2/3 innings
CLEVELAND -- Following Thursday's 3-1 victory over Houston, Terry Francona said starting pitcher Cody Anderson was the least sharp he'd seen him. Anderson said he didn't have his changeup. He lasted just 79 pitches.
Based on that information, one might think Anderson bombed his start. Got knocked around a little bit. But there's that number in the score: one.
The postgame comments speak volumes towards Anderson's body of work at the Major League level thus far, albeit in a small sample. The 24-year-old righty allowed just one run in 6 2/3 innings, and all parties agreed it was the rookie's "worst" start to date.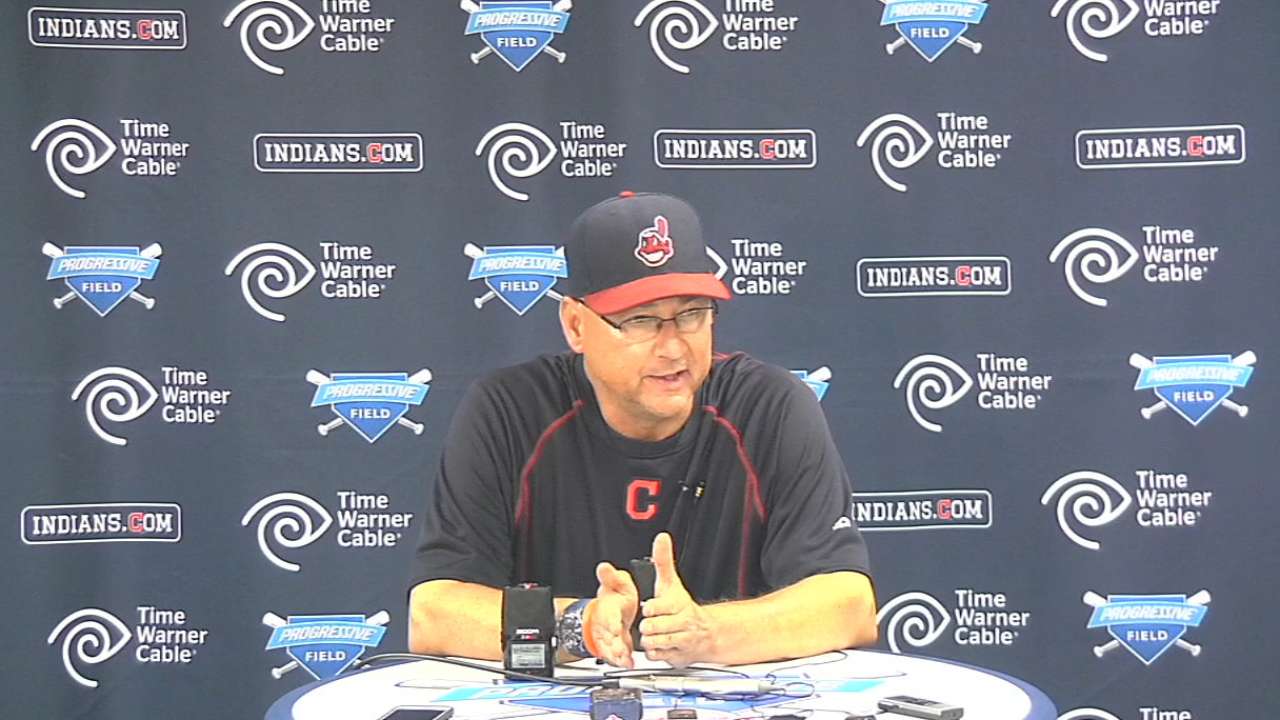 Prior to Anderson's Major League debut, he'd never pitched into the eighth inning of a game in his professional career. He went 7 2/3 scoreless his first time out. He took a perfect game into the seventh and went eight strong his next time out. His third outing was a repeat of the one before it -- eight innings, one earned run.
With Thursday's start, Anderson became the first pitcher since 1914 to begin his career with four consecutive outings of at least six innings allowing one run or none in each.
"I thought tonight was the least crisp he's been of his four," Francona said. "He didn't have his real good changeup. Saying that, he really competed. He got some real big outs."
The only damage against Anderson came in the form of a solo home run by Hank Conger in the third inning.
"It was a changeup that didn't change," Anderson said with a smile. "It was just 'up.'"
After the homer, Anderson retired 14 of the next 17 batters he faced, and had sat down eight in a row before being removed after just 79 pitches. When he threw a first-pitch fastball to Luis Valbuena in the seventh at just 88 mph -- he typically sits around 92 -- Francona went out to check on the big righty to make sure all was OK. Anderson retired Valbuena and the next batter, but was still removed from the game.
"I thought there was a drop-off in the stuff, but just the score of the game and who was hitting for them [dictated the move]," Francona said. "My heart was saying leave him in, but I didn't want Conger to hit left-handed."
Anderson now owns a 0.89 ERA through his first 30 1/3 big league innings and is just the fifth member of a rotation that has already been historic in his own right. Corey Kluber, Carlos Carrasco, Danny Salazar and Trevor Bauer each have already amassed 100 strikeouts before the All-Star break, becoming the first quartet of teammates to do so in Major League history.
Right now, Anderson is just the icing on the cake. And the icing is sweet.
"It's pretty crazy," Anderson said. "For my first time coming up here, to be able to watch it and be a part of it. It's crazy. That's all I can really say about that."
August Fagerstrom is an associate reporter for MLB.com. This story was not subject to the approval of Major League Baseball or its clubs.