Lorenzen making strides with each start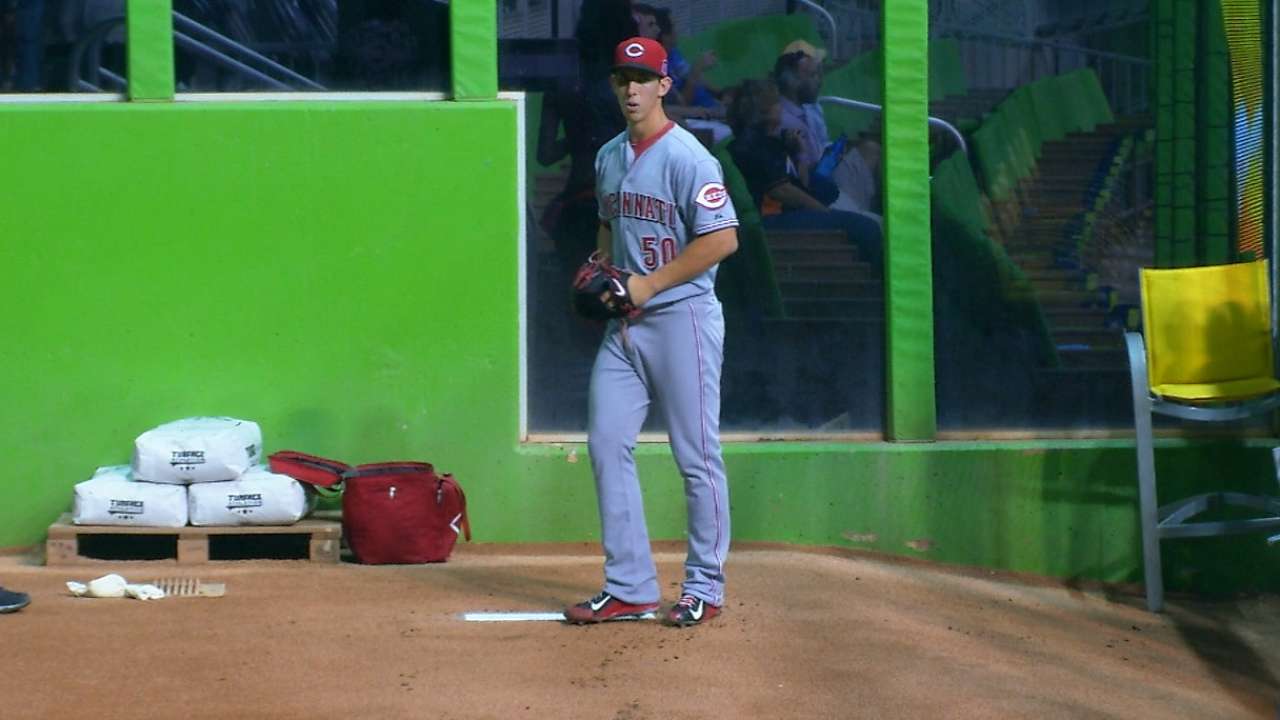 MIAMI -- Going into Thursday's 2-0 loss at Marlins Park, Reds starter Michael Lorenzen set a lofty goal for himself: outpitch Marlins ace Jose Fernandez.
But despite allowing just two runs in six innings, Lorenzen came up short as the Miami righty tossed seven scoreless frames to earn the victory and pin the 23-year-old with his fourth loss of the season.
"I wasn't able to outpitch Fernandez," Lorenzen said. "That was my goal. When you get an opportunity to go up against a guy like him, you want to do your best and show that you can compete at the highest level."
While Lorenzen (3-4, 3.53 ERA) threw 100 pitches, 28 of them came in a shaky first inning. Still, he only allowed one run despite loading the bases and settled in after escaping the jam.
"There are lessons to be learned," manager Bryan Price said. "Number one, when you don't have your best stuff, you can still compete -- which he did today…They just sprinkled a few base hits throughout the course of their lineup. I'll tell ya, when Michael gets to where he's commanding the zone better, he's gonna be a force."
That was evident as Lorenzen allowed just one run over the next five innings. However, the righty who finished with five strikeouts while allowing five hits and four walks admitted he's still trying to figure out his rough beginnings.
"It was just a long first inning and that's the adjustment that I need to make," Lorenzen said. "I've had some long first innings and it's kind of hurt me in the long run. I'm just learning from it. But I felt good. I competed, I attacked. I didn't think about my mechanics or anything. I just went out there and had fun, really."
In six road starts, Lorenzen is 2-2 with a 3.00 ERA (11 earned runs in 33 innings). Even more, he has surrendered three or fewer runs in his past five starts -- all while trying to learn from the best, like Fernandez.
"I definitely like to watch, like when I faced [the Mets' Matt] Harvey, as well," Lorenzen said. "I love to watch and see what they're doing -- what makes them great.
"[Fernandez] just got ahead. He attacked guys and threw a ton of strikes. He backed our guys in the corner and it's hard to hit that way. I need to learn that."
Steve Wilaj is an associate reporter for MLB.com This story was not subject to the approval of Major League Baseball or its clubs.