Mercer showcases range, even in rain
Bucs shortstop makes 2 dazzling plays, laments costly error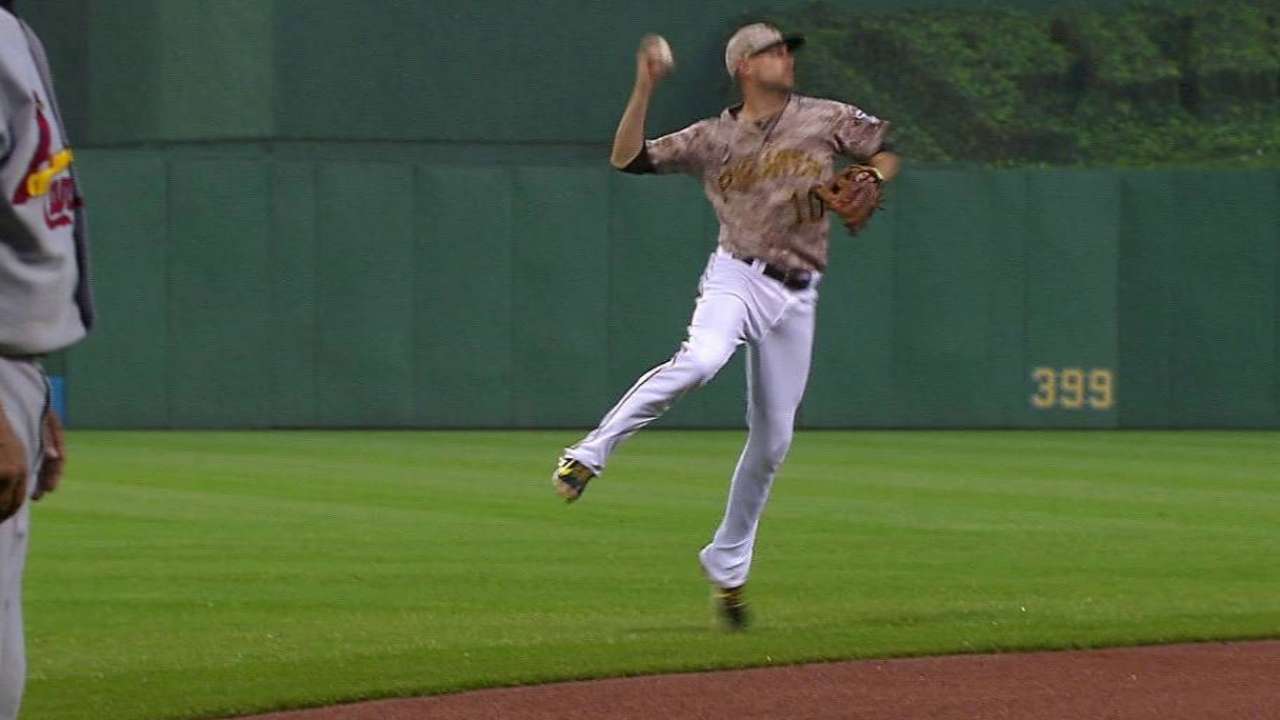 PITTSBURGH -- Evidence No. 3,358 that baseball is a funny, often cruel, sport: Pirates shortstop Jordy Mercer was universally regarded as one of the goats Thursday because his muff of a shallow grounder set up a four-run inning in the 4-1 loss to the Cardinals.
Well, we are here to tell you that before and after that relatively simple play, Mercer turned two plays of which Derek Jeter would have been envious at his leaping peak.
In the fourth inning of a scoreless game, Mercer ranged far to his right to backhand a hard-hit grounder, went airborne and threw a perfect strike to first baseman Pedro Alvarez that actually got the runner by several steps. Mercer was so far in the hole, he came down near the foul line after the throw.
Three innings later, he encored with a play that had the same degree of difficulty and "wow" factor.
In both cases, Mercer's victim was Jhonny Peralta.
"He gets too many hits anyway," Mercer said with a smile of his shortstop adversary. "I can rob him of a few."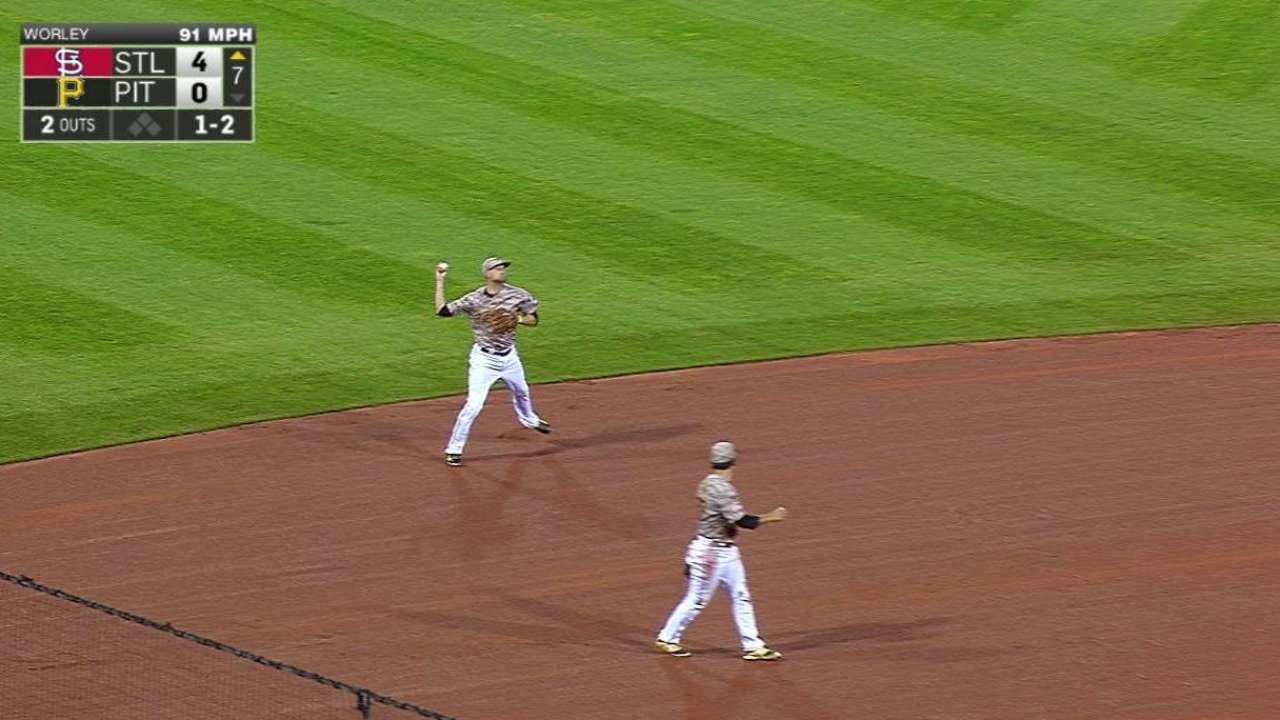 A day later, manager Clint Hurdle was still shaking his head over those plays.
"Fantastic. Unbelievable. That's so good," Hurdle said. "He works on those plays every day. He makes them in practice, and to do it in the game, in those conditions ... just fantastic."
The first play unfolded in steady rain that would halt the game a few minutes later.
"Throw-wise, yeah, probably the best play I've made yet," Mercer said. "Because of the conditions. When I jumped up and reached into the glove, I was kinda surprised when I felt the ball. I thought it'd be really wet, but actually I got a good grip on it."
He let go of a strong, slightly arching throw to give it carry -- and Alvarez never had to move his mitt, it was so centered.
In-between those two gems, in the fifth, Mercer charged in for but couldn't handle a slow roller by Xavier Scruggs that eventually led to two-run singles by Matt Carpenter and, with two outs, by Yadier Molina.
"Just hopped on me. That's all it was, really," said Mercer, declining to use the wet field as an excuse.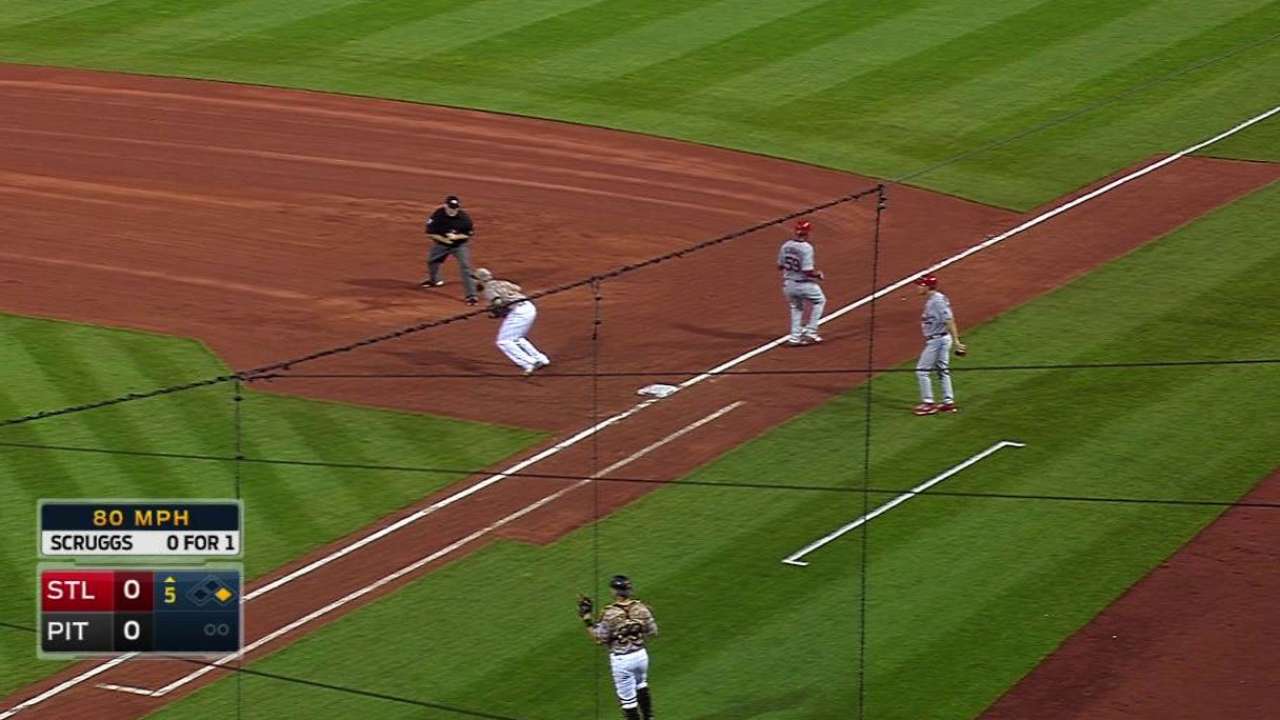 "This is the hard part of the game," Hurdle said. "He gets a slow roller, doesn't get a handle on it and people are going, 'Oh, three unearned runs, and there's an error in the inning.'
"Yet there's Mercer turning those plays. Unbelievable -- but not around here. People take it for granted now, it's not that big a deal anymore, because he's done it so many times."
Touching all the bases
• First: Starling Marte (left side discomfort) continues to ramp up his workouts, and said upon coming off the field after shagging during batting practice, "I'm ready to play."
• Second: Corey Hart (impinged left shoulder) will play rehab games in Triple-A Indianapolis through the week and get here on Sunday to be re-evaluated.
• Third: The Bucs' 13 homers in June was their lowest full-month total since 12 in June 2011.
• Home: That's where the Pirates have not lost a series to the Cardinals since April 2012, going 7-0-1 since.
Tom Singer is a reporter for MLB.com and writes an MLBlog Change for a Nickel. He can also be found on Twitter @Tom_Singer and on his podcast. This story was not subject to the approval of Major League Baseball or its clubs.