Injured Street likely to sit rest of first half
Closer tweaked right groin while recording 299th save
SEATTLE -- Angels closer Huston Street needs just one save to become the 27th member of the 300 saves club, but that milestone will likely have to wait until after the All-Star break as he tests out an injured right groin.
Manager Mike Scioscia said the Angels would err on the side of caution and rest Street, giving setup man Joe Smith the opportunity to close during the Angels' four-game series in Seattle.
"I think he feels better than he thought he was going to, which is a good sign," Scioscia said before Thursday's series opener at Safeco Field.
Street recorded save No. 299 in a 3-2 win Wednesday night at Coors Field, but he tweaked his right groin on the final pitch of his outing after feeling it tighten up the previous pitch.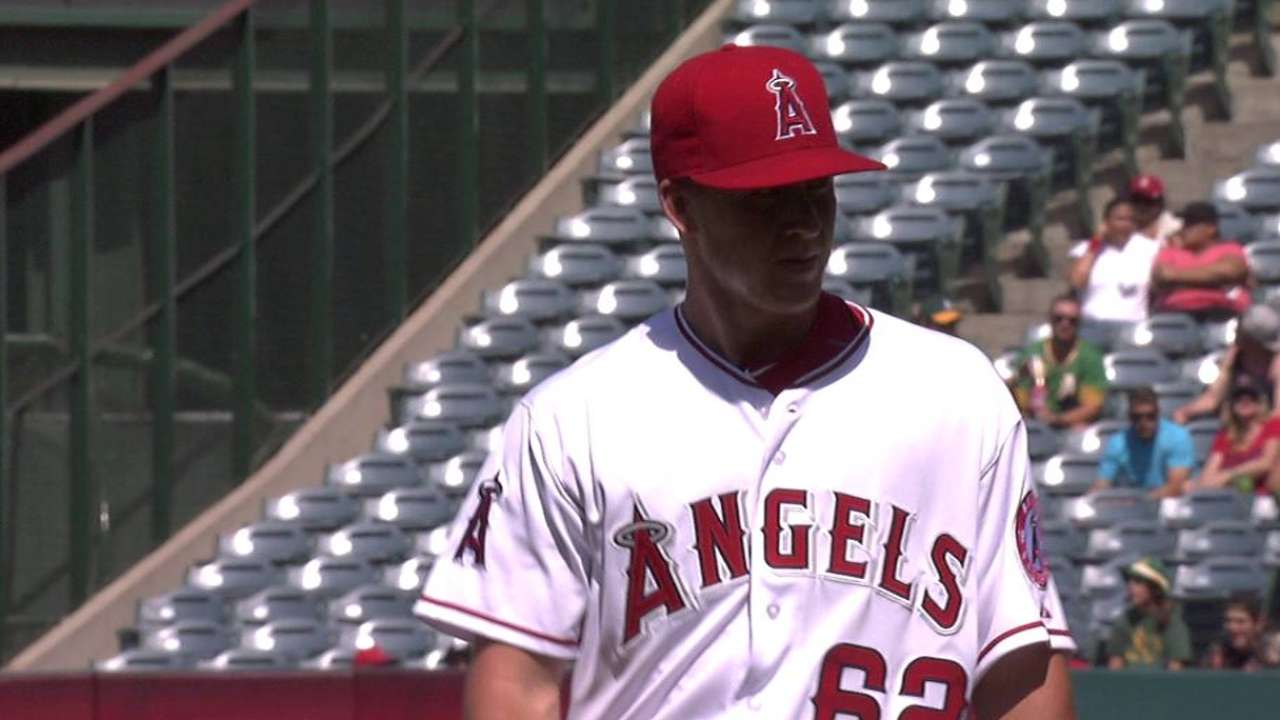 The 31-year-old right-hander said he and the club's training staff would continue to evaluate and test his groin over the next couple of days, but that he has felt good moving around in the hours since the ninth inning of Wednesday's game.
"I would say I'm extremely optimistic," Street said. "You know, my gut tells me they're not going to let me push it to [return] Sunday, but there are four days of guaranteed rest [during the All-Star break]. A return this series is probably doubtful, is doubtful."
Street said he tried not to test his groin much as he waits to see how his body responds to the initial injury.
"When you feel something, you feel something, you know you give it rest," Street said. "[Erick Aybar] had something similar. You know you feel something, but you kind of have to let your body react and respond."
With Smith temporarily assuming the closer role, an opportunity opens for another reliever to briefly take on setup responsibilities. Righty Trevor Gott could be a candidate, and Scoscia said there are several late-inning bullpen options as the Angels close out the first half.
"We have some guys we feel are throwing the ball well down there. Fernando Salas has really quietly come on and I think he can start to be part of that mix," Scioscia said.
When asked about Gott, Scioscia said he was pleased with the way the young righty responded to Sunday's rough outing against the Rangers with a scoreless seventh inning against the Rockies on Wednesday night.
"He had the little rough outing in Texas, but he got out of that inning," Scoscia said. "He came back yesterday and was unfazed by it. I think he has the makeup to be a backend guy, and that's hopefully going to help him."
Street added that while a young reliever's "stuff" can take time to develop, he has come to appreciate Gott's composure during his 11 games with the Angels.
"I think his last outing, faces the meat of the lineup in a tie game in Colorado against the Rockies, he made big pitches and he got outs," Stret said. "To me, that's indicative of someone who maintains his composure."
Andrew Erickson is an associate reporter for MLB.com. This story was not subject to the approval of Major League Baseball or its clubs.