Phils sign 16-year-old international free agent
Power hitter Ortiz leads class of prospect deals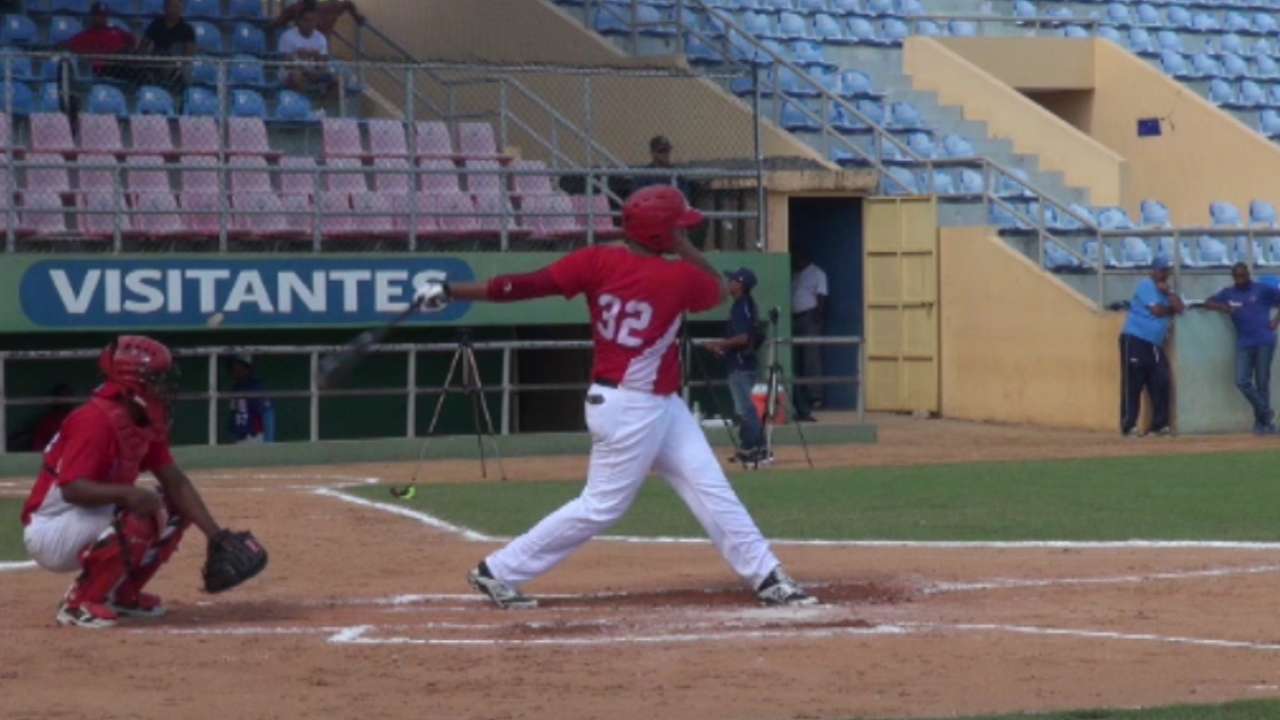 LOS ANGELES -- It will take a few years, but the Phillies think they found a big-time power hitter in Jhailyn Ortiz.
The Phillies announced Thursday they had officially signed the 16-year-old right fielder to a Minor League contract. Sources told MLB.com the deal is worth about $4.2 million.
MLB.com ranks Ortiz, who is 6-foot-3, 240 pounds, as the sixth-best prospect in this year's international free agent class. Baseball America rated Ortiz's power as the best in the class, grading his power tool as a 70 on the 20-80 scouting scale.
"We have been scouting Jhailyn since he was 14 years old," Phillies assistant general manager Benny Looper said in a statement. "Since that time, our scouts have gotten to know the family and have a strong conviction of not only his ability to play baseball, but his strong character and desire to be a Major League player. We are excited to add the power potential Jhailyn possesses to the Phillies organization."
Phillies director of international scouting Sal Agostinelli signed Ortiz on Thursday in Ortiz's native Dominican Republic.
The Phillies also signed three other additional international prospects: Venezuelan catcher Rafael Marchan ($200,000), Dominican infielder Kuedy Bocio and Dominican left-hander pitcher Manuel Silva.
The Phillies on Sunday acquired the No. 1 overall signing slot ($3,590,400) for the 2015-16 international signing period from Arizona for Class A Lakewood right-hander Chris Oliver, Class A Lakewood left-hander Josh Taylor and the team's No. 9 overall signing slot ($1,352,100). The trade allowed the Phillies to avoid penalties that would prohibit them from signing international players for more than $300,000 until the 2018-19 signing period.
The Phillies entered the signing period July 2 with an allotted $3,041,700, but the trade boosted that figure to $4,562,550 because teams can only acquire 50 percent of their international bonus pool.
Teams that exceed their pool by 15 percent or more are not allowed to sign a player for more than $300,000 during the next two signing periods, in addition to paying a 100 percent tax on the pool overage. That Phillies would have blown past that percentage without the trade.
"This keeps our hands untied, so to speak," general manager Ruben Amaro Jr. said Sunday.
Todd Zolecki is a reporter for MLB.com. Read his Phillies blog The Zo Zone, follow him on Twitter and listen to his podcast. This story was not subject to the approval of Major League Baseball or its clubs.