Mackanin in new territory counseling players
Phillies interim manager has made effort to have one-on-one meetings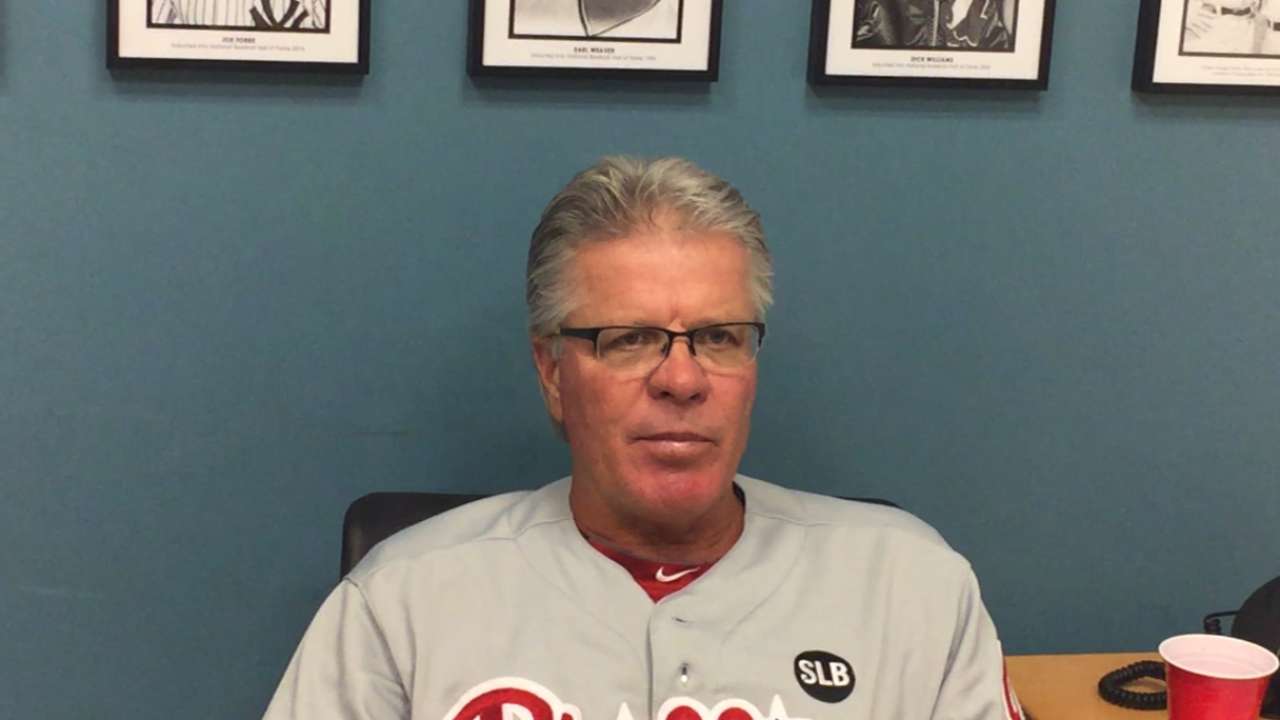 LOS ANGELES -- Pete Mackanin found himself in a unique situation a couple weeks ago when Ryne Sandberg abruptly quit as Phillies manager.
Mackanin unexpectedly and suddenly became interim manager through the end of the season.
He not only is filling out lineup cards and running games from the dugout, but he is trying to talk to players individually about where they are mentally and what they think about what is happening around them. That includes Phillies ace Cole Hamels, who pitches Friday night's series opener against the Giants at AT&T Park.
"Just to say, 'What are you thinking about?'" Mackanin said Thursday afternoon at Dodger Stadium. "I always joked around with these guys, but I never really talked to them on a one-on-one basis. So I wanted to find out, 'Tell what you're thinking about? What's on your mind?' Certainly, the trade and the whole situation is on [Hamels'] mind. These guys that are used to winning, it's tough to deal with. It's tough for me, too. It's tough for the guys who aren't used to winning. Nobody likes to lose. It was just a nice one-on-one chat."
Hamels is 5-6 with a 3.02 ERA in 17 starts. He is 0-1 with a 2.42 ERA in his last four starts.
It is believed the Phillies will trade him before the July 31 Trade Deadline. But the trade speculation and constant losing have been happening for a long time, and it perhaps has had a numbing effect on Hamels and other veterans waiting to be traded.
"I know you're an outstanding competitor, but you're kind of aloof [between starts]," Mackanin said he told Hamels. "You're just kind of like, existing. And I get it. I said, 'Just remember who you are. You're a premier pitcher in the National League. Go out and pitch like it. Don't worry about that other stuff.'
"Everybody needs to be reminded. I understand [Jonathan] Papelbon. I understand Cole. You get to the point where it's a different feeling. When I was here earlier [as a coach] when the team was really good, you knew you had a chance to win every night. And now here it's like … we've overmatched right now, but that's the whole purpose of playing these young guys."
Todd Zolecki is a reporter for MLB.com. Read his Phillies blog The Zo Zone, follow him on Twitter and listen to his podcast. This story was not subject to the approval of Major League Baseball or its clubs.