Largest Game of Catch played in Cincinnati
World record set during All-Star Week, featuring 1,058 kids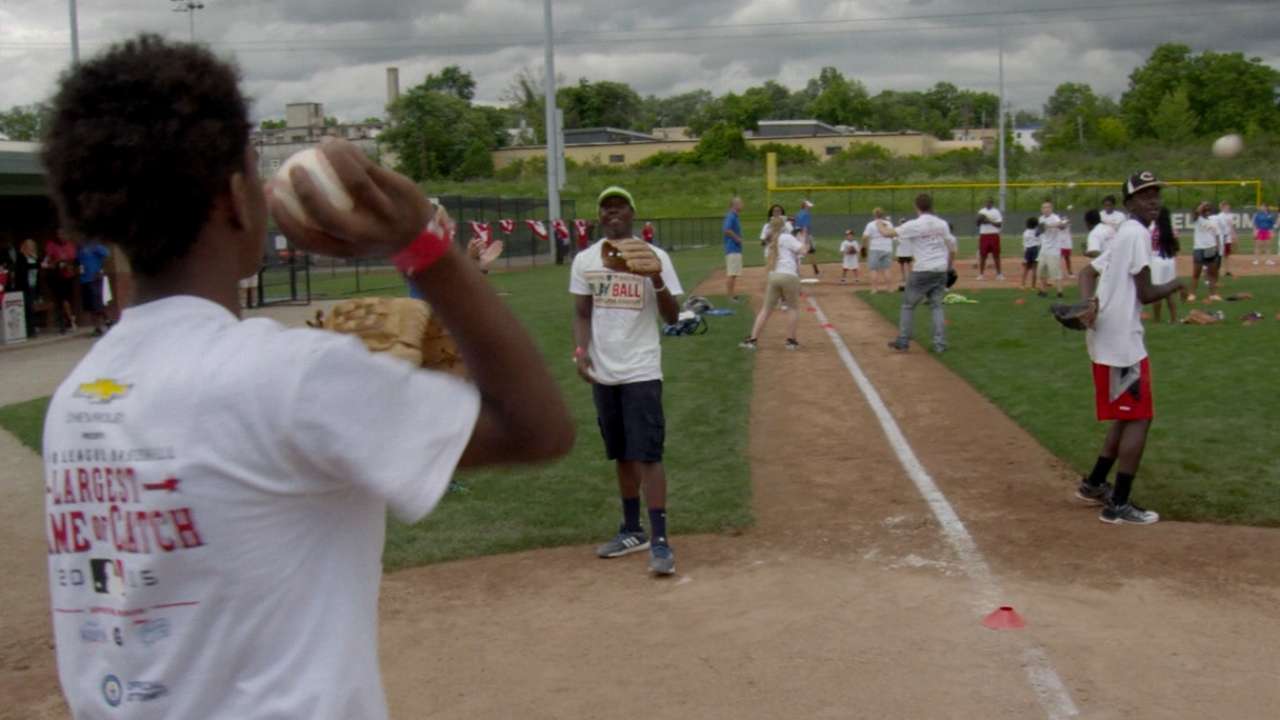 CINCINNATI -- Dave Parker was selected to seven All-Star Games, including two for his hometown Reds in 1985-86. He saw plenty of All-Star records set in those days, but the one he experienced first-hand on Thursday night brought him and others a different kind of satisfaction.
Major League Baseball, the host Reds, Chevrolet and Guinness World Records joined forces to stage the Largest Game of Catch with All-Star Week underway, and after 15 minutes of baseballs flying everywhere across three fields, it became official. The record now stands at 1,058 kids, ages 8-18, all playing catch simultaneously at the P&G Reds Urban Youth Academy.
Alex Angert, a Guinness World Records adjudicator, made it official by presenting Parker with a framed world-record plaque on the mound of field No. 1, amid raucous cheers from participants and families. Parker said it was an important symbolic moment within an important movement to draw more kids into the game.
"I think it's important for baseball, because baseball's popularity has kind of dwindled a little bit," Parker said. "To see these programs and youth academies throughout the country is great."
Fifteen-year-old Elizabeth Riedel, of Cincinnati, was one of the kids beaming over this unique accomplishment.
"I think it's really cool. It's awesome that I get to do this and be in, like, a book or something," she said. "I was really excited. It sounds really exciting. I haven't played softball since I was in second grade, but it was really fun."
When asked what brought her out to be part of the record bid, she said, "I just like the Reds."
Angert had been monitoring the counting procedure all afternoon, making sure kids received wristbands and were ushered to their respective fields. He announced to all attendees that "unfortunately" there were some deductions, but hopes brightened when he then said it was a record. They had to beat a set figure of 500 participants, and they demolished it.
"This was a great event," Angert said. "Records in baseball are as synonymous as can be. I don't think there is any sport in which records are as treasured as in baseball. There was another record in baseball today, and we are proud to be a part of it."
According to Angert, there were "under 20 deductions, for various things like kids not actively playing for the five minutes. When you get a lot of kids in one place, it's tough to imagine that every single one of them is going to be doing the same thing. What's great about our mass-participation records is, it's easy to get a lot of people in the same place at the same time, but to get them to do the same exact thing at the same time, that's difficult. So that's a true testament to the amount of organization MLB had to have for this."
For Parker, being part of this event was personally important, and he was flooded with memories of three decades ago. His first four Midsummer Classics came with the Pirates, as he helped them win the 1979 World Series title, and numbers five and six came with his hometown Reds. He later returned for his seventh All-Star Game "with the Brew Crew," the only game in which he did not play.
"It was great for me, because I was getting closer to 40 years old," he said of the 1985-86 selections. "So to make the All-Star team that late in my career, with my hometown team, was one of the greatest experiences that I had.
"You know, we used to spank [the American League] every year. But now it seems like they're getting back at us, so we're going to have to tighten up and get back at them."
When Parker was growing up, he said, "We played every day. One season would be basketball, when it runs out, we'd go to baseball. When baseball ran out, we'd go to football. So I grew up in an environment where sports was prevalent for us to play. The whole neighborhood was athletic."
Times change. Now he hopes another change is afoot, and Thursday was a key indicator. This was part of the significant new Play Ball initiative by MLB and USA Baseball.
"We did it," Reds chief operating officer Phil Castellini told the participants and families after it was over. "The largest game of catch in the world lives right here in Cincinnati. God bless the Cincinnati Reds. Go National League."
Mark Newman is enterprise editor of MLB.com. Read and join other baseball fans on his MLB.com community blog. This story was not subject to the approval of Major League Baseball or its clubs.