Before they were All-Stars: AL edition
Dig into the backgrounds of every player headed to the Midsummer Classic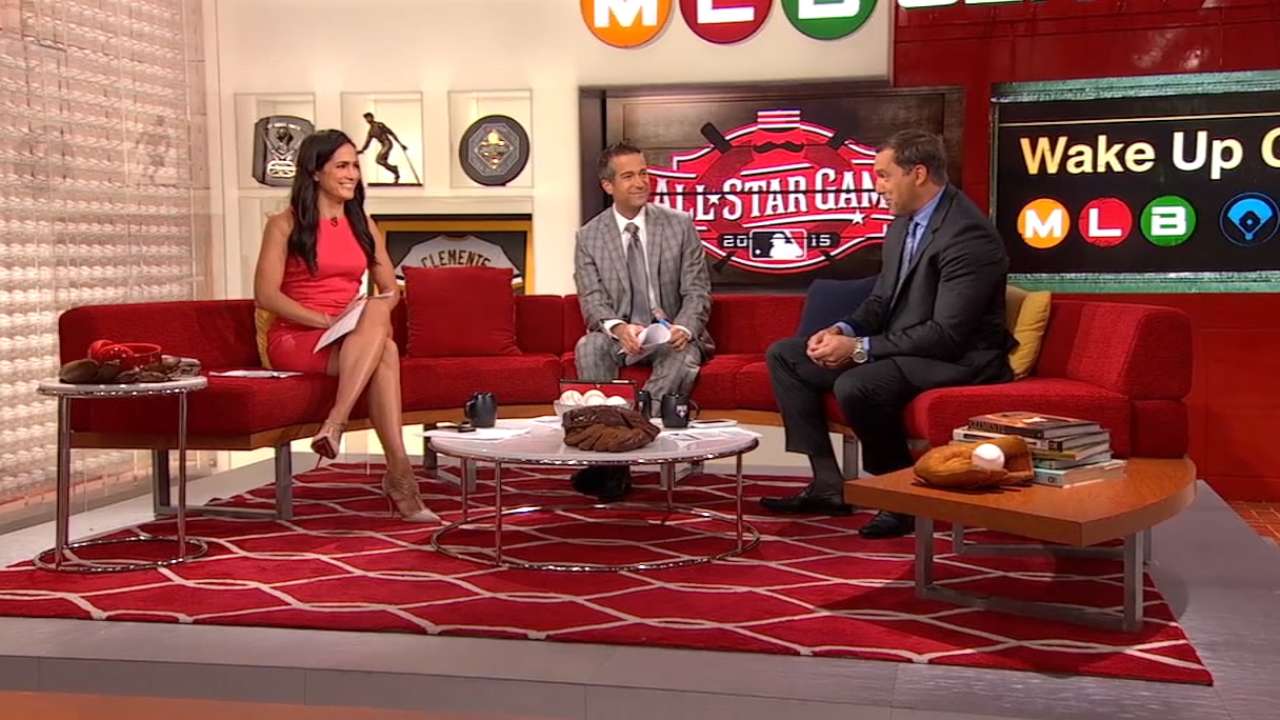 For some fans, the All-Star Game presented by T-Mobile is their first chance to familiarize themselves with players they don't see very often. Here's our attempt to give them a head start with the origins of every All-Star.
::BALTIMORE ORIOLES::
Zach Britton, LHP
Born: Panorama City, Calif.
HS: Weatherford (Texas) HS
Minors: Bluefield (R), Aberdeen (SS), Delmarva (A-), Frederick (A+), Bowie (AA), Norfolk (AAA)
• Britton graduated from Weatherford High School and was friends with local athletes NFL player Matt Stafford and pitcher Clayton Kershaw.
• The O's closer had a son, Zander, born while the O's were playing during last year's postseason run.
• Britton's older brother, Buck, is an infielder who was drafted by the Orioles in the 35th round of the 2008 MLB Draft (he's now with the Dodgers). Another brother, Lance, has a radio show in Denver.
Adam Jones, CF
Born: San Diego.
HS: Morse (Calif.) HS
Minors: Mariners (R), Everett (SS), Wisconsin (A-), Inland Empire (A+), San Antonio (AA), Tacoma (AAA)
• Growing up in San Diego, Jones idolized Tony Gwynn.
• Jones hit .406 with 27 RBIs in his senior season, while recording a 2.71 ERA on the mound.
• A member of the Boys & Girls Clubs growing up, Jones is a big advocate of the group today and has opened several learning centers in the Baltimore area to expose children from lower-income families to technology.
It's @SimplyAJ10 Day here. His Top 5 games w/ us in '04: http://t.co/EYZEkWkqzp & all of his HRs as a Rattler: http://t.co/tnjGuk16DH

— Timber Rattlers (@TimberRattlers) January 28, 2014
Manny Machado, 3B
Born: Hialeah, Fla.
HS: Brito Miami Private School (Fla.)
Minors: Orioles (R), Aberdeen (SS), Delmarva (A-), Frederick (A+), Bowie (AA)
• Machado was married last offseason to Yainee Alonso, the sister of Padres infielder Yonder Alonso.
• The O's third baseman grew up idolizing Alex Rodriguez. The two are friends today.
• Machado turned 23 years old the day he was selected to the All-Star Game.
Darren O'Day, RHP
Born: Jacksonville, Fla.
HS: Bishop Kenny (Fla.)
College: University of Florida
Minors: Orem, Surprise (R), Cedar Rapids (A-), Rancho Cucamonga (A+), Arkansas, Frisco (AA), Salt Lake, Round Rock (AAA)
• O'Day graduated with a degree in animal biology and passed the entrance exam to medical school, but he elected to pursue baseball.
• His wife, Elizabeth Prann, is a correspondent for FOX News.
• O'Day served as the closer for the 2005 College World Series team.
• Before they were All-Stars: NL edition
::BOSTON RED SOX::
Brock Holt, IF/OF
Born: Fort Worth, Texas
HS: Stephenville (Texas) HS
College: Rice
Minors: State College (A-), Bradenton (A+), Altoona (AA), Indianapolis, Pawtucket (AAA)
• When Holt started high school, he weighed 84 pounds. He emerged into a four-year, varsity letterman at Stephenville High in Texas.
• Holt started his college baseball career at Navarro College, playing there for two years.
• Holt transferred to Rice for his final collegiate season, hitting .375 in the NCAA Tournament and playing with current Nationals slugger Anthony Rendon.
::CHICAGO WHITE SOX::
Chris Sale, LHP
Born: Lakeland, Fla.
HS: Lakeland (Fla.)
College: Florida Gulf Coast
Minors: Winston-Salem (A+), Charlotte (AAA)
• Sale pitched for Florida Gulf Coast University, where he had his jersey No. 41 retired this past offseason. Sale also was a teammate of Casey Coleman as a freshman at FGCU.
• The lefty played for Ozzie Guillen in his first two years with the White Sox while pitching out of the bullpen. Sale played for current third-base coach Joe McEwing at Class A Winston-Salem and Chris Chambliss at Triple-A Charlotte during his 11 games and 10 1/3 innings in the Minors in '11.
• He hails from the same hometown of Lakeland, as Carson Fulmer, the White Sox top pick and eighth selection overall in the 2015 MLB Draft. Sale attended the same Lakeland Christian High School as Drew Hutchison and Steve Pearce.
RT @FGCUEagles: Former @FGCU_Baseball standout & current @whitesox ace Chris Sale has his jersey retired tonight. pic.twitter.com/fMi5bGYM8p

— FGCU Men's Hoops (@FGCU_MBB) February 1, 2015
::CLEVELAND INDIANS::
Jason Kipnis, 2B
Born: Northbrook, Ill.
HS: Northbrook (Ill.) HS
College: Kentucky, Arizona State
Minors: Mahoning Valley (SS), Kinston (A+), Akron (AA), Columbus (AAA)
• Kipnis began his college career at Kentucky, where he was teammates with Mariners lefty James Paxton before transferring to Arizona State, where he was teammates with A's first baseman Ike Davis and Reds righty Mike Leake.
• Kipnis played for Padres manager Pat Murphy at ASU.
• While at Glenbrook (Ill.) North HS, he set the school's single-season scoring record in soccer (41 goals).
With @TheJK_Kid's All-Star nod, #MLBU will have its 58th representative in the Midsummer Classic #SunDevils4Life

— Sun Devil Baseball (@ASU_Baseball) July 7, 2015
::DETROIT TIGERS::
Miguel Cabrera, 1B
Born: Maracay, Venezuela
HS: Maracay
Minors: Marlins (R), Utica (SS), Kane County (A-), Jupiter (A+), Carolina (AA)
• Cabrera hails from same Venezuelan hometown of Maracay as All-Stars Jose Altuve and Salvador Perez.
• The Tigers slugger was an outstanding volleyball player who was once offered a contract to play professionally in Europe.
• Cabrera was 16 years old in July 1999 when he signed with the Marlins, choosing them over the Red Sox, Dodgers and Blue Jays. Cabrera, already 6-foot-2 and 190 pounds, was a shortstop at the time but was projected to move to third base.
Jose Iglesias, SS
Born: La Habana, Cuba
Minors: Mesa (R), Lowell (SS), Portland (AA), Pawtucket (AAA)
• Iglesias defected from Cuba in 2008 during a Junior National Team tournament in Canada along with a teammate, Noel Arguelles, a pitcher who ended up in the Royals' farm system.
• He learned English coming up through the Red Sox's Minor League system with help from former Red Sox outfielder Nate Spears.
• Iglesias batted .322 as a high school age player for La Habana in Cuba's national league in 2007 and '08.
J.D. Martinez, OF
Born: Miami
HS: Charles Flanagan (Fla.) HS
College: Nova Southeastern University
Minors: Greeneville (R), Tri-City (A-), Lexington (A+), Corpus Christi (AA), Oklahoma City, Toledo (AAA)
• Martinez played college ball at Nova Southeastern University, where he was a teammate of Brewers pitcher Mike Fiers and Rangers pitcher Miles Mikolas.
• Martinez went to high school at Charles Flanagan H.S. in Pembroke Pines, Fla., the same school that produced Red Sox first baseman Mike Napoli.
• He played Little League baseball for Ralph Avila, brother of Tigers assistant general manager Al Avila.
David Price, LHP
Born: Murfreesboro, Tenn.
HS: Blackman (Tenn.) HS
College: Vanderbilt
Minors: Vero Beach (A+), Montgomery (AA), Durham (AAA)
• Price played his college ball at Vanderbilt, where he was a teammate of Pirates first baseman Pedro Alvarez and Tigers Minor League pitcher Josh Zeid.
• Price was a standout basketball player at Blackman High School.
• He set Blackman's single-game strikeout record by fanning 21 batters over nine innings against Cookeville in 2004.
Let's go @VandyBaseball ..you didn't think I would miss this game would you?!?! No chance!! #reigning #secstrong

— David Price (@DAVIDprice14) June 24, 2015
::HOUSTON ASTROS::
Jose Altuve, 2B
Born: Maracay, Venezuela
Minors: Greeneville (R), Tri-City (SS), Lexington (A-), Lancaster (A+), Corpus Christi (AA)
• Altuve first caught Houston's attention while playing second base for the Venezuelan 16-and-under national team. The Astros had actually sent Omar Lopez, currently their manager at Class A Lancaster, to see a another player, a shortstop named Angel Nieves, in Venezuela. "But I put my eyes on Altuve, the little guy," Lopez said. He signed for $15,000.
• Altuve's first career homer was a leadoff, inside-the-park homer off Giants ace Madison Bumgarner in Houston on Aug. 20, 2011. He ran through third-base coach Dave Clark's stop sign to score.
• When Altuve's mother, Lastenia, went into labor, his father, Carlos, was watching a baseball game at a stadium next to the hospital in Maracay. People ran from the hospital to the stadium to tell his dad he had a kid on the way.
Dallas Keuchel, LHP
Born: Tulsa, Okla.
HS: Bishop Kelley (Okla.) HS
College: University of Arkansas
Minors: Tri-City (A-), Lancaster (A+), Corpus Christi (AA), Oklahoma City (AAA)
• Keuchel grew up in Tulsa and attended Bishop Kelley High School, where he was a two-time Pitcher of the Year for the conference. He also played quarterback for Bishop Kelley.
• Keuchel would cut grass in the summers to earn money for sneakers. His mother, Teresa, said Dallas always had to have the latest sneakers on the market. His birthday is Jan. 1, so he would always ask for money for Christmas and his birthday to save up and buy the latest sneakers.
• Keuchel grew up with the son of former Major League catcher Charlie O'Brien, who spent 15 years in the Major Leagues and caught for the Braves when Greg Maddux won two of his record 18 Gold Gloves in the mid-1990s. O'Brien introduced a young Keuchel to Maddux in 1995, and he also met Chipper Jones.
Congrats @kidkeuchy!! #StartTheKid #GoBeardOrGoHome https://t.co/roAY8RWuk8

— Razorback Baseball (@RazorbackBSB) July 6, 2015
::KANSAS CITY ROYALS::
Lorenzo Cain, CF
Born: Valdosta, Ga.
HS: Madison County (Fla.) HS
College: Tallahassee Community College
Minors: Brewers, Helena (R), West Virginia, Wisconsin (A-), Brevard County (A+), Huntsville, Northwest Arkansas (AA), Nashville, Omaha (AAA)
• Cain only started playing baseball because he got cut from the Madison County (Fla.) High freshman basketball team. He first played baseball as a sophomore. His high school coach, Barney Myers, said he's about 90 percent sure Cain had never even seen a baseball game before trying out.
• Cain played a year at Tallahassee (Fla.) Community College in 2004. His best friend and college roommate, Jeremy Haynes, was drafted by the Angels and made it has high as Double-A before retiring.
• A big Dallas Cowboys fan, Cain wanted to play high school football. His mom, Patricia, wouldn't let him because she didn't want him to get hurt.
Wade Davis, RHP
Born: Lake Wales, Fla.
HS: Lake Wales (Fla.) HS
Minors: Princeton (R), Hudson Valley (SS), Southwest Michigan (A-), Vero Beach (A+), Montgomery (AA), Durham (AAA)
• Davis dealt with a case of shoulder tendinitis as junior at Lake Wales High School, but he bounced back to go 7-3 with a 0.79 ERA as a senior. He turned down a chance to play at the University of Florida when the Rays took him in the third round of the 2004 Draft.
• He was roommates with David Price while in Double-A in the Rays' system.
• Davis is the second cousin to former Cubs and Braves catcher and two-time All-Star Jody Davis.
Alcides Escobar, SS
Born: La Sabana, Venezuela
Minors: Helena (R), West Virginia (SS), Brevard County (A+), Huntsville (AA), Nashville (AAA)
• Escobar played high school baseball in La Sabana, skipping school a lot to play ball. He signed at age 17 by the Brewers for $33,000. Growing up, he idolized Omar Vizquel.
• Escobar made his MLB debut for the Brewers in 2008, when Ned Yost was managing Milwaukee.
• He came up through the Brewers organization with present teammate Cain -- both part of the 2010 Zack Greinke trade. Escobar's first cousin is former MLB pitcher Kelvim Escobar.
Alex Gordon, LF
Born: Lincoln, Neb.
HS: Lincoln SE (Neb.) HS
College: University of Nebraska
Minors: Surprise, Royals (R), Wilmington (A+), Wichita, Northwest Arkansas (AA), Omaha (AAA)
• Gordon hails from a family of baseball players: His father, Mike, played at Nebraska; his older brother, Eric, played at Nebraska-Omaha; and his younger brothers, Brett and Derek, played at Park University (Parkville, Mo.). Derek plays in the low Minors of the Royals organization. Gordon was picked No. 2 overall out of Nebraska by the Royals in 2005, the highest pick from Nebraska since Darin Erstad was No. 1 10 years earlier by the Angels.
• He earned first-team all-state honors in football (defensive back) as a senior at Lincoln Southeast (Neb.), as he led the state with seven interceptions. Gordon also averaged 35 yards on kickoff returns.
• Gordon played for five-time All-Star and Royals Hall of Famer Frank White at Double-A Wichita.
Kelvin Herrera, RHP
Born: Tenares, Dominican Republic
Minors: Burlington (R), Burlington (A-), Wilmington (A+), Northwest Arkansas (AA), Omaha (AAA)
• Herrera grew up in the Tenares with former Astros and Rockies outfielder Willy Taveras and former Marlins righty Sandy Rosario.
• He represented the Royals in the 2011 All-Star Futures Game on the World Team roster with Altuve and Julio Teheran.
• Herrera also played in the Minors with Teheran and Braves pitcher Sugar Ray Marimon, who is Teheran's second cousin and teammate.
Mike Moustakas, 3B
Born: Chatsworth, Calif.
HS: Chatsworth
Minors: Idaho Falls, Surprise (R), Burlington (A-), Wilmington (A+), Northwest Arkansas (AA), Omaha (AAA)
• Moustakas was a member of the 2004 National Championship team from Chatsworth High. As a senior, he hit .577 with 24 home runs and was named national player of the year by several media outlets.
• He was a high school teammate of Matt Dominguez, a third baseman now in the Brewers organization. Moustakas and Dominguez were just the sixth set of high school teammates to be selected in first round (2007) in the same Draft.
• Moustakas' uncle, Tom Robson, played for the Rangers from 1974-75 and coached for the Rangers and Reds.
Salvador Perez, C
Born: Valencia, Venezuela
Minors: Royals, Idaho Falls, Burlington (R), Burlington (A-), Wilmington (A+), Northwest Arkansas (AA), Omaha (AAA)
• Perez was introduced to the sport at age 6 when his mother, Yilda, enrolled him in a baseball school in Valencia, Carabobo, (Ven.), where he played with current Astros second baseman Altuve.
• Red Sox third baseman Pablo Sandoval, who last year played in San Francisco, caught Perez's popup foul ball that clinched the World Series for the Giants. The two have been friends since Perez was 13 years old and they greet each other whenever their teams play.
• Perez played third base growing up, but told The New York Times he was a "bad" defender, focusing instead on hitting. The Royals, however, worked him out as a catcher before signing him for $65,000 in 2006, when he was 16.
::LOS ANGELES ANGELS::
Albert Pujols, 1B
Born: Santo Domingo, Dominican Republic
HS: Fort Osage (Mo.) HS
College: Maple Woods Community College
Minors: Peoria (A-), Potomac (A+), Memphis (AAA)
• As a native Dominican, Pujols is close with countrymen Jose Bautista, Nelson Cruz, Johnny Cueto and Kelvin Herrera.
• One of Pujols' best friends in the game is National League catcher Yadier Molina, his longtime teammate with the Cardinals.
• Pujols moved to Missouri from the Dominican when he was 16 years old. As a senior at Fort Osage High School in Independence, Mo., many opposing coaches believed he was older than 18, and he was walked in 55 of his 88 plate appearances. He still hit eight home runs, including one that traveled an estimated 450 feet.
Hector Santiago, LHP
Born: Newark, N.J.
HS: Bloomfield Tech (N.J.)
College: Okaloosa-Walton College
Minors: Bristol (R), Kannapolis (A), Winston-Salem (A+), Birmingham (AA), Charlotte (AAA), Salt Lake (AAA)
• He was born and raised in New Jersey, along with fellow All-Stars Mike Trout and Todd Frazier. Santiago was a late addition to his first All-Star Game and had a lot of friends back home begging for tickets last minute. "My credit card is about to get burned up," Santiago said Sunday.
• Santiago is former teammates with fellow All-Star Chris Sale, while they were with the White Sox from 2012-13.
• Santiago is an avid autograph collector, with hundreds of signed jerseys and dozens of signed bats and balls from past and present Major Leaguers. The All-Star Game is an ideal place to acquire autographs, except, Santiago said, "I have most of those guys already."
Mike Trout, CF
Born: Vineland, N.J.
HS: Millville (N.J.) HS
Minors: Angels, Scottsdale (R), Cedar Rapids (A-), Rancho Cucamonga (A+), Arkansas (AA), Salt Lake (AAA)
• Trout holds a natural bond with Reds third baseman Todd Frazier, who was selected as a starter for the National League. Both hail from New Jersey.
• Trout was passed on by 21 teams -- and the Nats and D-backs twice -- in the 2009 MLB Draft. His Wins Above Replacement score is triple that of anyone who was selected ahead of him.
• Trout experimented with switch-hitting in high school. Though he never tried it during a game, he said he won a team home run derby contest batting left-handed, as accepting that handicap was the only way his teammates would let him participate.
::MINNESOTA TWINS::
Brian Dozier, 2B
Born: Hattiesburg, Miss.
HS: Itawamba Agricultural
College: University of Southern Mississippi
Minors: Elizabethton, Twins, Mesa (R), Beloit (A-), Fort Myers (A+), New Britain (AA), Rochester (AAA)
• Dozier grew up in Fulton, Miss., and competed against Rangers first baseman Mitch Moreland in high school as Moreland grew up 25 miles away in Amory. The two are now close friends.
• Dozier was a star athlete at Itawamba Agricultural High School. He was All-State in baseball for two years but also played varsity football, golf and basketball. Dozier was the quarterback of the high school team his senior year.
• He went to college at Southern Miss after not being recruited by any SEC schools. He still lives in Hattiesburg during the offseason, and he occasionally runs into former NFL quarterback Brett Favre there. Favre was a guest at a Twins game at Target Field this season.
Glen Perkins, LHP
Born: St. Paul, Minn.
HS: Stillwater (Minn.) HS
College: University of Minnesota
Minors: Elizabethton, Grand Canyon, Twins (R), Quad Cities (A-), Fort Myers (A+), New Britain (AA), Rochester (AAA)
• Perkins grew up in Stillwater and played on the same All-Star team as St. Paul native Joe Mauer as a high school senior in 2001. The two played on the Metro East Lions All-Star team. The two recreated their photo from that team when they both represented the Twins as All-Stars in 2013.
• Perkins played collegiately at the University of Minnesota, which is the same school his manager Paul Molitor played at from 1975-77. Perkins played for the Golden Gophers from 2003-04. He went 19-5 with a 2.86 ERA at Minnesota and was taken in the first round of the 2004 MLB Draft as the No. 22 overall pick.
• The Minnesota native picked up the save in the 2014 All-Star Game in front of the home crowd at Target Field, with Twins backstop Kurt Suzuki serving as his catcher.
Hey @GopherFootball I'm not sure if you saw the @Twins game today but if you need an option QB I have two years of eligibility left...

— Glen Perkins (@glenperkins) May 2, 2015
::NEW YORK YANKEES::
Dellin Betances, RHP
Born: New York
HS: Grand Street Campus (N.Y.) HS
Minors: Yankees, Scottsdale (R), Staten Island (SS), Charleston (A-), Tampa (A+), Trenton (AA), Scranton/Wilkes-Barre (AAA)
• Born in the Washington Heights area of Manhattan, Betances grew up on the Lower East Side and played his high school baseball at Grand Street Campus in Brooklyn, where he set a school record with 20 strikeouts in a single game. He was 6-0 with an 0.22 ERA in 2005, allowing just one earned run while striking out 100 in 42 2/3 innings.
• On May 17, 1998, a 10-year-old Betances was among the 49,820 fans in attendance for David Wells' perfect game against the Minnesota Twins at Yankee Stadium. Betances said that he was offered money for his ticket stub by a collector outside the stadium, but he kept it as a souvenir and still has it to this day.
• In 2005, Betances was named as an Aflac All-American, becoming the first player from New York City to ever earn the honor.
Brett Gardner, OF
Born: Holly Hill, S.C.
HS: Holly Hill-Roberts (S.C.) HS
College: College of Charleston
Minors: Staten Island (A-), Tampa (A+), Trenton (AA), Scranton/Wilkes-Barre (AAA)
• A non-drafted walk-on at the College of Charleston, Gardner was a three-year starter for the Cougars, whom he led with a .447 batting average as a senior. That season, he helped guide the team to a 48-15 regular-season record and an NCAA tournament berth. He is the highest drafted player in school history.
• He played football and baseball at Holly Hill-Roberts High School in Holly Hill, where he grew up on a farm of about 2,600 acres, helping with the crops of corn, cotton, soybeans and wheat.
• His father, Jerry, played Minor League ball for the Phillies from 1973-76. A right-handed-hitting and throwing outfielder, the elder Gardner made it as high as Double-A.
Mark Teixeira
Born: Annapolis, Md.
HS: Mount St. Joseph (Md.) HS
College: Georgia Tech
Minors: Port Charlotte (A+), Tulsa, Frisco, Trenton (AA)
• Teixeira played baseball, basketball and soccer at Mt. St. Joseph's High School in Baltimore, where he set Maryland state records for home runs (29), RBIs (105) and runs scored (128). He was the Maryland Player of the Year for 1997 and '98.
• He attended Georgia Tech University, where he became just the second player in Atlantic Coast Conference history to have a career .400 average. In 140 games for the Yellow Jackets, Teixeira batted .409 (216-for-528) with 36 home runs and 165 RBIs, winning the Dick Howser Trophy as the National Collegiate Player of the Year in 2000.
• An avid golfer who met his wife, Leigh, when they were freshmen at Georgia Tech, Teixeira's favorite team growing up was the Orioles and his favorite player was Don Mattingly. His father, John, is a former Navy pilot who played high school baseball with Bucky Dent.
::OAKLAND ATHLETICS::
Stephen Vogt, C
Born: Visalia, Calif.
HS: Central Valley Christian (Calif.) HS
College: Azusa Pacific
Minors: Hudson Valley (A-), Charlotte (A+), Montgomery (AA), Durham (AAA), Sacramento (AAA)
• Drafted by the Rays in the 12th round in 2007, Vogt didn't make his big league debut until age 27 in 2012, when he went hitless in 25 at-bats with Tampa Bay.
• He was teammates at Azusa Pacific with Mets outfielder Kirk Nieuwenhuis. The NAIA school also produced former NFL running back Christian Okoye and decathlete Dave Johnson, known mostly for the infamous "Dan and Dave" Reebok commericals leading up to the 1992 Olympics.
• Vogt does several impersonations, notably an NBA referee impression that prompted the A's to give away a Stephen Vogt Referee Bobblehead with sound this season.
Sonny Gray, RHP
Born: Nashville, Tenn.
HS: Smyrna (Tenn.) HS
College: Vanderbilt
Minors: Athletics (R), Midland (AA), Sacramento (AAA)
• Gray was selected out of Vanderbilt as the A's first pick in the 2011 MLB Draft.
• He led his football team to back-to-back state championships as the starting quarterback at Smyrna High School, where he was voted by his peers as "Best All-Around" and homecoming king.
• Gray took three years of drama in high school and played the lead role in "High School Musical." He also played secondary roles in "Grease" and "The Best Christmas Pageant Ever."
Still a #vandyboy for life. Congrats on a great season @VandyBaseball. We will be back #AnchorDown

— Sonny Gray (@SonnyGray2) June 25, 2015
::SEATTLE MARINERS::
Nelson Cruz, DH
Born: Las Matas de Santa Cruz, Dominican Republic
HS: Monte Cristi (Monte Cristi, D.R.)
Minors: Athletics, Rangers (R), Vancouver (SS), Kane County (A-), Modesto (A+), Midland, Huntsville, Frisco (AA), Sacramento, Nashville, Oklahoma, Round Rock (AAA)
• Cruz worked on tractors and trucks as a mechanic at his uncle's shop and focused more on basketball than baseball as a teenager, when his sports hero was Michael Jordan.
• He was good enough at basketball to play for the Dominican Republic Junior National team.
• After signing with the Mets in 1998 as a 17-year-old, Cruz played three seasons in the Dominican Summer League, was traded to the A's and then the Brewers and eventually designated for assignment. He went unclaimed on waivers by all 30 MLB teams before re-signing a Minor League deal with the Rangers in 2008.
Felix Hernandez, RHP
Born: Valencia, Venezuela
HS: Unidad Educativa Jose Austria (Valencia, Venezuela)
Minors: Everett (SS), Wisconsin (A-), Inland Empire (A+), San Antonio (AA), Tacoma (AAA)
• A Mariners scout first discovered Hernandez when he was 14 and pitching in a tournament in Venezuela, and when he was 15, he already could throw 94 mph. When he was 16, he passed up offers from teams, including the Yankees and Braves, to sign with Seattle for $710,000.
• He made his pro debut in the U.S. for Class A Everett in 2003, where one of his teammates was another 17-year-old future All-Star, Adam Jones.
• Hernandez made the Mariners' Opening Day roster for the first time in 2006 at age 19. Seattle's Opening Day starter that year: 43-year-old Jamie Moyer, giving the Mariners the youngest and oldest pitchers in MLB that season.
#tbt #tripleaflashback Felix Hernandez was a king in the making in 2005 w/ @RainiersLand & PCL Most Valuable Pitcher. pic.twitter.com/cb8KWqDn0R

— Triple-A Baseball (@TripleABaseball) September 4, 2014
::TAMPA BAY RAYS::
Chris Archer, RHP, TB
Born: Raleigh, N.C.
HS: Clayton (N.C.) HS
Minors: Indians, Burlington (R), Lake County, Peoria (A-), Daytona (A+), Tennessee, Montgomery (AA), Durham (AAA)
• Archer was named conference player of the year as a senior quarterback at Clayton High School in Clayton. He was an option quarterback.
• He played baseball and football against Jerry Sands and future NFL wide receiver Brandon Banks.
• Archer was teammates on the North Carolina high school All-Star team, which included Dustin Ackley and Kyle Seager.
Anyone recognize this guy? #TBT to Little League in Clayton, NC, where Gm2 starter @ChrisArcher42 honed his skills. pic.twitter.com/BZisK0gzdf

— Tampa Bay Rays (@RaysBaseball) May 1, 2014
Brad Boxberger, RHP
Born: Fullerton, Calif.
HS: Foothill (Calif.) HS
College: USC
Minors: Phoenix (R), Lynchburg (A+), Carolina (AA), Louisville, Tucson, Durham (AAA)
• Boxberger played with Phil Hughes while at Foothill High School in Tustin, Calif. He was named the 2006 CIF Division II Player of the Year. In addition, he was recognized as Orange County Player of the Year by the Los Angeles Times and Orange County Register.
• His father, Rod, also pitched at USC, going 12-1 with a 2.00 ERA and earning College World Series MVP honors for the 1978 national championship-winning squad, which went 54-9. Rod was taken by the Astros with the 11th overall pick of that June's Draft and pitched six Minor League seasons.
• While at USC, his teammates included Lucas Duda, Tommy Milone, Grant Green and Ryan Cook.
::TEXAS RANGERS::
Prince Fielder, 1B
Born: Ontario, Calif.
HS: Eau Gallie (Fla.)
Minors: Ogden (R), Beloit (A-), Huntsville (AA), Nashville (AAA)
• Fielder is the son of former Major League first baseman Cecil Fielder. They are the only father/son duo to log 50-homer seasons.
• He was selected to Baseball America's First-Team High School All-America squad as a senior at Eau Gallie High School in Melbourne, Fla., before being drafted in the first round by the Brewers in 2002.
• This year, Fielder was inducted into the Space Coast Sports Hall of Fame, which honors athletes from Brevard County, Fla. In his senior year at Eau Gallie, he hit .524 with 13 doubles, 10 home runs and 41 RBIs.
::TORONTO BLUE JAYS::
Jose Bautista, RF, TOR
Born: Santo Domingo, Dominican Republic
HS: De La Salle (Santo Domingo, D.R.)
College: Chipola College
Minors: Pirates, Blue Jays (R), Williamsport (SS), Hickory (A-), Lynchburg (A+), Altoona, New Hampshire (AA), Indianapolis (AAA)
• Bautista grew up in Bani, Dominican Republic, which also happens to be the same hometown as a former Major League pitcher who has the same name. That Jose Bautista spent nine years in the big leagues with five different teams.
• Bautista didn't receive an acceptable offer from a Major League team while growing up in the Dominican Republic so he decided to attend Chipola College in Marianna, Fla. Once there, he became teammates with Russell Martin and Blue Jays Minor Leaguer Ricardo Nanita.
• Bautista made history in 2004 by becoming the first player to go through five MLB organizations in the same season. He began the year in Baltimore as a Rule 5 Draft pick, was claimed on waivers by Tampa Bay, purchased by Kansas City, traded to the Mets and then went back to Pittsburgh, which was the team that originally drafted him.
#TBT #Chipola #JuCoDays dime de esta rnanita3 ....back to the days of #RamenNoodles and #Bologna… http://t.co/wRthqsZwTv

— Jose Bautista (@JoeyBats19) June 26, 2014
Josh Donaldson, 3B
Born: Pensacola, Fla.
HS: Faith Academy (Ala.)
College: Auburn
Minors: Cubs (R), Boise (SS), Kinston (A-), Stockton (A+), Midland (AA), Sacramento (AAA)
• Donaldson's childhood playing career was influenced by the father of right-hander P.J. Walters, who started coaching him at the age of 7. Donaldson and P.J. later went to play for the same state championship team at Faith Academy in Mobile, Ala.
• Donaldson arrived at Auburn University in 2005 as an infielder, but his first appearance for the school actually came out of the bullpen. He later transitioned to catcher in his sophomore year, and that's the position the Cubs originally had in mind when they drafted him in 2007.
• Even before they were teammates in Toronto, Donaldson had a strong connection to Jose Bautista. Donaldson watched "unlimited hours" of Bautista on video and that led to the use of a leg kick in his batting mechanics.
Russell Martin, C
Born: East York, Ontario
HS: Polyvalente Edouard Montpetit (Montreal, Canada)
College: Chipola College
Minors: Dodgers, Ogden (R), South Georgia (A-), Vero Beach (A+), Jacksonville (AA), Las Vegas (AAA)
• Martin was born in Toronto, but he spent his childhood growing up in Quebec and also Paris, where he spent a few years from ages 8-10 with his mother. He attended Polyvalente Edouard-Montpetit, which is the same school that former Major Leaguer Eric Gagne attended. Those two later became the first French-Canadian battery in MLB history in 2006.
• Martin attended Chipola College in Marianna, where he was teammates with current Blue Jays outfielder and fellow All-Star Jose Bautista. Martin played third base for Chipola and led them to a second-place finish in the 2002 Florida College System State tournament.
• The first big break Martin received in his career happened in 2006, when he replaced Dioner Navarro as the Dodgers' starting catcher. Navarro went on the disabled list with a wrist injury and Martin never looked back. The two are teammates once again, but this time Navarro is the backup.