Tomlin to make rehab outing on Friday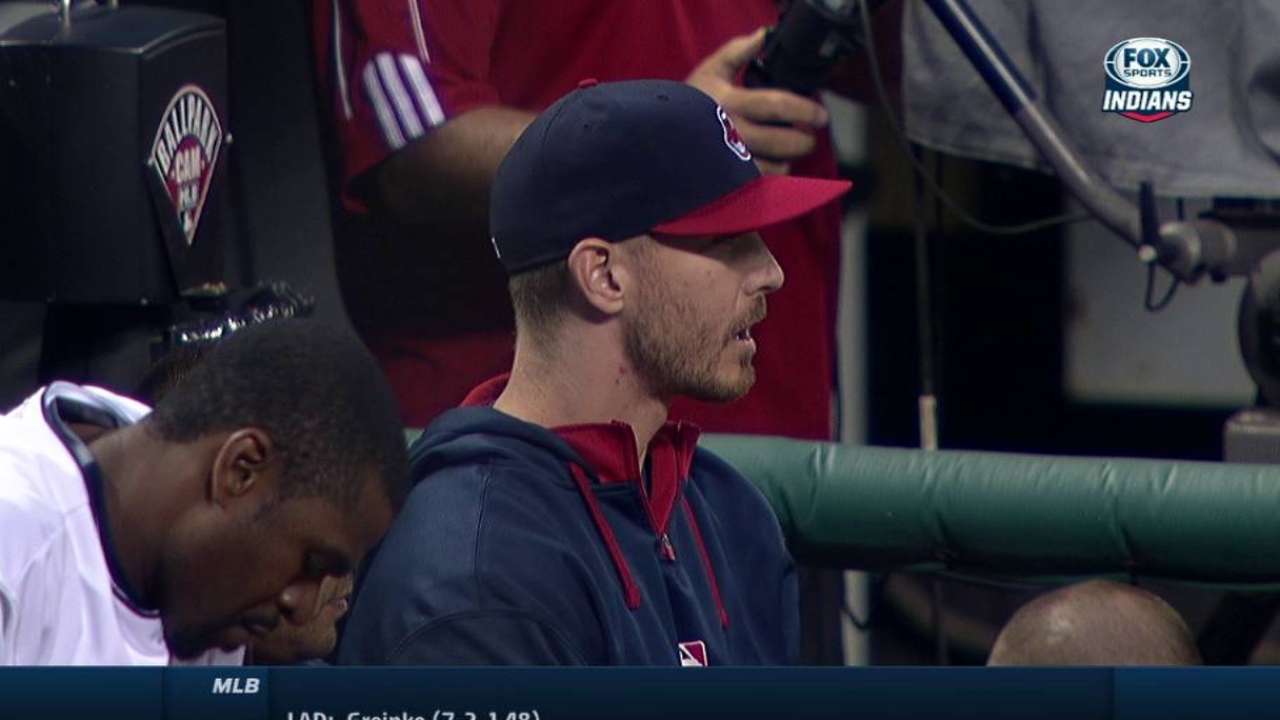 CLEVELAND -- Right-hander Josh Tomlin will make a rehab start Friday at Double-A Akron, starting his 30-day rehab clock as he works his way back from a right shoulder injury that required an arthroscopic debridement of the AC joint in April.
Tomlin is scheduled to throw three innings for Akron, after completing two innings for the club's Arizona Rookie League club on Tuesday.
"[Friday] officially starts it so it'll be kind of like a Spring Training for him," Indians manager Terry Francona said. "I think as he gets back into pitching shape, I think we're finally going to get to see that guy, I hope. Now, is it the end of this month, or the beginning of next month, is it next year? We'll see. But I know he feels good and we miss having him. When he's around, he's one of the best teammates I've ever seen and I've been fortunate to be around a lot of good guys."
With five young pitchers all throwing well in the Indians' rotation right now, it's unclear what Tomlin's role could potentially be at the Major League level, but he's worked out of the bullpen for the team in the past and Francona says anything is possible.
"I think we could do anything with him, really," Francona said. "A lot of it will depend on how he's feeling. If he's throwing strikes, he could help in a number of ways. We saw him when he's sharp and good, man, he can do it."
Other Minor League updates:
Opening Day third baseman Lonnie Chisenhall started in right field for Triple-A Columbus and threw out a runner at the plate to help maintain a one-run lead in the eighth inning. It was Chisenhall's first appearance in right field in his professional career, and just his second appearance in the outfield.
"He actually wanted to do that, that was his idea," Francona said. "He wanted to try to play some first in the outfield to make himself more valuable. I don't want to speak for him, but I think he said, even playing some third was weighing on him a little bit. That's a unique skill-set if a guy can play the corner outfield and he's a left-handed hitter and he plays first and third, that's a pretty unique skill-set."
In addition, the club plans to begin moving Opening Day shortstop Jose Ramirez around the field in Triple-A to increase his versatility and value, as well. Ramirez was demoted to Triple-A on June 7 due to his struggles at the plate, but has been tearing the cover off the ball in the Minor Leagues, batting .360 with a .425 on-base percentage in 115 plate appearances.
However, the Indians shortstop position is now blocked by Francisco Lindor, and so Ramirez will see some time at other infield positions and even in the outfield, with Francona envisioning him as a utility player.
"You see a kid like [Padres utility man Alexi] Amarista, he's had a pretty darn good career because he can play center, too," Francona said. "We're trying to find ways to make guys more valuable to us."
August Fagerstrom is an associate reporter for MLB.com. This story was not subject to the approval of Major League Baseball or its clubs.