Mariners place Furbush on 15-day DL
Seattle calls up Nuno, Farquhar, options Guaipe to Triple-A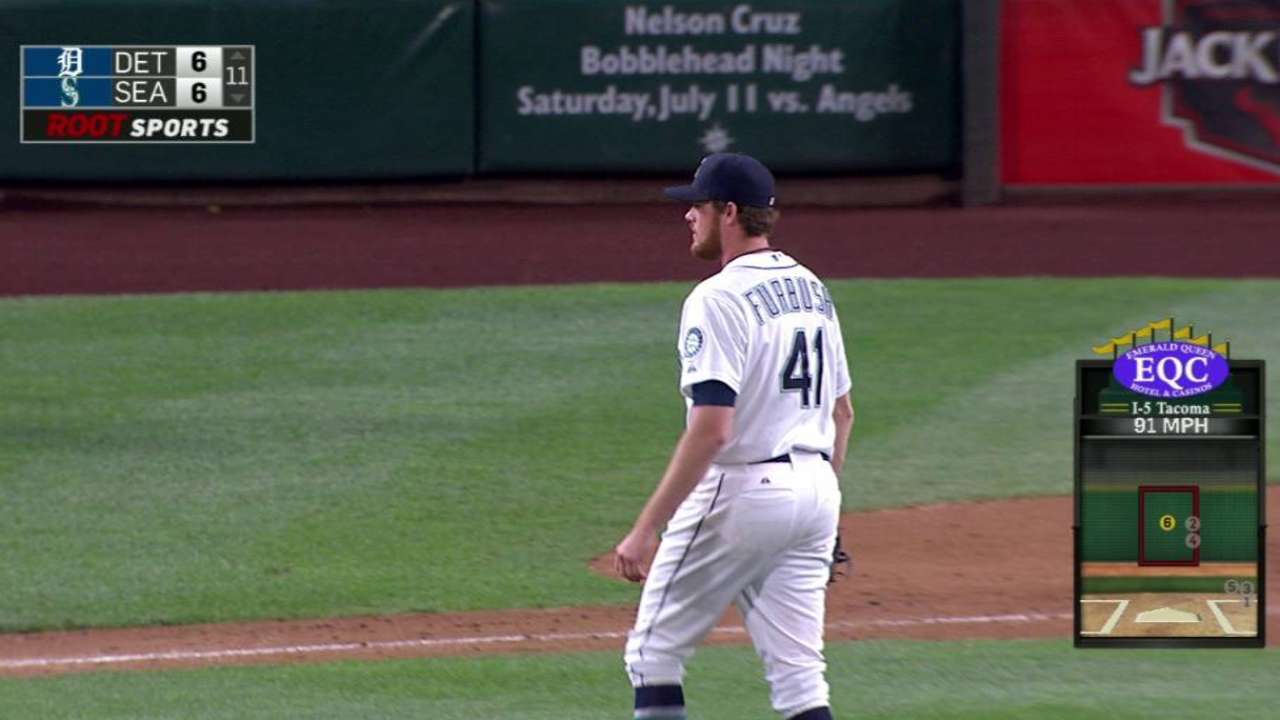 SEATTLE -- Left-hander Charlie Furbush, a stalwart member of the Mariners' bullpen the last four seasons, was placed on the 15-day disabled list on Thursday with tendinitis in his left biceps.
The move was retroactive to Wednesday, which means Furbush will be out at least until July 23, when the Mariners end a seven-game road trip after the All-Star break. Furbush struck out the side in a scoreless, 20-pitch inning during his last outing in Tuesday's 7-6 win over the Tigers.
Furbush said his biceps has had some tightness after he throws recently and was stiffer than expected on Wednesday, but he doesn't believe the issue is anything serious.
"I've had a season-ending injury with Tommy John [surgery] back in '08 and I knew something was wrong," Furbush said. "That was something I was concerned about. This is just some inflammation and we have to deal with it, knock it out and hopefully I'll be back in 15 days."
"We don't think it's serious," said Mariners manager Lloyd McClendon. "That's why we're doing this, so it won't be serious. He's had it off and on a couple times. So with the All-Star breaking coming up, it just makes sense to get this quieted down going into the second half."
The Mariners recalled left-hander Vidal Nuno from Triple-A Tacoma to take Furbush's place and also recalled right-hander Danny Farquhar, while optioning rookie Mayckol Guaipe to Tacoma.
Furbush has only been on the DL once before in his five-year Major League career (in 2012). The 29-year-old from Maine has posted a 2.08 ERA in 33 appearances this season, with 13 holds and has stranded all 16 inherited runners.
With Furbush out, the Mariners will rely on veteran Joe Beimel, Rule 5 rookie David Rollins and Nuno to handle the left-handed duties.
Nuno, 27, appeared in nine games for Seattle with a 2.53 ERA after being acquired from the D-backs in a seven-player trade on June 3, but was optioned to Tacoma on July 1. He made one start with the Rainiers, picking up the win with six innings of four-run ball at Fresno on July 5, but will return to the bullpen with the Mariners.
Farquhar, 28, returns to the Mariners for the third time this season and joins right-handers Carson Smith, Fernando Rodney and Mark Lowe in the bullpen. He went 0-1 with one save and a 2.61 ERA in seven games in his most recent stint with Tacoma after posting a 6.49 ERA in 22 outings with Seattle.
"He's been throwing the ball much better," McClendon said. "His command is better. The ball is coming out of his hand a lot crisper."
Nuno and Farquhar were both called on during the ninth inning of Thursday's series-opening 7-2 victory against the Angels at Safeco Field. Nuno was charged with one run on one hit while picking up one out, and Farquhar recorded one out and allowed one hit while issuing a pair of walks before Smith closed out the game.
Guaipe recorded two losses in the Mariners' three-game series with the Tigers and is 0-2 with an 8.31 ERA in three appearances over two brief stints with Seattle this season.
Worth noting
• Center fielder Austin Jackson (back spasms) wasn't in the lineup on Thursday after coming out of Wednesday's game in the fourth inning, but McClendon said he's hopeful Jackson could return Friday.
• Top Mariners shortstop prospect Ketel Marte was activated off the disabled list and added to Double-A Jackson's roster on Thursday. Marte, 21, missed the past five weeks with a broken thumb after hitting .343 with 17 stolen bases in 51 games for Tacoma.
Despite the injury, Marte has been selected to play in the All-Star Futures Game on Sunday in Cincinnati as well as the Triple-A All-Star Game on July 15 in Omaha, Neb.
Greg Johns is a reporter for MLB.com. Follow him on Twitter @GregJohnsMLB, read his Mariners Musings blog, and listen to his podcast. This story was not subject to the approval of Major League Baseball or its clubs.