Stanton feels optimistic after hand surgery
Marlins' slugger thinks he can return within the 4-6 week recovery timetable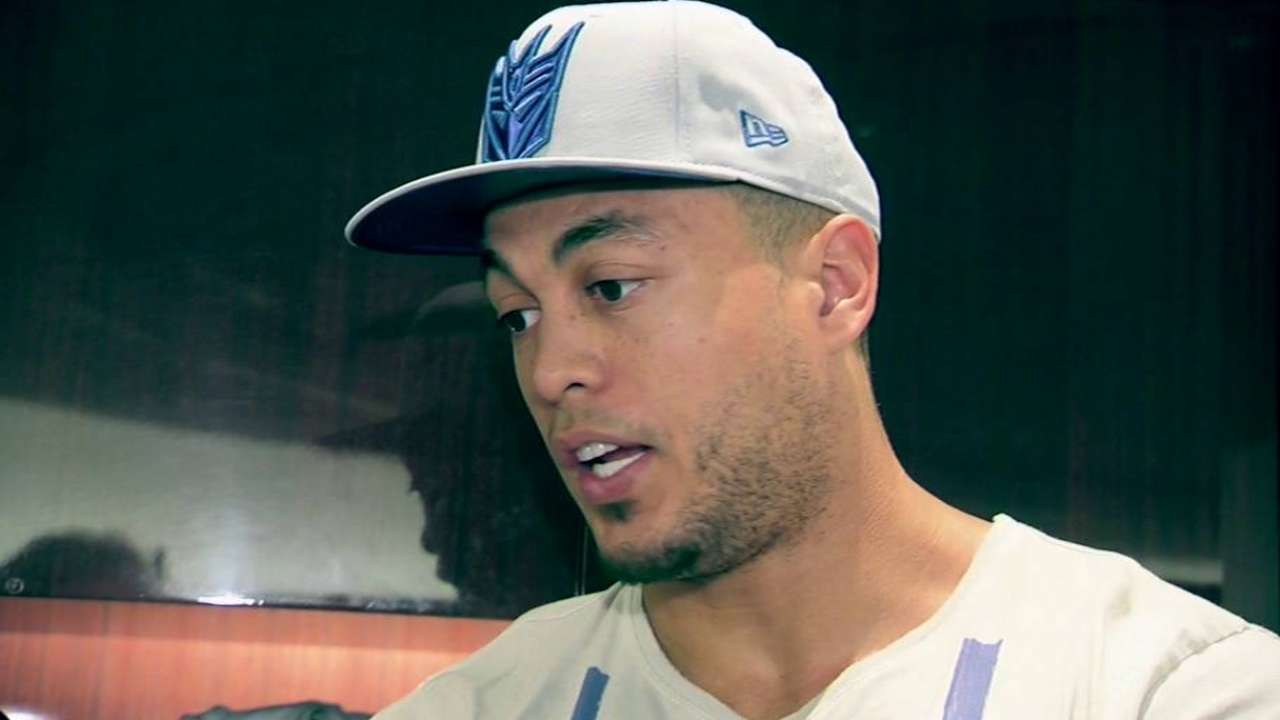 MIAMI -- Giancarlo Stanton, speaking publicly on Thursday for the first time since he broke his left hand, is in good spirits and optimistic he can return in the 4-6 week recovery window.
In the meantime, the Marlins right fielder is preparing to have the stitches removed from his hand in a few days, and he said he is not sure if he will attend the All-Star Game presented by T-Mobile in Cincinnati as a spectator.
"I'm good. I think I'm right on track," Stanton said. "The swelling is just about all the way down."
Stanton added he doesn't have his full range of motion yet. Until he can make a fist, he isn't guessing on when he will return to the lineup.
"It was a smooth procedure," the slugger said. "They said I had a lot of blood in there. Usually when you break something, you don't keep going after it. That's what I did -- a few extra swings. So there was a lot of blood that wouldn't normally be there. But it was smooth after that."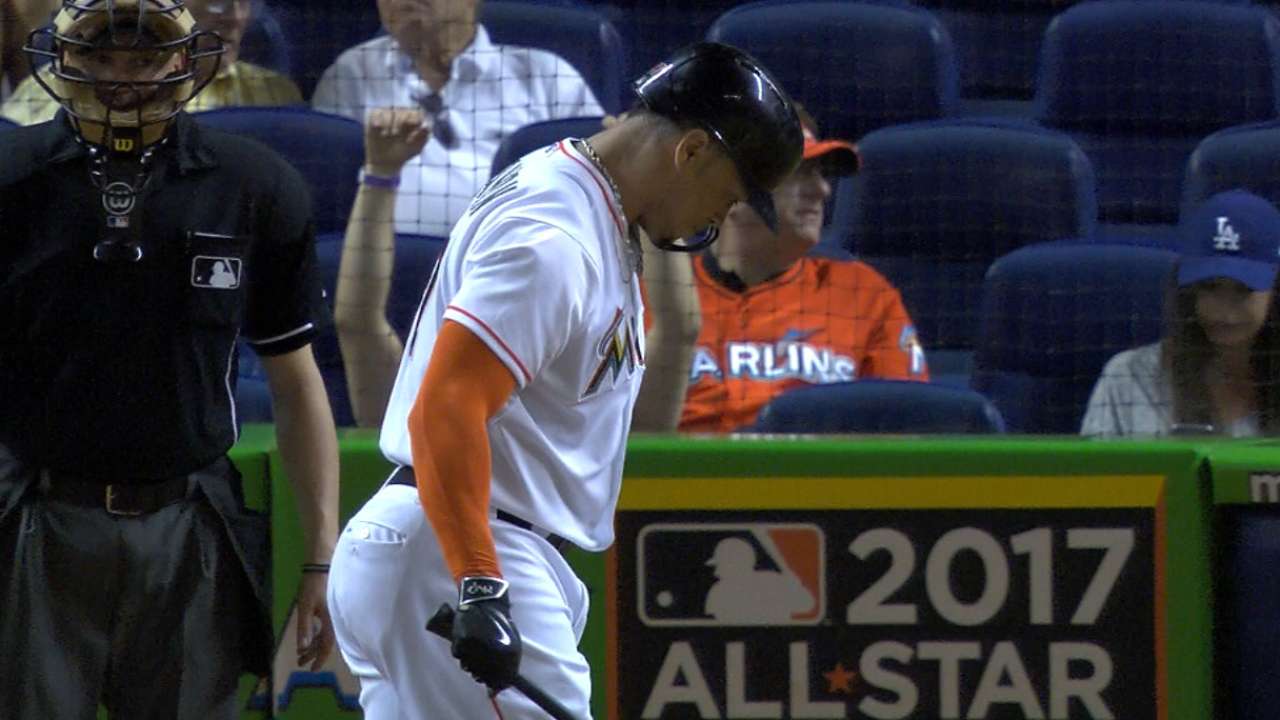 Voted in as a starting outfielder for the National League at the All-Star Game, Stanton said he hasn't made up his mind if he will go to the All-Star Game. Foremost, he says, is doing his rehab to get back on the field.
Stanton broke the hamate bone on his left hand during an at-bat on June 26 at Marlins Park. The injury occurred in his second to last at-bat, but he winched in his final at-bat, and he had X-rays taken after the game.
Surgery was performed to remove the broken bone two days later. There are a number of stitches on the lower palm of his hand, where the incision was made.
In his recovery, Stanton is in the process of letting the hand heal and the stitches removed before his rehab begins.
"The main thing is not to reopen this cut when I grip the bat," Stanton said.
The break capped what had already been a remarkable month for Stanton, who was named NL Player of the Month in June, batting .344/.404/.800 with 12 homers and 23 RBIs.
For the season, Stanton is hitting .265 with 27 homers and 67 RBIs.
If Stanton returns in early August, he will have about two months to build on an impressive season.
"When I'm ready to go out there, when I'm on the field, I'm not worried about what I'm going to do," Stanton said. "It's just a matter of getting there, and trying to help the team. I'm not worried about what I can do to add on to what I have done. Now, it's a whole different aspect. I'm not going to get the complete season, so you don't look at trying to get your complete numbers, really."
Joe Frisaro is a reporter for MLB.com. He writes a blog, called The Fish Pond. Follow him on Twitter @JoeFrisaro and listen to his podcast. This story was not subject to the approval of Major League Baseball or its clubs.