Tribe sinks Astros behind solid Anderson
CLEVELAND -- Cody Anderson continued his historic stretch to begin a career and a sixth-inning rally provided him with enough run support to secure a win in the Indians' 3-1 series finale victory over the Astros at Progressive Field on Thursday night.
Anderson (2-1, 0.89 ERA) allowed just one earned run on a third-inning home run by Hank Conger. The 24-year-old righty allowed three hits and two walks in 6 2/3 innings, striking out one. He became the first pitcher since at least 1914 to begin a career with four consecutive starts of at least 6 2/3 innings while allowing one run or no runs in each.
"I think, obviously, his confidence is very high," Indians manager Terry Francona said. "He's been pitching really well regardless of what level. I think he trusts [Yan Gomes] or [Roberto Perez] or whoever's catching. He seems to make pitches when he really needs to."
The Astros' Brett Oberholtzer (2-2, 4.46 ERA) was cruising through the first five innings, but ran into trouble with four consecutive extra-base hits to lead off the sixth inning. He allowed three earned runs on seven hits and three walks over five-plus innings, striking out three and allowing one home run.
"They put four extra-base hits in a row after Obie was really, really sharp at the beginning of the game," Astros manager A.J. Hinch said. "Back-to-back-to-back-to-back extra-base hits is going to score a few. To be honest with you, they just really held us and we didn't do much offensively the last couple of games. After the first night, they really kept us in check."
With the win, the Indians have won eight of their last 11 games and have pulled within three games of .500 for the first time since June 16. The Astros have lost five of their last six, but are 10 games above .500.
MOMENTS THAT MATTERED
Wasted opportunities: Cleveland had its chances to strike early against Oberholtzer, coming up empty after putting two men on with no outs in the second inning and failing to push another two baserunners across with two outs in the third. The Indians entered play with a .687 OPS with men on base -- 25th in MLB.
"It was a struggle tonight for a while," Francona said. "We still left some runners on, but it was enough."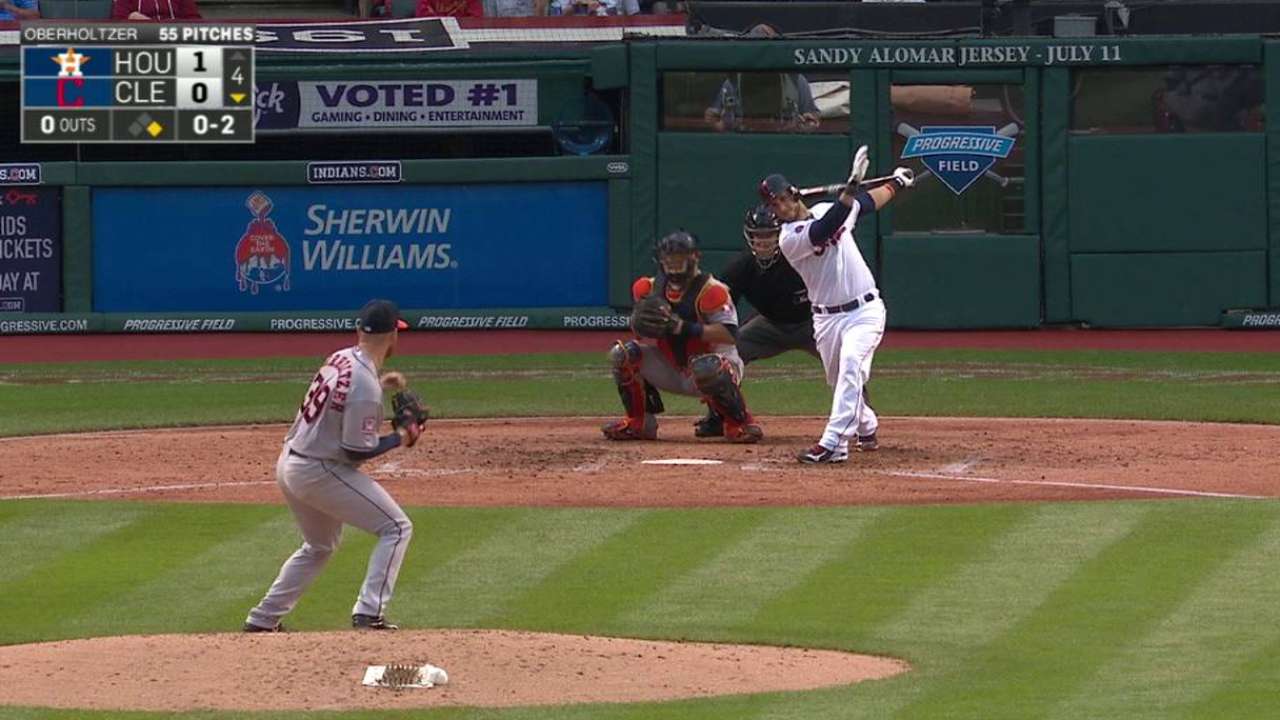 Oberholtzer hits a wall:The lefty returned to the mound for the first time since he was ejected for throwing at Alex Rodriguez on June 27 -- and subsequently sent to the Minors for one start -- and cruised through five innings before three consecutive extra-base hits forced Hinch to pull him three outs shy of a quality start.
"I told myself to get the first guy out, and obviously it didn't work out and they had some momentum going," Oberholtzer said. "The home run to [Francisco] Lindor, a couple doubles back to back, they chased me out of the game pretty quick there in the sixth." More >
Extra bases for all: The Indians took the lead with a sixth-inning rally, when they started the inning off with four consecutive extra-base hits. Lindor got it going with his second career home run, tying the score at 1-1. Consecutive doubles by Michael Brantley and Ryan Raburn gave the Indians the lead and then an RBI triple by Carlos Santana tacked on.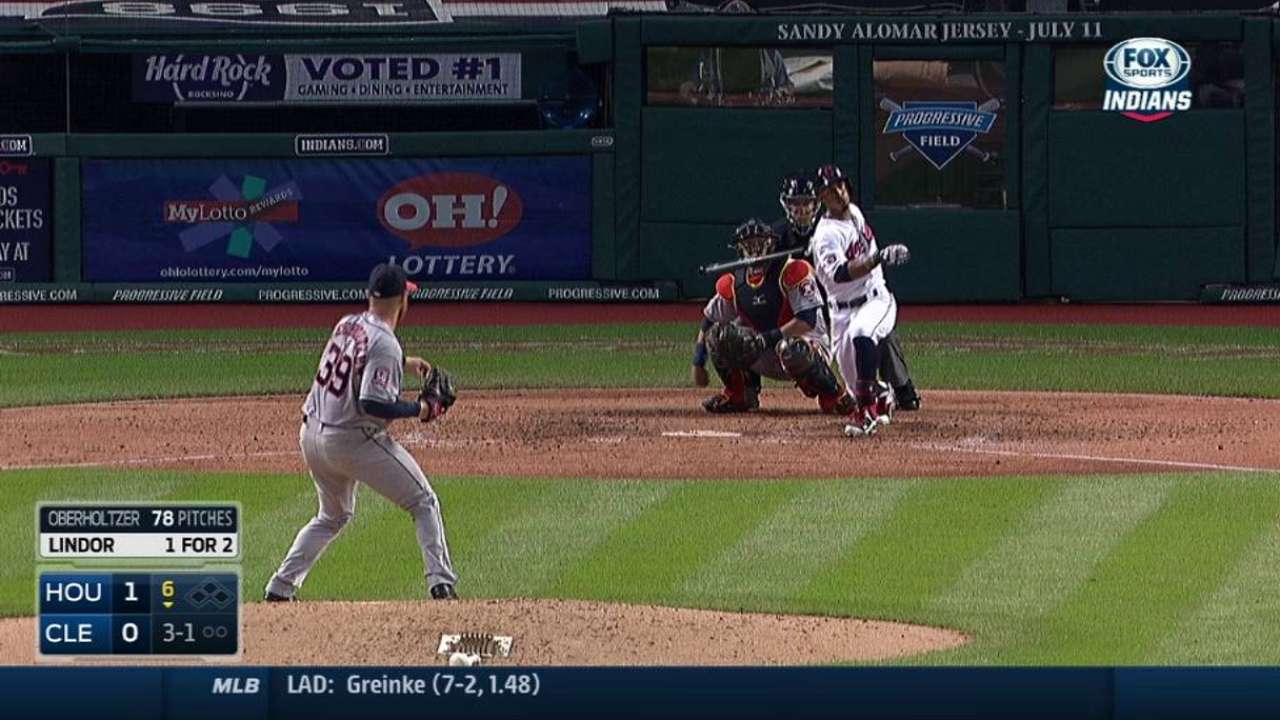 "Shoot, we're down 1-0 and that first run seemed pretty big," Francona said. "But once we got on track, it wasn't like we knocked the ball all over the ballpark, but we strung it together enough in that inning."
And for all a good night: Cleveland's bullpen followed Anderson's strong outing by continuing a hot stretch of its own. Marc Rzepczynski, Bryan Shaw and Cody Allen combined to throw 2 1/3 scoreless innings, with Allen earning his 18th save in 19 tries. Over the team's past 11 games, the Indians' bullpen owns a 1.77 ERA with a 26:6 strikeout-to-walk ratio.
"Except for those couple early, for the last three years, his numbers are ridiculous," Francona said of Allen. "Against lefties, against righties, he's good. It's nice to give him the ball."
QUOTABLE
"At no point are we ever going to really concede to certain pitchers. We believe in our abilities, we know that each and every day we can go out there and hit. Right now we're running through a tough patch, but I think their pitchers did an outstanding job today as far as containing us and really just moving the ball around." -- Conger
WHAT'S NEXT
Astros: Right-hander Collin McHugh (9-4, 4.54 ERA) will start for the Astros in the series opener on Friday at 6:10 p.m. CT against the Rays in St. Petersburg after coming off a July 4 loss at Boston that snapped his three-game winning streak. Still, McHugh is 16-4 in 27 starts since Aug. 1, 2004, with the Astros going 19-8.
Indians: Right-handed flamethrower Danny Salazar (7-4, 4.10 ERA) takes on the Athletics on Friday at 7:10 p.m. ET, kicking off a three-game set that will take the Tribe into the All-Star break. Salazar has been going through a bit of a rough patch after a dominant start to the season, failing to make it out of the fifth inning in three of his last four starts
Watch every out-of-market regular season game live on MLB.TV.
August Fagerstrom is an associate reporter for MLB.com. Brian McTaggart is a reporter for MLB.com. This story was not subject to the approval of Major League Baseball or its clubs.