Tanaka's top-flight potential returns in Bronx
Yankees righty rebounds from early hiccup to efficiently silence A's
NEW YORK -- Yankees manager Joe Girardi wants to be cautious with Masahiro Tanaka. The Yankees' Opening Day starter, pitching with a partially torn ulnar collateral ligament in his right elbow, was on the disabled list earlier this season with right wrist tendinitis and a right forearm strain. Logically, New York's chances of getting back to the playoffs are better if the club's titular No. 1 starter is healthy.
Then the manager let Tanaka throw 114 pitches over 7 2/3 innings in Thursday afternoon's 6-2 win over the Athletics.
Why? Setup reliever Dellin Betances and closer Andrew Miller were unavailable. With the All-Star break coming, Tanaka will have plenty of rest before his next start. And, most importantly, after running into a bit of trouble in the second inning, only one of the last 18 batters he faced got on base, and that was Billy Butler, who reached first after striking out on a wild pitch in the fourth.
It's hard to overestimate how encouraging this is for the Yankees, who are in first place in the American League East even though Tanaka came into Thursday with a 7.88 ERA in his previous three starts.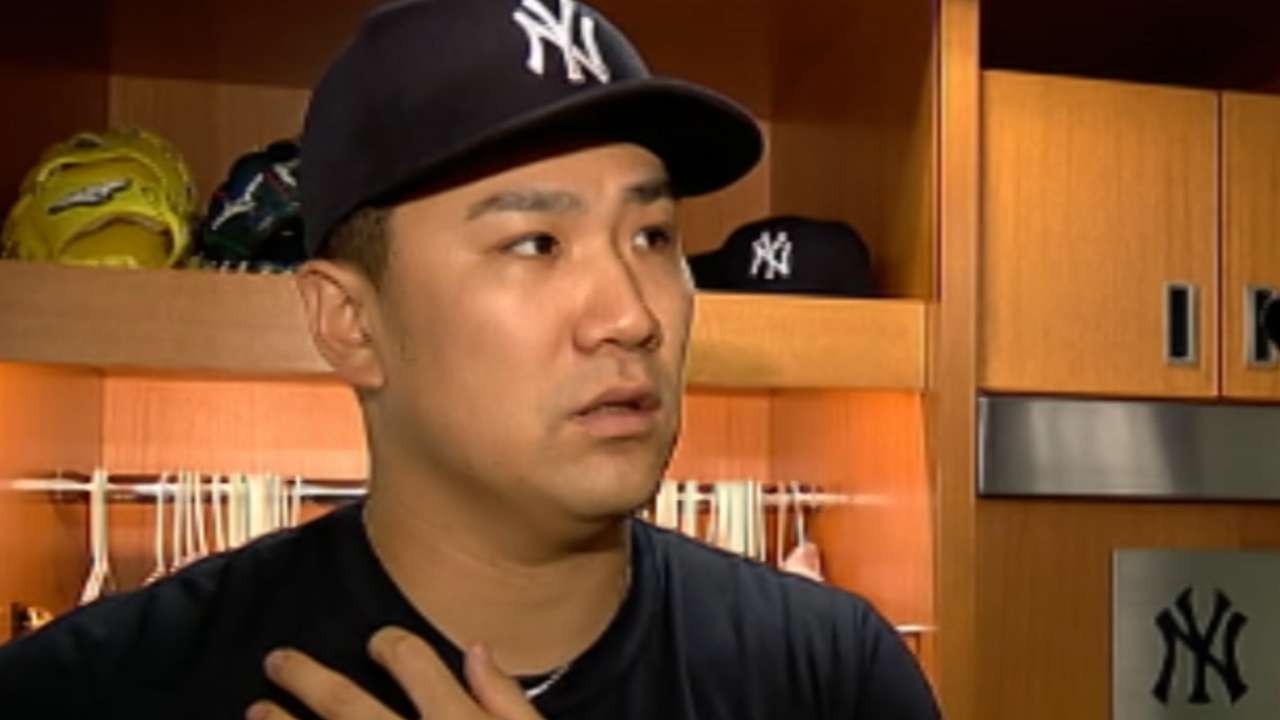 In the early going against the Athletics, it looked like more of the same. After Josh Reddick opened the second by reaching on catcher's interference, Tanaka gave up two doubles and a walk. Only a double play kept the damage to two runs, one of which was earned. But those ended up being the only hits Tanaka allowed all day.
" The second inning, when he gave up the couple runs, he made a couple of mistakes, and then he didn't make them after that," Girardi said. "He really just located well. He used his slider well and I thought he used his split well, and that was the difference.
"It was really, really important -- we needed some distance out of him. He had the quick first inning and then the second inning got kind of long, and you start thinking about how you're going to use everyone. And then he became pretty economical after that."
Tanaka echoed Girardi's evaluation.
"More than anything, I think [the difference] was the command of my pitches. I was able to execute pitches, and they were going where I wanted them to go," Tanaka said through a translator. "I think I was, overall, able to pitch well. The ball was coming out of my hand pretty good."
The right-hander's previous season highs were seven innings and 98 pitches, so Thursday's workload was a dramatic increase. Tanaka said he wasn't thinking about the bullpen being short when he was on the mound. "But as a result, we were able to save those guys, so I think it was a good thing," he added.
Girardi didn't rule out using Tanaka for more extended outings in the second half, but the manager made it clear that common sense will be his guide.
"We were obviously a little careful when he came back, because I think the most he threw [on his rehab assignment] was 75 pitches, so we were kind of building him up," Girardi said. "I don't have a steadfast number: 'This is it, and that's all we can do.' I don't have that. You watch the games, and you watch the innings and how hard he works."
Tanaka might have stayed in even longer. Even though he struck out Mark Canha and Marcus Semien to open the eighth, he needed 15 pitches to do so. That's when Girardi quickly popped out of the dugout. Chasen Shreve came out of the bullpen and worked an inning before Adam Warren recorded the final out.
Tanaka is 5-3 with a 3.63 ERA this season. Asked to assess his first half, he made it clear he expects more from himself.
"Shaky. Went on the DL. Had some bad outings," Tanaka said.
Still, he gave himself plenty of positive reinforcement for the next week and a half with this dominant performance.
"That's really a good thing, to be able to build on this and now take some days off for the All-Star break," Tanaka said.
Girardi's evaluation of Tanaka's season to date was more upbeat.
"I think it's been pretty good," Girardi said. "He had a couple of hiccups along the way, but I like where he's at physically. I like the way he's throwing the baseball, and I hope he has a great second half for us."
The key is that Tanaka gave the Yankees a reason to believe they could have an ace up their sleeve down the stretch. After all, sometimes how you start is less important than how you finish.
Paul Hagen is a reporter for MLB.com. This story was not subject to the approval of Major League Baseball or its clubs.