Infield steps up for Shark in Alexei's absence
Beckham, Sanchez form formidable double-play combo to aid sharp starter
CHICAGO -- Shortstop Gordon Beckham and second baseman Carlos Sanchez finished a combined 0-for-6 during the White Sox 2-0 victory over the Blue Jays on Thursday afternoon at U.S. Cellular Field.
But without their smooth presence up the middle defensively, there's a good chance Jeff Samardzija wouldn't have been able to finish off his sixth career complete game and second shutout. They actually made a significant difference between the White Sox splitting this four-game series and winning for the seventh time in nine games.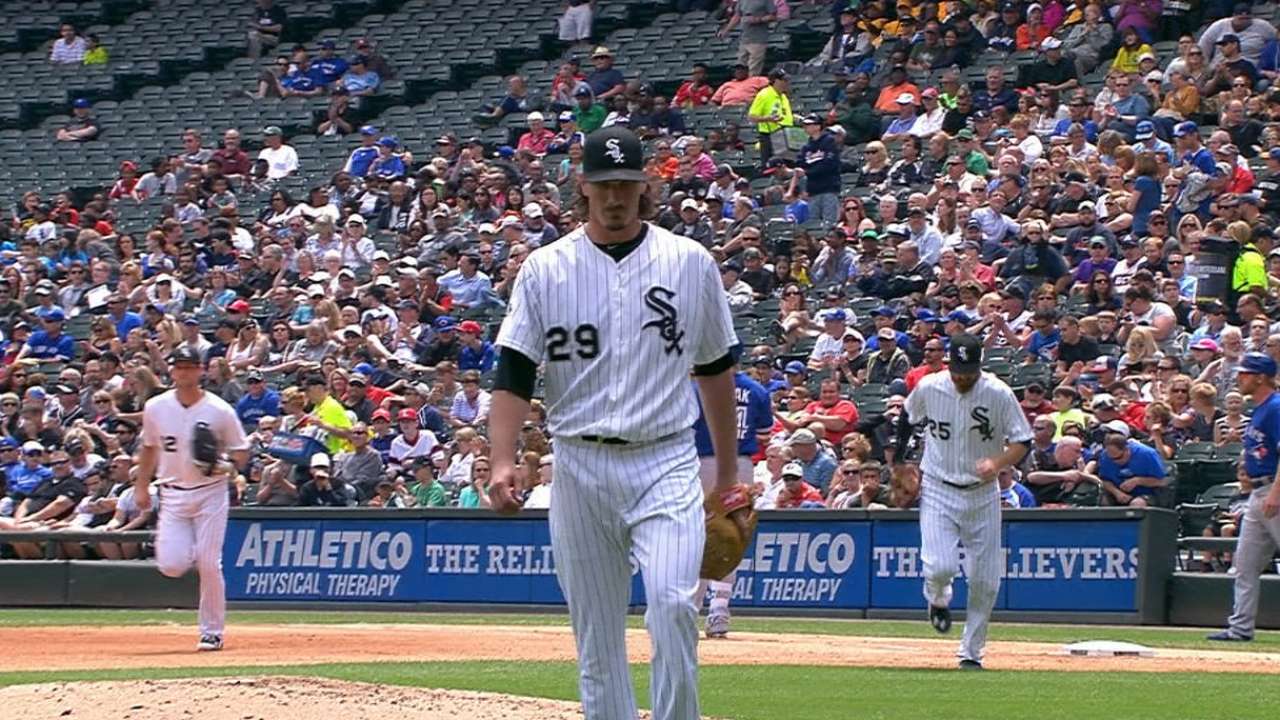 "As a pitcher, when you have the confidence that when it's hit in the dirt, it's going to be an out, it changes your game plan a lot," Samardzija said after improving to 6-4 this season. "It allows you to pound the zone and have confidence in those guys. The way they've been playing, I'm going to keep doing that: slider down, sinker down and get a lot of ground balls."
"Every time that you can play good defense, you are giving your team -- especially your pitcher -- the opportunity to win games," said Sanchez, through interpreter and White Sox Spanish language broadcaster Billy Russo. "For the pitcher, it's very important because with playing good defense, you are giving them the confidence to try to execute their pitches. They make a mistake and we are there to help them. That's how baseball works."
Sanchez helped Samardzija carry a no-hitter into the sixth inning when he took a base hit away from Russell Martin with one out in the second. He ranged up the middle on Martin's grounder and then made a strong jump throw to first baseman Adam LaRoche, who scooped it out of the dirt.
Beckham robbed Ryan Goins with a diving glove save to his right, and then made a one-hop throw also dug out by LaRoche. And when Samardzija appeared to be moving toward dangerous waters in the ninth, with Devon Travis on first, a 3-1 count on All-Star Josh Donaldson and nobody out, the double-play combo turned their magic again.
This time, it was Sanchez starting the double play that Beckham finished.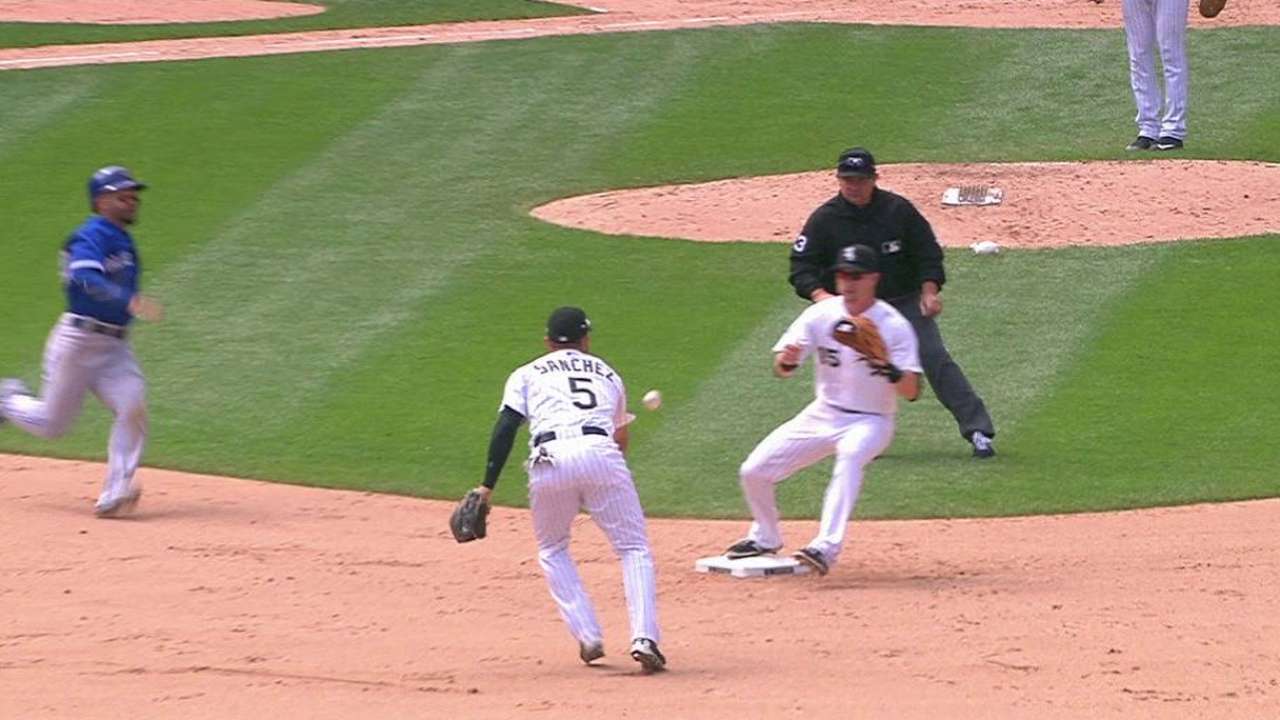 "That one in the ninth there against Donaldson, it didn't maybe look that hard," Samardzija said. "But what they did there was impressive, how quick they got that ball turned and it's a huge out. It allows me to get in the windup for the last out."
"There were some plays there that could have put him in a bind," White Sox manager Robin Ventura said. "The last double play is a nice play, especially when you're a man short with Alexei [Ramirez] being out today."
Ramirez was out of action on Thursday after fouling a ball off the inside of his left foot Wednesday night. Ramirez said the foot swelled up when he got home, and he received treatment throughout Thursday.
X-rays were negative, so Ramirez's hope is to play in the series opener Friday at Wrigley Field. If he's unavailable, the White Sox know they have a more-than-capable replacement in Beckham to pair with Sanchez.
Scott Merkin is a reporter for MLB.com. Read his blog, Merk's Works, follow him on Twitter @scottmerkin and listen to his podcast. This story was not subject to the approval of Major League Baseball or its clubs.