Headley's absence gives Figueroa a chance
Pirela optioned to Triple-A; Dugas designated for assignment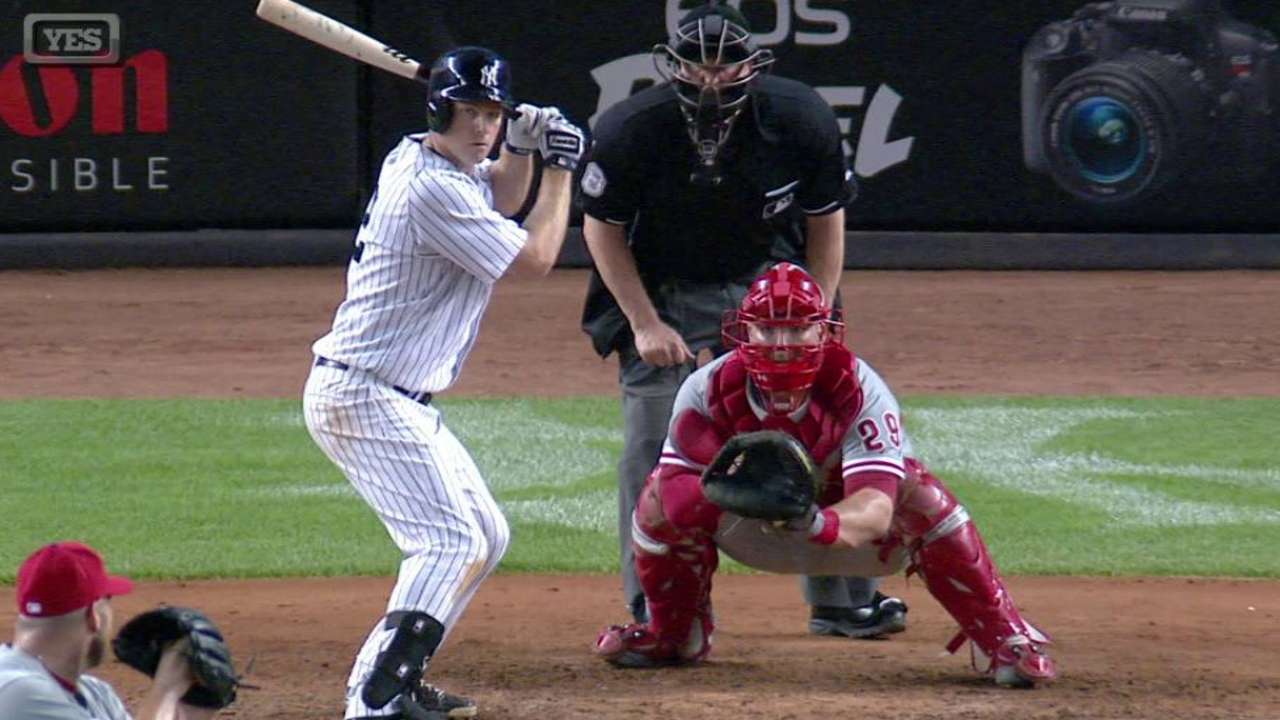 NEW YORK -- The Yankees are hopeful that they'll have Chase Headley back in the lineup this weekend against the Red Sox, but in the meantime, before Thursday's 6-2 win over the A's, they added Cole Figueroa from Triple-A Scranton/Wilkes-Barre to help assume third base duties.
Figueroa proved the Yankees' decision to be a wise one, as he went 2-for-4 with two runs and two doubles in his Yankees debut after a hectic night on Wednesday.
"We had an extra-inning game last night in Scranton, so it was, like, 13 innings and we had a day game as well," Figueroa said Thursday. "I was just like, 'Man, how am I going to make it through this day game tomorrow?' Our trainer kind of chuckled at me, and I got called into the office and got in about 3 o'clock [a.m.] last night."
Figueroa woke up 4 1/2 hours later to suit up for the Yankees for the first time.
"Obviously, this being my first game, making a good first impression was nice," Figueroa said. "Hopefully I can continue that. Obviously, there's some nerves. You're playing in Yankee Stadium ... but I thought I did a pretty good job of calming those as those game went on."
On Wednesday, Headley underwent an MRI exam on his right calf that revealed inflammation. Yankees manager Joe Girardi said he was crossing his fingers, hoping for Headley's return to the lineup this weekend in Boston.
"He feels much better today, so I was really encouraged by the way he said he felt today," Girardi said before Thursday's game. "It's actually the insertion point of the hamstring behind the knee. ... He's much better today."
In corresponding roster moves, the Yankees optioned infielder Jose Pirela to Triple-A and designated outfielder Taylor Dugas for assignment.
In 77 games at Triple-A this season, Figueroa hit .317 with 36 RBIs, 17 doubles and three homers.
Girardi said he would decide what to do with Figueroa and infielder Brendan Ryan, who went out on a rehab assignment, when the time comes.
"Obviously, he's played all over the place; I think he signed as a shortstop, and he's been moved around," Girardi said of Figueroa. "Brendan went out on a rehab [stint]. I think he's in Scranton today, and he's in Trenton tomorrow. ... Then we'll make a decision after a couple days [based on] where he's at."
Grace Raynor is an associate reporter for MLB.com. This story was not subject to the approval of Major League Baseball or its clubs.