MLB.com Columnist
Hal Bodley
For classic All-Star moments, nothing beats Rose
Collision in 1970 game held in Cincinnati will be hard to top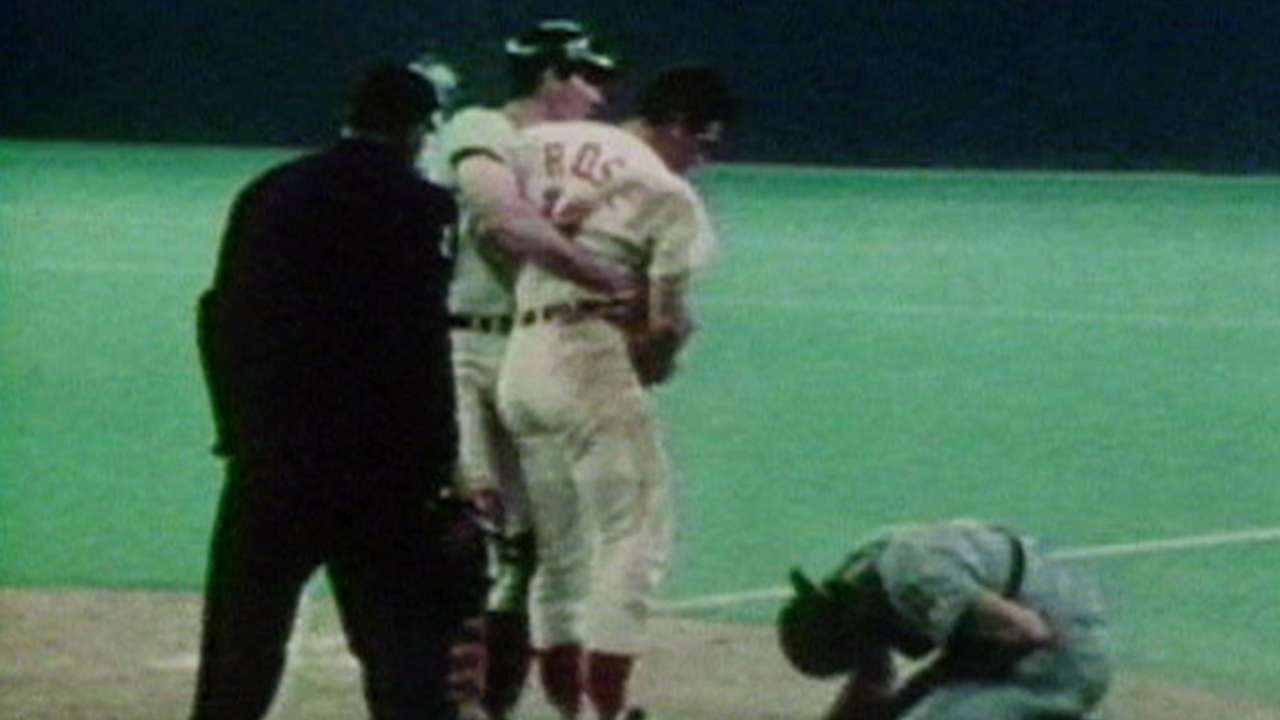 It's been 45 years since I sat in the spanking new Riverfront Stadium press box on a sweltering July night in 1970 and watched what was to become the greatest All-Star Game I've covered.
As the 2015 All-Star Game presented by T-Mobile returns to Cincinnati on Tuesday night, fans will be talking about all the plots and subplots that unfolded in what was then the third Midsummer Classic played in their city. The game returned to Riverfront in 1988.
You have to start with -- no make that end with -- Pete Rose crashing into Ray Fosse to score the winning run as the National League recorded a 5-4 victory in 12 innings.
I've covered 46 of these games, and although the Rose-Fosse play has been talked about ad nauseam, there were myriad subplots leading to Rose scoring the decisive run.
It's probably been forgotten by many, but the game came close to being played in Atlanta instead of Cincinnati. Construction of Riverfront Stadium (to replace Crosley Field) was behind schedule.
Commissioner Bowie Kuhn was making plans to move it to Atlanta. On June 1, he was assured Riverfront would be ready and confirmed the All-Star Game would take place there. The cookie-cutter park, one of many built during that era, opened on June 30, and -- according to my notes -- just 10 games were played before NL starter Tom Seaver of the Mets took the mound and struck out the White Sox Luis Aparicio. Baltimore's Jim Palmer started for the American League.
Ah, yes. There were 22 future Hall of Famers in the game, one of the greatest showcases of baseball stars in history.
Another lasting memory for me was shaking hands with President Richard Nixon, who was there to throw out the ceremonial first pitch. I still have the autographed picture.
Prior to the 12th-inning dramatics, the AL held a 4-1 lead entering the bottom of the ninth inning. I remember looking down from the press box, remarking to a friend how many in the crowd of 51,838 were heading to the exits. They didn't know it, but they missed one of the greatest moments in All-Star history.
A home run by San Francisco's Dick Dietz; singles by the Mets' Bud Harrelson, Houston's Joe Morgan and San Francisco's Willie McCovey; a sacrifice fly by the Pirates' Roberto Clemente -- and the game was tied.
It remained knotted at 4 until, with two outs, Rose and the Dodgers' Billy Grabarkewitz (the only rookie in the game) each singled, putting runners on first and second. The Cubs' Jim Hickman then lined a single to center. The Royals' Amos Otis charged in, fielded the ball cleanly and made a strong throw to home plate, but that defensive play got lost in the collision.
Rose tucked his head down, and with his left elbow up, crashed into Fosse, whose glove flew off his hand.
Later, Rose sat on a trainer's table and spoke with reporters.
"If I slid in there, I could have broken both legs. If I slid headfirst, I could have broken my neck," Rose said.
Fosse said, "I know he didn't mean it, but who knows? Maybe he should have run around me."
Rose missed the Reds' next three games with a thigh bruise.
Fosse was hurting, but he played the next two games. It wasn't until the next spring that doctors discovered he had fractured and separated his left shoulder, and it had healed in the wrong place. His career was never the same.
"That's the way Pete has always played the game," said Morgan, who later became Rose's teammate when he joined the Reds for his Hall of Fame career. "What he did was no surprise to me. That's Pete."
Neither Rose nor Fosse were starters in that All-Star Game. Rose replaced Hank Aaron in right field and Fosse took over behind the plate for the Tigers' Bill Freehan, both in the fifth inning. Boston's Carl Yastrzemski, who had four hits, was the MVP.
The All-Star Game was back at Cincinnati's ballpark in 1988. That game was also exciting, but there were no jarring collisions at home plate -- just a game-winning sacrifice fly by unheralded A's catcher Terry Steinbach. The AL won, 2-1.
Steinbach was in his second year in the Majors when he was voted into the 1988 Midsummer Classic, receiving the lowest total among the starters. His second-inning homer off the Mets' Dwight Gooden gave the AL a 1-0 lead and his sacrifice fly scored the second run and earned him the MVP trophy.
I remembered there was much discussion before the game about whether Steinbach deserved to be an All-Star.
I dug into my archives the other day and retrieved tapes I made that night in Cincinnati.
"I didn't pay any attention to those things," Twins manager Tom Kelly, who skippered the AL, said. "In my opinion, the guy's doing an outstanding job for the Oakland A's. You can see here why he's an All-Star. He caught an outstanding game, hit a home run and had a sacrifice fly."
Said Steinbach: "When you're standing in the on-deck circle at the All-Star Game and Dwight Gooden is pitching, you have a lot of things going through your mind. I've watched the guy on television so many times. There's been so many stories written about him.
"I just didn't want to strike out. I didn't want to embarrass myself. I told myself to just go up and hit it."
The ball landed over the right-field wall, and Steinbach's name was etched in All-Star Game history.
For me, I'll be watching Tuesday night's game on TV and undoubtedly believing this game will have to be special to upstage the two I covered in Cincinnati years ago.
Hal Bodley is the senior correspondent for MLB.com. Follow him @halbodley on Twitter. This story was not subject to the approval of Major League Baseball or its clubs.