Queensgate Field renovation unites community
Castellini: 'Projects like this are going to last a generation'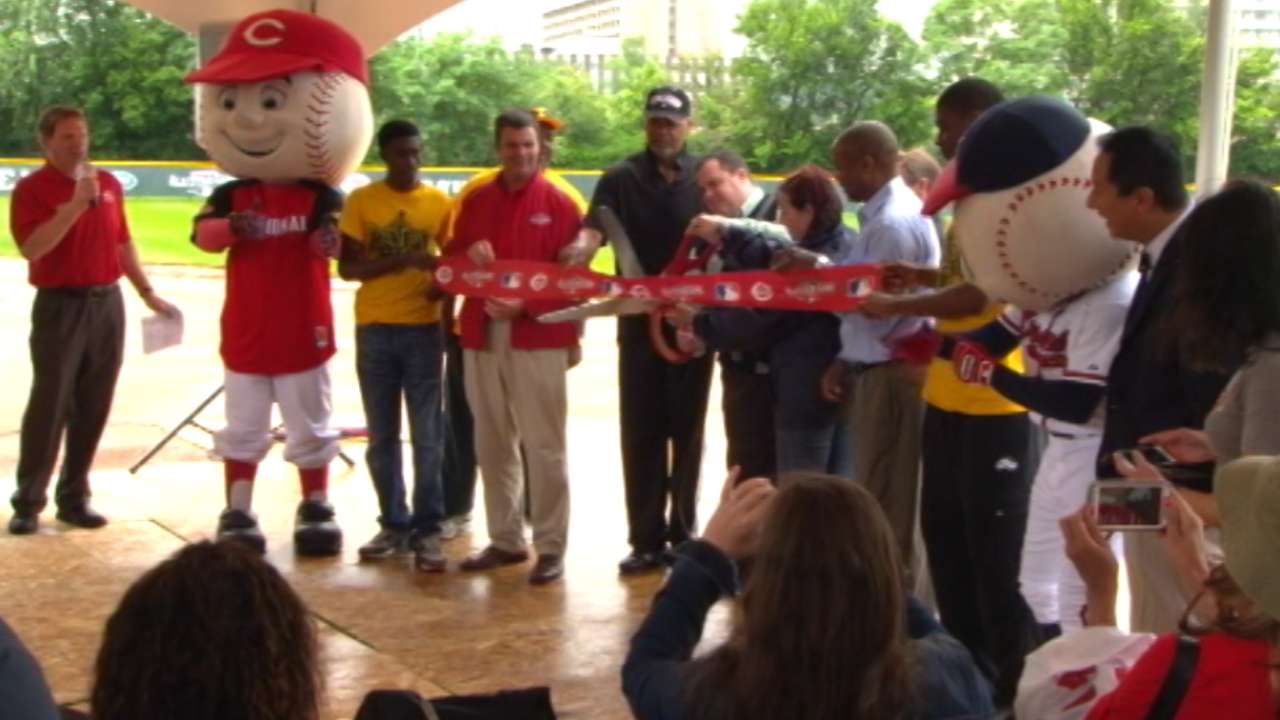 CINCINNATI -- Reds Hall of Famer Dave Parker played at Queensgate Field when he was growing up, making Thursday's dedication even more special for the seven-time All-Star.
Parker was on hand Thursday to be a part of the unveiling of the newly renovated Queensgate Field. The renovations included upgraded bleachers, dugouts, outfield fencing, a scoreboard and a transformational landscaping facelift, courtesy of Scotts Lawn Care.
"As a teenager, I played here. I remember the field being farther back. I don't remember it being this close to the street, but we played here as 14-, 15- and 16-year-old kids," Parker said. "It's a beautiful facility, and it should attract a lot of kids, because what we are trying to do is get kids back involved in baseball, and to have a field like this should increase the interest in playing for the neighborhood."
The event lasted about a half hour, and it featured comments from Reds chief operating officer Phil Castellini, MLB vice president of community affairs Thomas Brasuell and Cincinnati Recreation Commission interim director of recreation Steve Pacella. The event also featured appearances from Reds mascot "Mr. Red" and Braves mascot "Homer." A dedication plaque was also unveiled at the field, and a pair of local young players threw out the first pitch on the newly renovated field.
The field dedication was part of a string of All-Star Game community legacy events, where MLB and the Reds will donate nearly $5 million through MLB Charities and the Reds Community Fund. A significant portion of that donation will help renovate nine youth baseball fields throughout "Reds Country" to increase the number of youth and amateur players in those communities.
"Over that last four or five years anyway, these projects have been done like this one, ahead of time and the ribbon cuttings happening during the All-Star Week, so I think that model is much cooler," said Castellini during the presentation. "It's fantastic that we are going to be having these nine ribbon cuttings over the next five or six days. It really makes a lasting legacy. The All-Star Game comes maybe once every 20 to 30 years, but projects like this are going to last a generation."
Queensgate Field serves as the home field for a number of local teams, including the Taft High School Senators. Taft High School players, coaches and athletic director Don Newberry were in attendance, and they took part in the ribbon cutting. Following the event, Newberry expressed appreciation and excitement toward the newly renovated facility.
"The Cincinnati Reds, even besides what they've done here, they have been the absolute perfect partner," Newberry said. "They've been supportive of just youth baseball in this city to the hilt, so this is just another example of just their generosity and the Castellini family. This is just amazing. Words can not describe what it means to have this field out here right now."
During the All-Star Game presented by T-Mobile in Cincinnati on Tuesday, July 14, fans can once again visit MLB.com to submit their choice for the Ted Williams Most Valuable Player Award presented by Chevrolet. Voting exclusively at MLB.com, online and via their mobile devices in the 2015 All-Star Game MVP Vote presented by Chevrolet, the fans' collective voice will represent 20 percent of the overall vote that determines the recipient of the Arch Ward Trophy.
MLB.TV Premium subscribers will be able to live stream the All-Star Game via MLB.TV through FOX's participating video providers. Access will be available across more than 400 supported MLB.TV platforms, including the award-winning MLB.com At Bat app. MLB.com will provide extensive online coverage of the All-Star Week festivities, including the 2015 Gillette Home Run Derby presented by Head & Shoulders, part of Gatorade All-Star Workout Day on Monday, July 13. The Derby will feature a new format with brackets and timed rounds and will be broadcast live by ESPN and MLB.com beginning at 8 p.m. ET.
The 86th Midsummer Classic will be televised nationally by FOX Sports (coverage begins 7 p.m. ET), in Canada by Rogers Sportsnet and RDS, and worldwide by partners in more than 160 countries. ESPN Radio and ESPN Radio Deportes will provide exclusive national radio coverage of the All-Star Game. MLB Network and SiriusXM will also provide comprehensive All-Star Week coverage. For more information, please visit allstargame.com.
Robert Bondy is an associate reporter for MLB.com. This story was not subject to the approval of Major League Baseball or its clubs.