Dyson flashes leather in Gordon's place
Yost calls defensive play best he's seen all season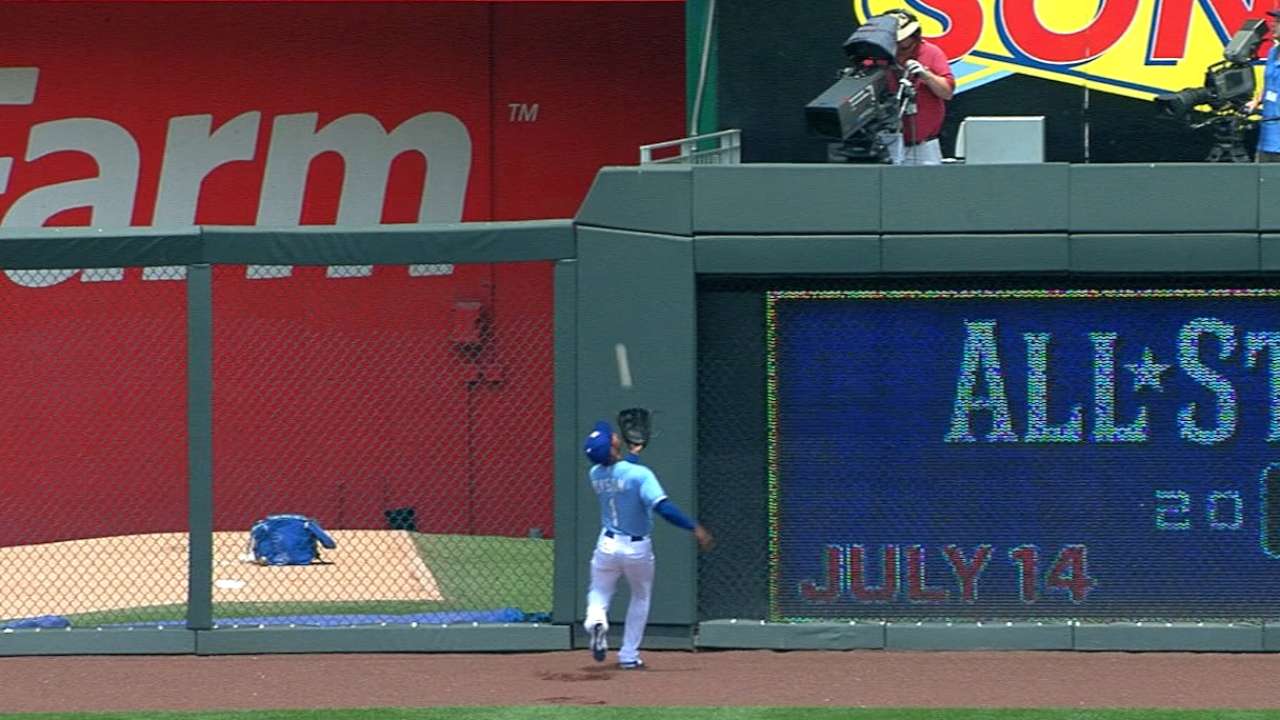 KANSAS CITY -- Replacing a four-time Gold Glover like Alex Gordon isn't easy.
But Royals left fielder Jarrod Dyson is making the transition for the Royals and their fans a bit easier.
On Wednesday night, Dyson sparked the Royals by firing a strike to home on a flyout to left to complete a big double play at the time in a 9-7 win.
Dyson was back at it in Thursday's 8-3 win with one of the best plays of the season. With Tampa Bay's John Jaso on first, Grady Sizemore sent a deep drive to left field and seemingly over the head of Dyson. But Dyson raced back, and with his back to the infield, he made the catch over his shoulders.
Dyson then turned, pivoted and threw a strike to shortstop Alcides Escobar, who relayed the throw to first baseman Eric Hosmer to double up Jaso.
"The play in the first inning, that kind of sums up how it's going right now," Rays manager Kevin Cash said. "We square a ball up, and Dyson makes an incredible play on it and we get doubled up."
Royals manager Ned Yost called it the best play he has seen all season.
"I meant it literally," Yost said. "We've seen great plays. We've got a defensive team, but I asked my coaches, 'Have you seen a better defensive play this year?' Because the degree of difficulty on that is huge. To be able to catch the ball with your head this way running full speed at the wall, one step from the wall, and catch it like that. ... The degree of difficulty on a play like that is astronomical."
Jeffrey Flanagan is a reporter for MLB.com. Follow him on Twitter at @FlannyMLB. This story was not subject to the approval of Major League Baseball or its clubs.