Santiago, Templeton elected to Padres' Hall
Pair to become 10th and 11th members during Aug. 8 ceremony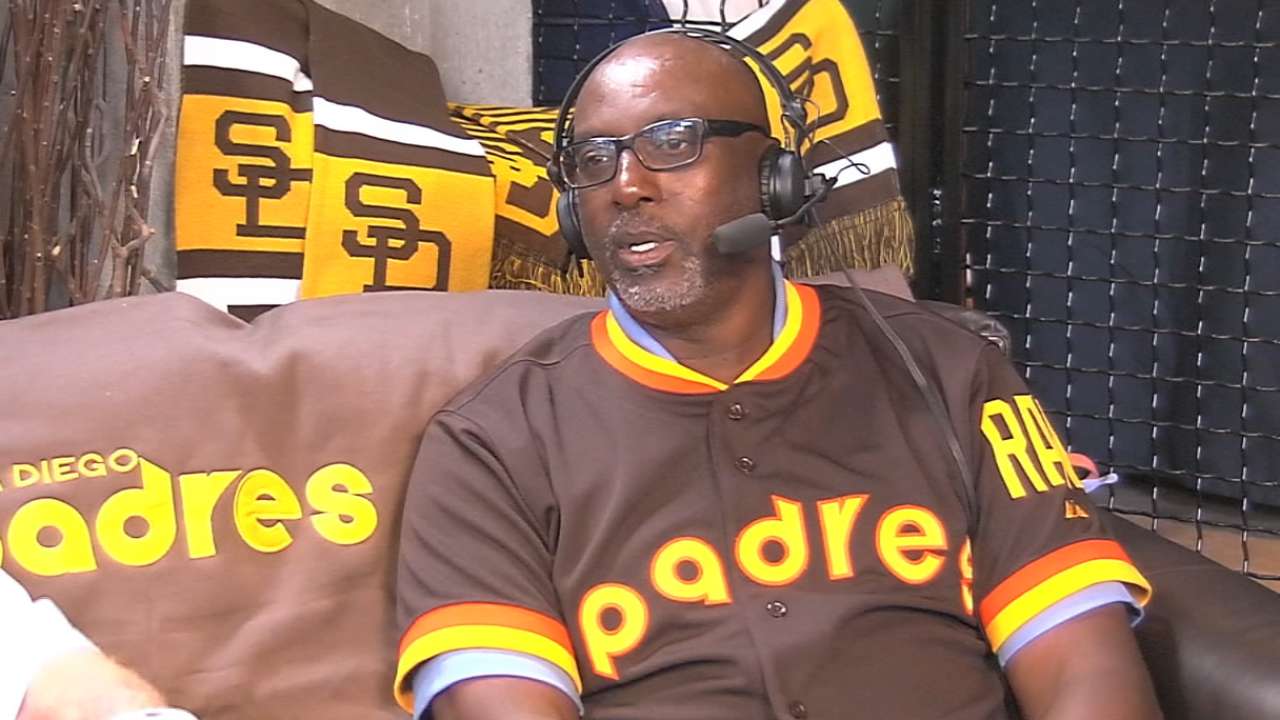 Bill Center, longtime sportswriter for U-T San Diego, is an employee of the Padres.
The Padres Hall of Fame is opening its doors to two more players -- shortstop Garry Templeton and catcher Benito Santiago. Templeton and Santiago will become the 10th and 11th members of the Padres Hall of Fame during induction ceremonies at Petco Park on Saturday, Aug. 8, before the Padres' game against the Phillies.
The pair will join previous inductees Buzzie Bavasi, Nate Colbert, Jerry Coleman, Tony Gwynn, Trevor Hoffman, Randy Jones, Ray Kroc, Dick Williams and Dave Winfield.
Templeton and Santiago are the first players at their respective positions to be enshrined in the Padres Hall of Fame.
Templeton, 59, played for San Diego from 1982-91 season, and he ranks second in many Padres career hitting categories to Gwynn. Templeton played an instrumental role in San Diego's first National League pennant in 1984 and later served as the Padres' captain from 1987 through his trade to the New York Mets on May 31, 1991. He was named a member of the NL All-Star team in 1985 and won a Silver Slugger Award as a Padre in 1984.
Santiago, 50, played for the Padres from 1986-92. He won the NL Rookie of the Year Award in 1987, and Santiago's four All-Star Game starts (1989-92) as a Padre rank second only to Gwynn's 12. As a Padre, Santiago won three Gold Glove and four Silver Slugger Awards as being, respectively, the best defensive catcher and offensive catcher in the NL.
"This is a well-deserved honor for Benito and Garry," said Padres president and CEO Mike Dee.
"Each played integral roles during their time in San Diego -- both on and off the field," Dee continued. "Their induction into the Padres Hall of Fame will solidify their places in Padres' history.
"Our efforts to showcase the organization's history throughout Petco Park will come to life next year when the new Hall of Fame location opens."
The opening of the Padres' Hall of Fame will coincide with the playing of the 2016 All-Star Game at Petco Park next July.
Santiago's play bordered on the sensational during his seven seasons with San Diego. He gained national attention with his ability to throw out baserunners with strong and accurate throws from his knees.
Toward the end of his 1987 NL Rookie of the Year Award-winning season, Santiago hit in 34 straight games -- which remains the longest hitting streak ever by a Padre, the longest hitting steak ever by a Major League rookie and the longest hitting streak by a Major League catcher.
A native of Puerto Rico, Santiago signed with the Padres as a free agent in 1982 at the age of 17 and debuted in the Major Leagues at the age of 21.
Santiago hit .264 as a Padre (758-for-2,872) with 85 homers and 375 RBIs in 789 games. He is the career leader among Padres catchers in home runs, triples (15) and runs scored (308) and second in RBIs, games played, hits, doubles (124) and at-bats and third in walks (137).
Defensively, Santiago threw out a Padres career-high mark of 31.2 percent (203 of 650) of runners who attempted to run on him.
Santiago departed the Padres as a free agent after the 1992 season at the age of 27. Near the end of his 20-season career with nine Major League teams, Santiago lamented leaving San Diego.
"I was happiest as a Padre, but I was young then and you know how it works," Santiago said. "I would have loved it if I could have finished my career as a Padre. There is always something you love most about your first team."
Templeton arrived in San Diego in the Dec. 19, 1981, trade that sent shortstop Ozzie Smith to the Cardinals. Smith went on to become a Hall of Famer, which created controversy among some fans regarding the trade.
But the Padres might not have won the 1984 NL pennant without the bat and steady play of Templeton at short. Templeton hit .258 with two homers and 35 RBIs in 1984 and won the silver Slugger Award as the NL's top offensive player at short.
"Coming back against the Cubs, winning the 1984 National League title and playing in that World Series were the highlights of my career," Templeton said in a 1991 interview.
In 1985, Templeton was voted the Padres' Most Valuable Player after hitting .282 with six homers, 55 RBIs and 63 runs scored.
Templeton spent 10 of his 16 Major League seasons with San Diego and continues to reside in Poway, Calif.
The switch-hitter had a career .252 batting average (1,135-for-4,860) with the Padres, with 195 doubles, 36 doubles, 43 homers, 427 RBIs and 430 runs scored in 1,286 games.
Templeton ranks second to Gwynn on San Diego's career lists in games played, hits, at-bats, and doubles. Templeton ranks fourth in triples, seventh in RBIs, eighth in runs scored and 10th in steals.
Templeton's .965 fielding percentage is the best career mark by any Padre.
The pair will officially be inducted into the Padres Hall of Fame Aug. 8 at Petco Park in ceremonies before the 5:40 p.m. PT game against the Phillies. All fans in attendance will receive either a Templeton or Santiago throwback replica jersey presented by Fox Sports San Diego. A night earlier, the Padres will honor broadcaster Dick Enberg, who goes into the National Baseball Hall of Fame July 25 in Cooperstown, N.Y., as the 2015 recipient of the Ford C. Frick Award for broadcasting excellence.