Hot-hitting Royals sweep Rays
KANSAS CITY -- The Royals defeated the Rays, 8-3, Thursday afternoon at Kauffman Stadium to complete a four-game sweep. The Royals have won five in a row while the Rays have lost 15 of 18.
The Royals scored seven times against Rays starter Nathan Karns, who took his fifth loss of the season. Lorenzo Cain and Salvador Perez each hit two-run homers, Eric Hosmer had an RBI double and scored on a sacrifice fly and rookie Cheslor Cuthbert drove in two, including an RBI triple.
"This time last week, we were trying to figure out why our bats were so quiet, so it just goes in cycles" Royals manager Ned Yost said. "You just ride it as long as you can when you're hot and continue to grind through it when you're not."
Yordano Ventura started for the Royals and earned the win to move to 4-6 on the season. He pitched four scoreless innings before the Rays scored three against him in the fifth. Rene Rivera drew a bases-loaded walk while John Jaso and Grady Sizemore each had sacrifice flies. The Royals answered the rally with three in the bottom half of the inning to take a 7-3 lead.
"The Royals continued to swing the bats," Rays manager Kevin Cash said. "We saw them for four games and you could argue this was maybe their best one. Coming out really aggressive. Pretty relentless approach that they're featuring right now."
But the best in Yost's mind?
"I don't know, man. We've played some pretty good series all year, and I think this was our 50th win, and we're still three games away from the All-Star break," Yost said. "We're playing pretty good."
• Dyson flashes leather in Gordon's place
MOMENTS THAT MATTERED
Cain sets career high in homers: Cain drilled a two-run homer in a first inning and set a new career high with eight home runs this season, showing no signs of letting his recent hot streak run cold. He has hit safely in all but four of his last 24 games and is hitting .374 (34-for-91) with 15 runs, eight doubles, three triples, four homers and 18 RBIs in that stretch. His average improved to.517 at the plate in his last eight.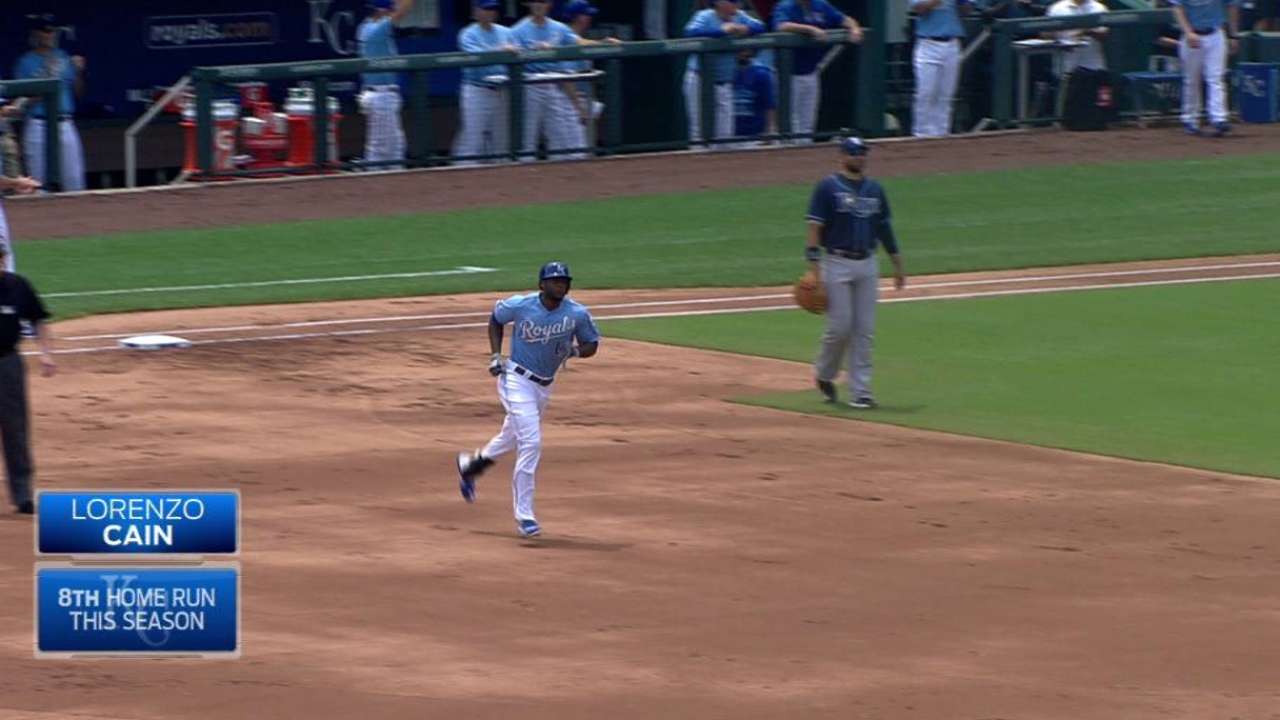 Cain was ejected in the eighth inning arguing balls and strikes from the dugout with home-plate umpire Chris Segal -- his second ejection of the season.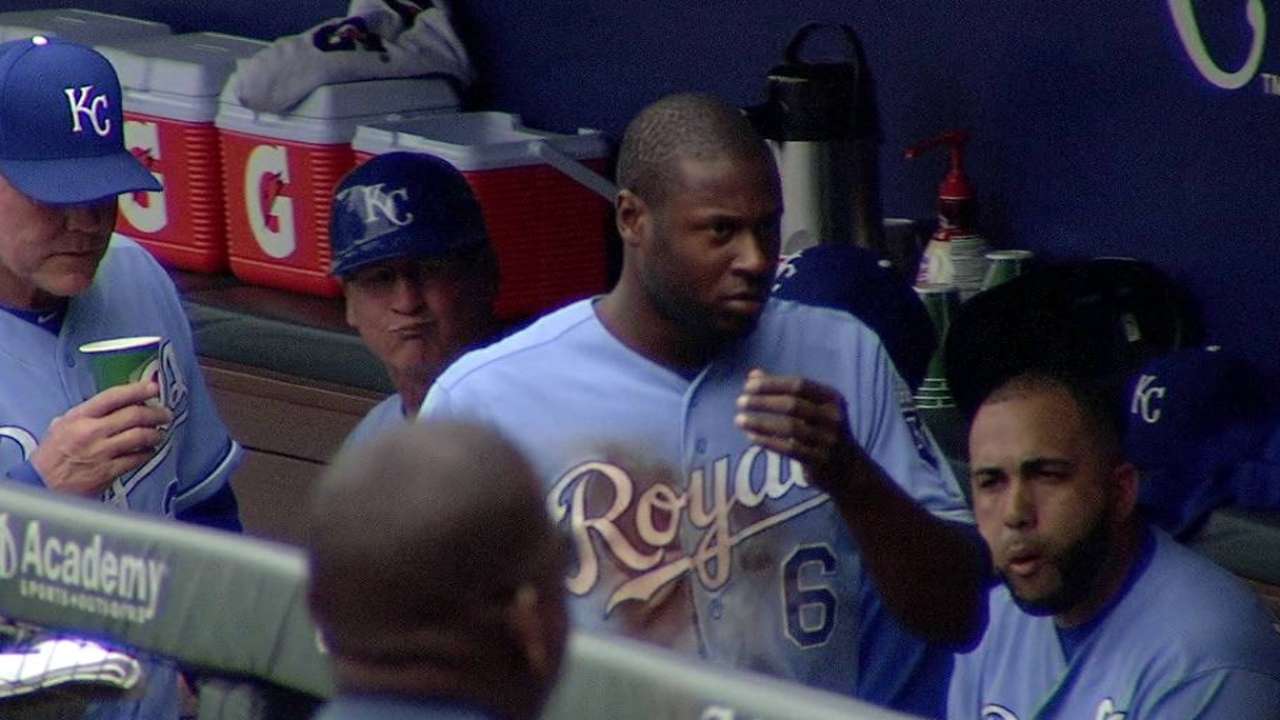 Hot-hitting Jaso: Jaso returned to the Rays from the disabled list on Tuesday, and all he's done since is hit. Thursday he singled off Ventura to lead off the game and he added a sacrifice fly. He finished the series 7-for-12 (.583) with two walks and two RBIs.
Ventura goes five in return: After a stint on the disabled list, Ventura returned to throw four scoreless frames before giving up three runs in the fifth with two hits, two walks and two sacrifice flies to begin the inning. He won his first game in his last five starts and improves to 4-6 on the season.
"The fifth inning, for lack of a better word, was a character inning for me," Yost said. "You've got a four-run lead, you pitch yourself in trouble, now let me see you pitch yourself out of it. And he did. He gave up three, but he held the fort and we came right back and answered with three of our own."
Added Ventura, "I'm not 100 percent, it's good enough."
QUOTABLE
"Five pitches, three runs. So I'd say they're pretty good" -- Karns, on the Royals' first three runs that came in the first on his first five pitches
SOUND SMART WITH YOUR FRIENDS
Karns made the 40th start by a Rays rookie this season, making Tampa Bay the 12th team since 1980 to have 40 or more starts by rookies before the All-Star break.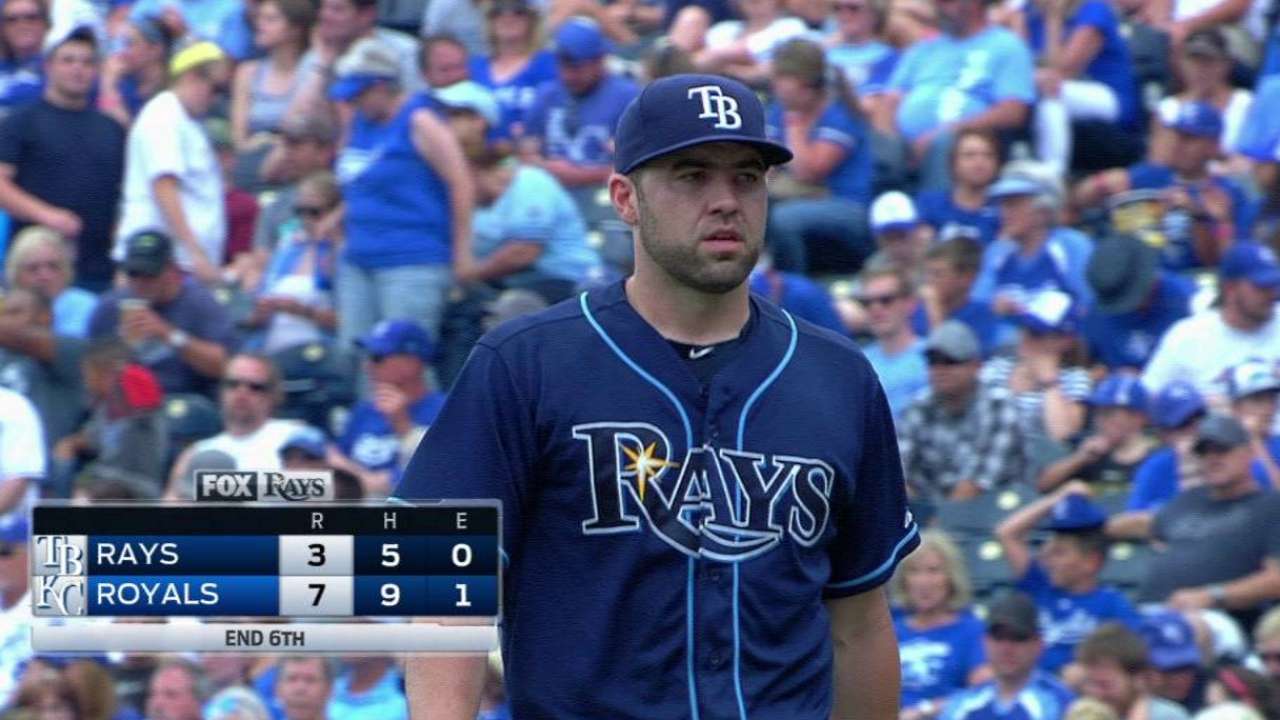 WHAT'S NEXT
Rays: Erasmo Ramirez (7-3, 3.80 ERA) will make his 13th start of the season in Friday's opener vs. the Astros at 7:10 p.m ET. The Nicaraguan right-hander has been on a roll. After his first two appearances, he had an ERA of 25.31. Since then, he is 7-2 with a 2.12 ERA in 17 appearances.
Royals: Left-hander Danny Duffy (2-4, 5.14 ERA) will look for his first win since April in Friday's opener against the Blue Jays at 7:10 p.m. CT. The Royals have lost four of his last six starts, while Duffy is 0-4 in that stretch.
Watch every out-of-market regular season game live on MLB.TV.
Bill Chastain is a reporter for MLB.com. Jordan Wilson is an associate reporter for MLB.com. This story was not subject to the approval of Major League Baseball or its clubs.