Inbox: Who's been O's biggest surprise?
Beat reporter Brittany Ghiroli answers fans' questions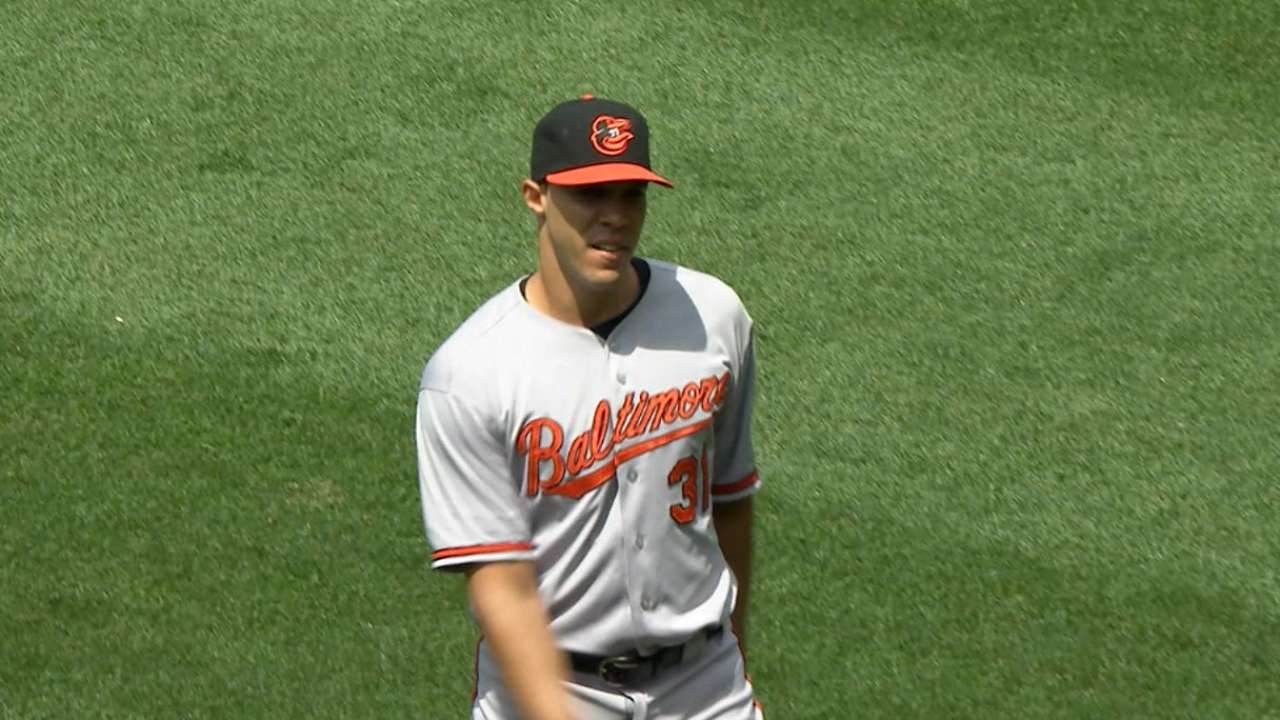 BALTIMORE -- With the halfway point approaching, the Orioles look like a team that could use a few days to regroup. Despite being swept in Minnesota and losing a series in Chicago, Baltimore is still in the American League East race. And there are a lot of questions surrounding the club, which makes it an opportune time to dig through the Inbox and answer some of your submissions.
Who is your biggest surprise and disappointment so far this season? And what do the Orioles have to do to turn things around?
-- Bob M., Columbia, Md.
There's been a few guys who deserve to be in the surprises category, and while Manny Machado having a career season, I think most people knew that the 23-year-old was capable of this. Therefore, I'm going with Ubaldo Jimenez, who was removed from the rotation down the stretch last year and took it upon himself to shore up his mechanics this winter and come to Spring Training with a serious focus.
Jimenez has been good since Day 1, and he has been one of the Orioles' best starters, capable of dominating a lineup when he's on. If you're Baltimore, you have to hope that Bud Norris, my pick in the disappointing category, takes the demotion to the 'pen the same way Jimenez did and finds a way to turn things around. Unfortunately, Norris, who has a 6.79 ERA in 11 games as a starter, doesn't have the same contract status as Jimenez, bringing me to my next question.
What are the Orioles going to do with Norris?
-- Katie M., Arlington, Va.
There's not much they can do other than hope he can get back on track. Norris is out of options, meaning he can't go to the Minor Leagues. The Orioles have been gauging his trade value, but he hasn't pitched well enough to really make that worthwhile, unless they want to eat a large chunk of his salary. Norris will be a free agent at season's end, so it would behoove all parties if he were able to get on a consistent stretch in the second half. In the meantime, the O's roster crunch continues.
How will Matt Wieters' schedule go now that he's caught back-to-back days?
-- Vince R., Washington, D.C.
The Orioles will continue to bring Wieters along with some caution, but the goal is to get him to catch three and four days in a row in the second half. He made his first consecutive starts behind the plate in Minnesota and got two days off, and the plan is for him to catch the first two against the Nats before an extended layoff with the All-Star break. How Wieters responds from these first two back-to-back outings will go a long way in determining where they go in the future with him.
The O's are in a nice stretch with a lot of off-days, so it's a perfect time to up Wieters' innings and allow him to recover, which has been a critical part of the process. As long as he's not reporting to be unusually sore in between, they should start approaching the idea of three straight games soon.
What is the plan with Kevin Gausman?
-- Matt L., New York
Gausman is still in the rotation. This is one of the most common questions I get. The move to option him before the break was just to keep him starting. The plan is for Gausman to return and pitch the fifth game of the second half.
Brittany Ghiroli is a reporter for MLB.com. Read her blog, Britt's Bird Watch, follow her on Facebook and Twitter @britt_ghiroli, and listen to her podcast. This story was not subject to the approval of Major League Baseball or its clubs.