Bat stays loud on day Gardner reaches Cincy
Yankees outfielder opens eventful afternoon with 10th homer of season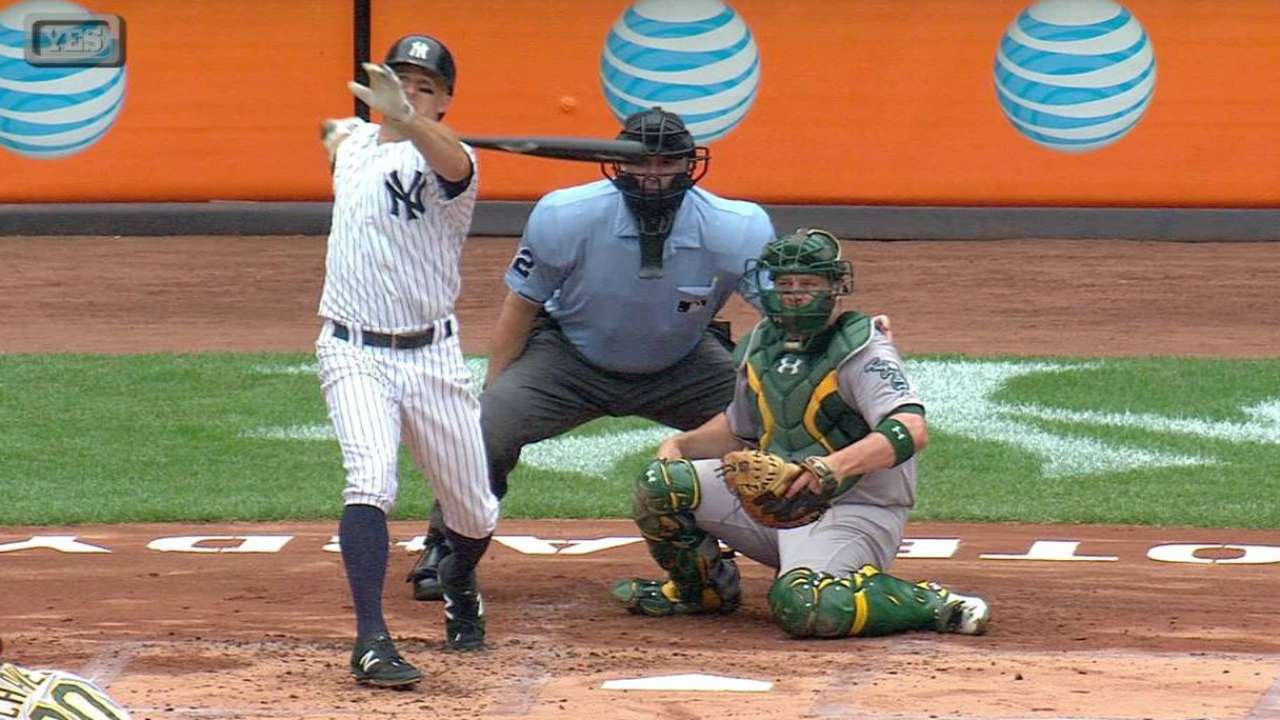 As of Thursday morning, Gardner was in fourth place in the AL Final Vote standings, trailing Royals third baseman Mike Moustakas, Twins second baseman Brian Dozier and Tigers outfielder Yoenis Cespedes.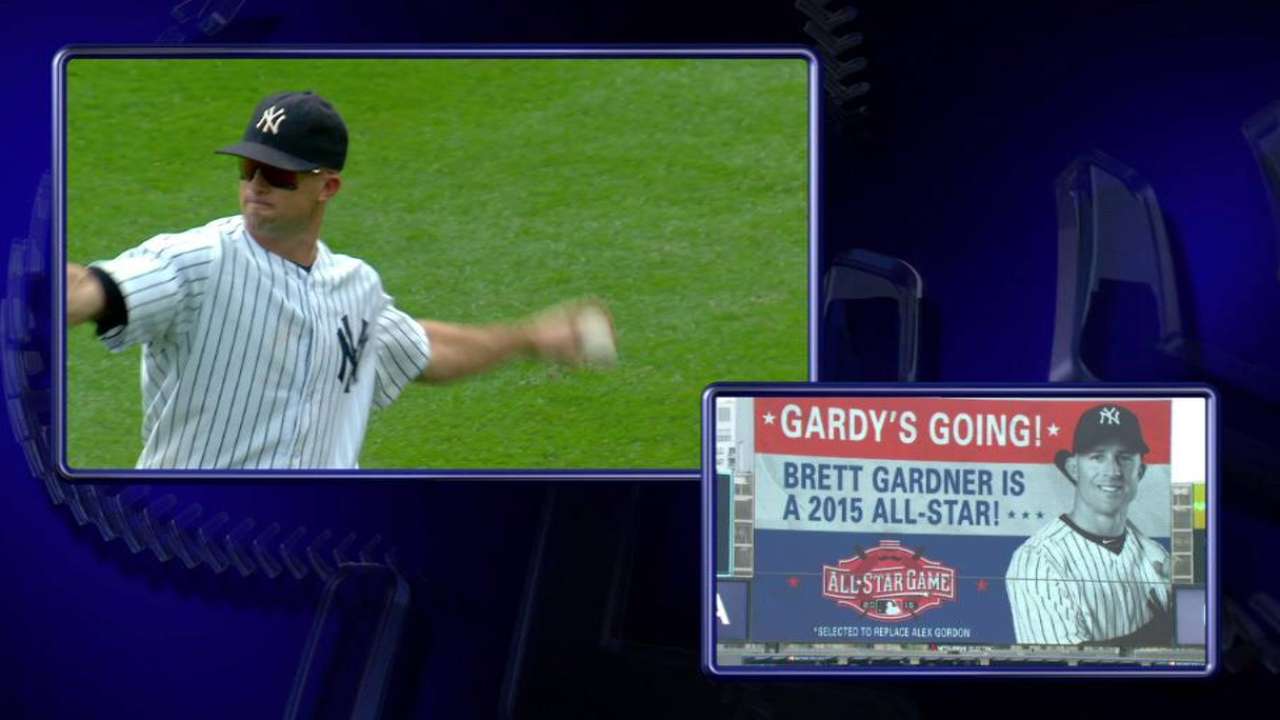 A strained left groin muscle sustained on Wednesday by Gordon -- voted in as an AL All-Star starter -- opened a slot for Gardner, as Gordon is expected to miss eight weeks. But that didn't stop the Yankees from pushing for a Final Vote victory for Gardner, who hit his 10th homer of the season in his first at-bat on Thursday.
In honor of Gardner, his teammates on Wednesday donned bald latex caps with messages encouraging fans to vote for the outfielder.
"It was pretty cool," Gardner said of the caps after the Yankees beat the A's, 5-4, on Wednesday. "I definitely appreciate them standing up for me.
"Some guys looked a little better than others. I told Alex [Rodriguez] to take it off in a hurry before anybody saw."
#Yankees teammates go bald in support of the #VoteGardy movement: http://t.co/HibteSFCmX pic.twitter.com/QUVnJxgQlK

— #VoteGardy (@Yankees) July 9, 2015
Entering Thursday's game, Gardner was fourth in the Majors in runs (61), fourth in the AL in stolen bases (15) and was the only AL hitter to hold at least a .295 average with nine homers and 15 stolen bases.
Since June 18, Gardner had batted .405 with seven doubles, a triple, four homers and 11 RBIs. But he has made it clear throughout the week that campaigning for himself isn't something that interests him. He's hoping his numbers will speak loudly enough.
Also on Wednesday night, shortstop Brendan Ryan took to the video board to imitate Gardner and ask for votes.
Gardner saw part of the humorous skit on the video board during the game.
"He did great," Gardner said. "He's a pretty good actor. He likes the camera. I definitely appreciate all the work they put in and their standing up for me."
Voting is open now at MLB.com to select the final player for each League's 34-man roster via the 2015 Esurance MLB All-Star Game Final Vote. Fans can cast their votes from a list of five players from each League until 4 p.m. ET on Friday.
During the All-Star Game presented by T-Mobile in Cincinnati on Tuesday, July 14, fans can once again visit MLB.com to submit their choice for the Ted Williams Most Valuable Player Award presented by Chevrolet. Voting exclusively at MLB.com, online and via their mobile devices in the 2015 All-Star Game MVP Vote presented by Chevrolet, the fans' collective voice will represent 20 percent of the overall vote that determines the recipient of the Arch Ward Trophy.
MLB.TV Premium subscribers will be able to live stream the All-Star Game via MLB.TV through FOX's participating video providers. Access will be available across more than 400 supported MLB.TV platforms, including the award-winning MLB.com At Bat app. MLB.com will provide extensive online coverage of the All-Star Week festivities, including the 2015 Gillette Home Run Derby presented by Head & Shoulders, part of Gatorade All-Star Workout Day on Monday, July 13. The Derby will feature a new format with brackets and timed rounds and will be broadcast live by ESPN and MLB.com beginning at 8 p.m. ET.
The 86th Midsummer Classic will be televised nationally by FOX Sports (coverage begins at 7 p.m. ET), in Canada by Rogers Sportsnet and RDS, and worldwide by partners in more than 160 countries. ESPN Radio and ESPN Radio Deportes will provide exclusive national radio coverage of the All-Star Game. MLB Network and SiriusXM will also provide comprehensive All-Star Week coverage. For more information, please visit allstargame.com.
Grace Raynor is an associate reporter for MLB.com. This story was not subject to the approval of Major League Baseball or its clubs.