MLB.com Columnist
Jim Callis
Pipeline Inbox: What would a dream Draft using hindsight look like?
Jim Callis responds to fans' questions about baseball's future stars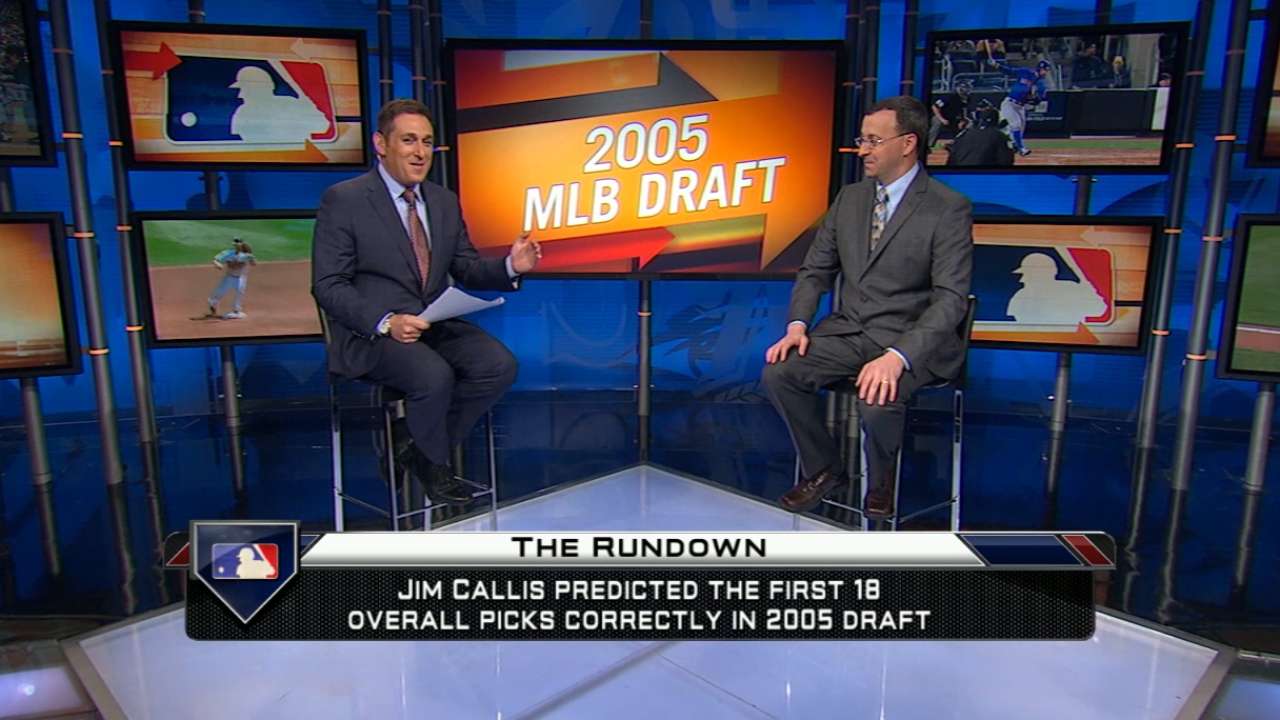 This year's winner of Most Unlikely Player To Get Selected For The SiriusXM All-Star Futures Game is Royals first baseman Balbino Fuenmayor. When the Blue Jays paid him a $725,000 bonus in 2006, they expected that his bat would carry him to the big leagues. But after Fuenmayor stagnated for four years in low Class A, he got released in 2013.
Fuenmayor served stints in three independent leagues and won Baseball America's Indy Player of the Year Award in 2014 after batting .347/.383/.610 with 23 homers in 95 Can-Am League games. That performance got him signed by Kansas City, and he has put up similar numbers this year, hitting .359/.390/.595 with 15 homers in 77 games between Double-A and Triple-A. When the Royals promoted Cheslor Cuthbert to the Majors, Fuenmayor inherited his Futures Game berth.
Click here to submit an Inbox question
Every year you randomly select a team and do a pretend 10-round draft using its picks and bonus pool. Have you ever considered going back five to 10 years, choosing a team and doing a dream Draft using the benefit of hindsight?
-- Steve M., Evansville, Ind.
Because I'm a sucker for retrospective Draft questions, this one hooked me easily. So much so that I decided to look back to both 2005 and '10.
For 2005, I picked for the Cubs in the 20th slot. I got a major first-round upgrade from Mark Pawelek (Chicago's selection) to Jacoby Ellsbury (my choice) in the first round, and here's my hindsight Draft for the top 10 rounds, considering only players who signed. The Cubs had two third-rounders.
1st (20th overall): Jacoby Ellsbury, OF (real Draft: Red Sox, 1st round, No. 26 overall)
2nd: Yunel Escobar, SS (Braves, 2nd)
3rd: Brett Gardner, OF (Yankees, 3rd)
3rd: Michael Brantley, OF (Brewers, 7th)
4th: Austin Jackson, OF (Yankees, 8th)
5th: Jon Niese, LHP (Mets, 7th)
6th: Will Venable, OF (Padres, 7th)
7th: Jaime Garcia, LHP (Cardinals, 22nd)
8th: Sergio Romo, RHP (Giants, 28th)
9th: Matt Joyce, OF (Tigers, 12th)
10th: Chris Carter, 1B (White Sox, 15th)
Now let's try that again for 2010, where I shadow the White Sox in the 13th slot and again pick up an extra third-rounder:
1st: Chris Sale, LHP (White Sox, 1st round, No. 13 overall)
2nd: Andrelton Simmons, SS (Braves, 2nd)
3rd: Joc Pederson, OF (Dodgers, 11th)
3rd: Jacob deGrom, RHP (Mets, 9th)
4th: James Paxton, LHP (Mariners, 4th)
5th: Jesse Hahn, RHP (Rays, 6th)
6th: Corey Dickerson, OF (Rockies, 8th)
7th: Kole Calhoun, OF (Angels, 8th)
8th: Dalton Pompey, OF (Blue Jays, 16th)
9th: Adam Eaton, OF (Diamondbacks, 19th)
10th: Robbie Ray, LHP (Nationals, 12th)
Though the 2005 Draft featured more talent than any in this millennium and may hold that distinction for a while, I like my 2010 haul better. Part of that is the luck of the draw, because in 2005, the five most productive players so far (Troy Tulowitzki, Ryan Braun, Andrew McCutchen, Ryan Zimmerman and Alex Gordon) were long gone before pick No. 20. In 2010, I was able to get two of the three best players to this point with my first two selections.
If the 2007 MLB Draft could be redone all over again knowing what we know now, who would be the top 10 picks?
-- Sheila D., Daly City, Calif.
Another retrospective Draft question! Here's how the teams would redo the first 10 choices from 2007 today, considering only players who signed, followed by their original selections:
1. Devil Rays: David Price, LHP (Devil Rays, 1st round, No. 1 overall) ... Price
2. Royals: Giancarlo Stanton, OF (Marlins, 2nd) ... Mike Moustakas, 3B
3. Cubs: Madison Bumgarner, LHP (Giants, 1st, No. 10 overall) ... Josh Vitters, 3B
4. Pirates: Josh Donaldson, 3B (Cubs, supplemental 1st) ... Daniel Moskos, LHP
5. Orioles: Jason Heyward, OF (Braves, 1st, No. 14 overall) ... Matt Wieters, C
6. Nationals: Jordan Zimmermann, RHP (Nationals, 2nd) ... Ross Detwiler, LHP
7. Brewers: Jonathan Lucroy, C (Brewers, 3rd) ... Matt LaPorta, 1B
8. Rockies: Todd Frazier, 3B (Reds, supplemental 1st) ... Casey Weathers, RHP
9. Diamondbacks: Anthony Rizzo, 1B (Red Sox, 6th) ... Jarrod Parker, RHP
10. Giants: Freddie Freeman, 1B (Braves, 2nd) ... Bumgarner
How strong was the 2007 Draft? Jake Arrieta (Orioles, 5th), Greg Holland (Royals, 10th), Corey Kluber (Padres, 4th), Matt Moore (Rays, 8th) or Wieters (Orioles, 1st, No. 5 overall) can't crack the retro top 10 picks. It's also interesting to note that just two of the retro top 10 went in the original top 10, and that just three of 10 best (and four of the 15 best) players came from the first round.
Which Astros Draft pick(s) outside of the top 10 rounds should we be on the lookout for who could eventually help the big league club down the line?
-- Michael D., Tomball, Texas
At this very early point, the Astros look like they had the best 2015 Draft in baseball. They landed three of the top seven prospects in Louisiana State shortstop Alex Bregman (first round, No. 2 overall) and high school outfielders Daz Cameron (supplemental first) and Kyle Tucker (first, No. 5), and they could get quick pitching help from college right-handers Thomas Eshelman (second) and Riley Ferrell (third). All told, Houston spent $17,940,000 on Draft bonuses this year, surpassing the record of $17,005,700 established by the 2011 Pirates.
The Astros gave $900,000 to 11th-rounder Patrick Sandoval, who's the most obvious answer to Michael's question. He's an athletic California prep left-hander who can run his fastball into the low 90s and flash a hammer curveball.
Beyond Sandoval, two more interesting Houston draftees after the 10th round include are Rice righty Kevin McCanna (13th) and Arizona State outfielder Johnny Sewald (14th). McCanna mixes four pitches and throws strikes, while Sewald is a center fielder who's similar to former Sun Devil and current Astros farmhand Andrew Aplin.
Jim Callis is a reporter for MLB.com and writes a blog, Callis' Corner. Follow @jimcallisMLB on Twitter. This story was not subject to the approval of Major League Baseball or its clubs.