Maddon finds positives in Cubs' loss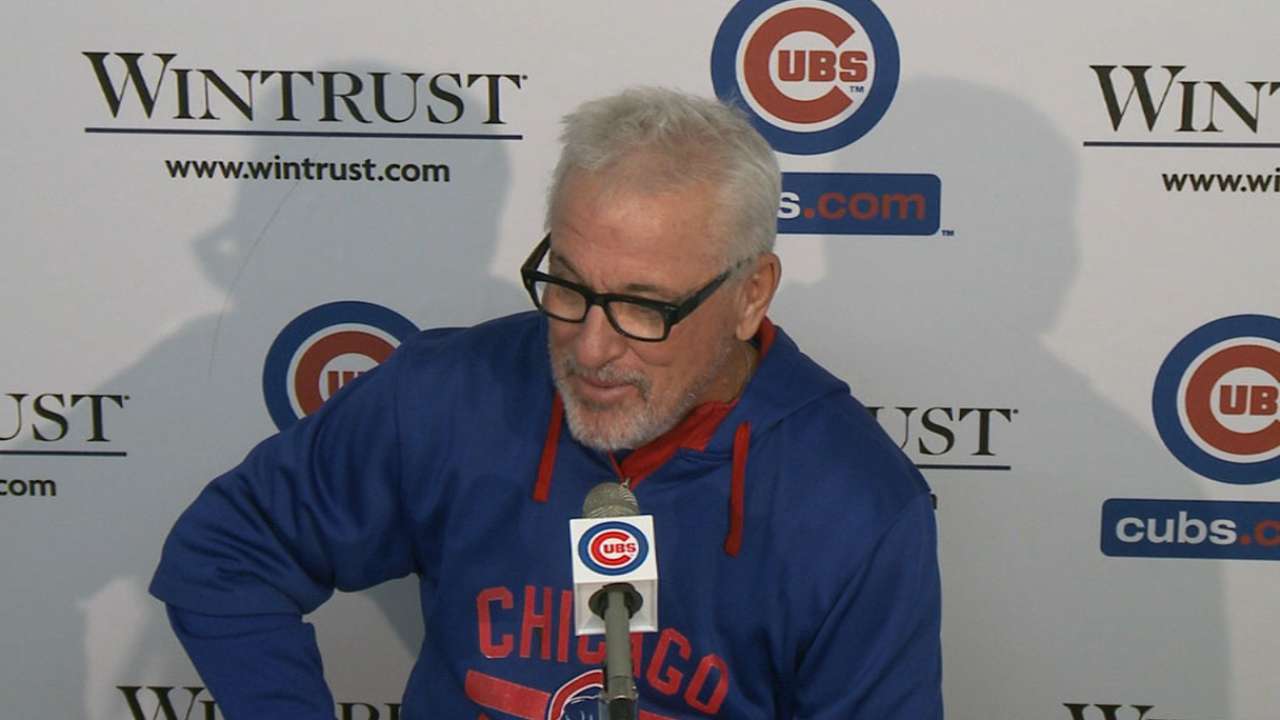 CHICAGO -- It felt like October at Wrigley Field on Wednesday. The crowd of 37,993 was loud, and the Cubs were one out away from taking three of four from their division rivals, the Cardinals, who boast the best record in baseball.
Chicago led 5-4 thanks to Miguel Montero's three-run double with two outs in the sixth, and Pedro Strop retired the first two batters in the ninth, but then walked Matt Carpenter on four pitches.
"I wanted to get him out," Strop said of Carpenter, who is second on the Cardinals in RBIs but in an offensive funk. "I lost my command a little bit, but I wasn't pitching around him. I was trying to get him out."
Montero had a quick chat on the mound with Strop.
"I tried to settle him down," Montero said. "He got two outs real quick, and then he tried to do too much. You've got Carpenter hitting, and he's a good hitter but he's not swinging the bat well lately. You really don't want to walk that guy -- you want to get him to hit the ball. Those pitches weren't even close."
Strop's first pitch to Jhonny Peralta was a called strike, and the right-hander was ahead 1-2 when the Cardinals shortstop drove a fastball into the mist just far enough to land in the basket rimming the left-field bleachers. That home run was all St. Louis needed for a 6-5 come-from-behind win, and a split for the four-game series.
"I knew he got good wood -- it was a hard sound," Strop said. "I didn't think it was going to go out. It was a good pitch -- I really don't know how he hit it."
Said Peralta: "I have a lot of hits in my career, but that was one of my best."
It's one of the worst for the Cubs, who were coming off a confidence-boosting doubleheader sweep of the Cardinals on Tuesday. The calendar may have read July 8, but Cubs manager Joe Maddon was wearing a parka to cope with the 63 degree game-time temperature. He's trying to prepare his players for close, competitive games like Wednesday's, and neither the weather nor the outcome dampened his spirits.
"We proved again tonight we can play with these guys," Maddon said. "We have to execute a pitch, and we didn't do that.
"We did so many good things," he said. "I can't walk away and be all upset. Of course, Strop would have liked to made a better pitch there and he didn't. Peralta's pretty good and he hit a home run. It happens. Regardless of who it happened against, I'll keep repeating the refrain that we can play with anybody. We proved it the last four days and we'll continue to move forward."
Strop had served up a game-winning home run to Greg Garcia on June 26 in St. Louis, the third blast off the right-hander this season. Peralta's was the fourth.
"It's a tough one to swallow," Montero said. "Those are the games you have to win, especially when you have two outs, nobody on."
With the win, the Cardinals lead the season series, 9-4. Just when the Cubs thought they'd gained some ground on the Central Division leaders, they find themselves 8 1/2 games back.
"We should've won tonight," Chicago starter Jason Hammel said. "They stole one at the end. We're very confident in what we can do. It's not that we're surprised -- we know we're a good team and we've been playing good ball all year. We've played close ballgames and won a lot of them, too."
Not this time. Some might say the Cubs did well to split against the Cardinals.
"Not really," Strop said. "We had this one. Two outs in the ninth with two strikes, it doesn't seem like we should split -- we should get that one."
Carrie Muskat is a reporter for MLB.com. She writes a blog, Muskat Ramblings. You can follow her on Twitter @CarrieMuskat and listen to her podcast. This story was not subject to the approval of Major League Baseball or its clubs.