Murphy up to the task in rare AB vs. lefty
Francona sticks with veteran outfielder, who delivers go-ahead hit for Indians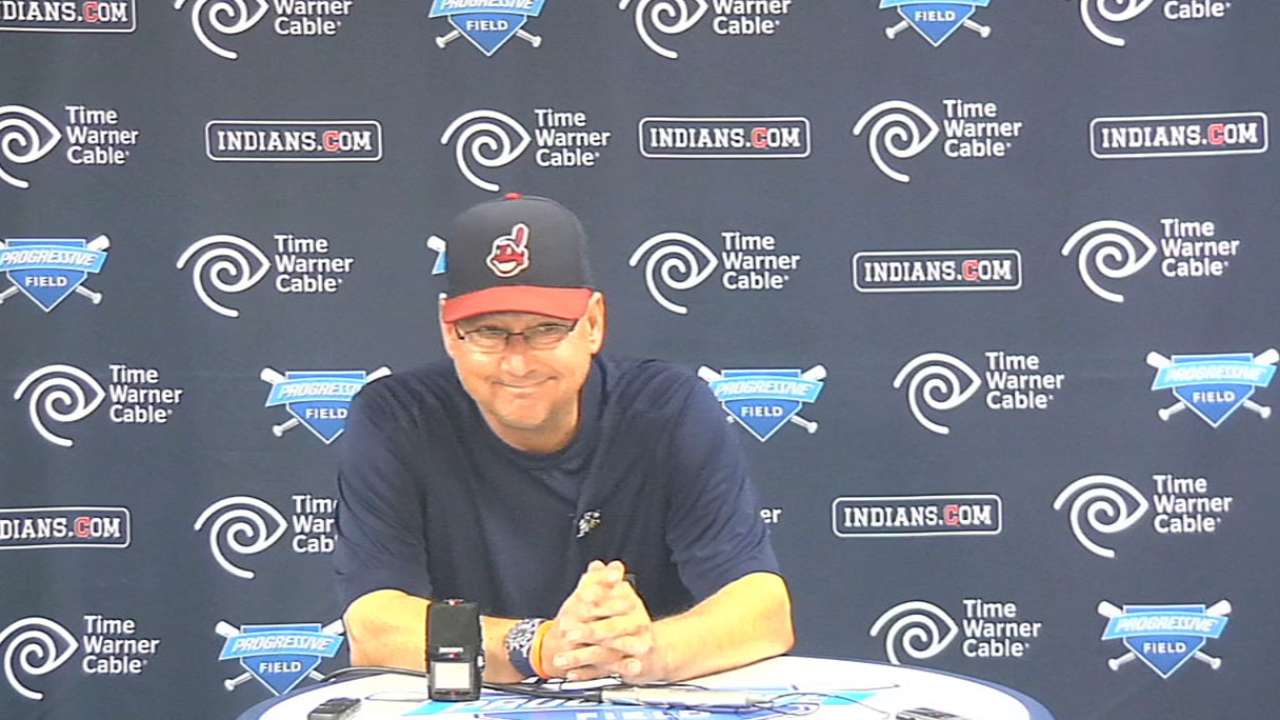 CLEVELAND -- David Murphy dug into the batter's box in the eighth inning of the Indians' 4-2 victory against the Astros on Wednesday with the go-ahead run on second base. His platoon partner, the right-handed-hitting Ryan Raburn, was seated on the bench in the dugout.
Murphy looked out to the pitcher's mound and observed a foreign sight. The pitcher he was facing had the baseball gripped in his left hand.
Murphy had just 12 plate appearances vs. lefties entering Wednesday. The 33-year-old veteran outfielder hasn't missed a beat.
Murphy offered at the first pitch he saw from the sidearming Joe Thatcher and roped a line drive over the head of right fielder Preston Tucker, plating two runners and breaking a 2-2 tie that had held since the fourth inning.
"I think in a situation like that, the blood's pumping a little bit," Murphy said. "You've got a chance to do something big in the game. At the end of the day, just be a baseball player. Right, left, it doesn't matter."
Murphy was afforded the opportunity due in part to the alternative. Had Francona pinch-hit for Murphy with Raburn, the Astros would have countered with right-hander Pat Neshek -- another sidearmer who is tough on righties.
"They had the inning set up pretty much like they wanted," Francona said. "Sometimes you've just got to stay out of the way. That's the best way I can say it. Just let your guys play."
Francona stayed with Murphy in part because he preferred door number one to what was behind door number two, but the reason behind that preference is that Murphy has been one of the team's best hitters all season, and especially as of late.
Murphy doubled over Tucker's head in the fourth inning as well, moving the eventual tying run to third base. Over the past 30 days, Murphy owns the highest OPS on the Indians' roster, better even than All-Star Jason Kipnis, and his season slash line of .333/.375/.500 puts him in the conversation as one of the more underrated players in baseball this season.
"I've been in the league a while and I'm getting older, but I still want to be as complete of a player as possible," Murphy said. "I might not be an everyday player, but there are still moments I can come through against the lefty or do different parts of the game you may not see me do every single day."
August Fagerstrom is an associate reporter for MLB.com. This story was not subject to the approval of Major League Baseball or its clubs.